So here's the thing, we often have couples tell us that they are going to DIY certain aspects of their wedding flowers to save money and that statement is usually met with wide eyes and silence on our end! Because here is the thing, we know how hard, timing consuming, messy and frustrating the process is and we KNOW what we are doing.
To give you some background – for a Saturday wedding (because we have a floral cooler) our flowers arrive on Tuesday. The entire day is spent processing, cleaning and hydrating the flowers. We don't live near a nice big flower market – so most of our blooms are shipped in via Fedex.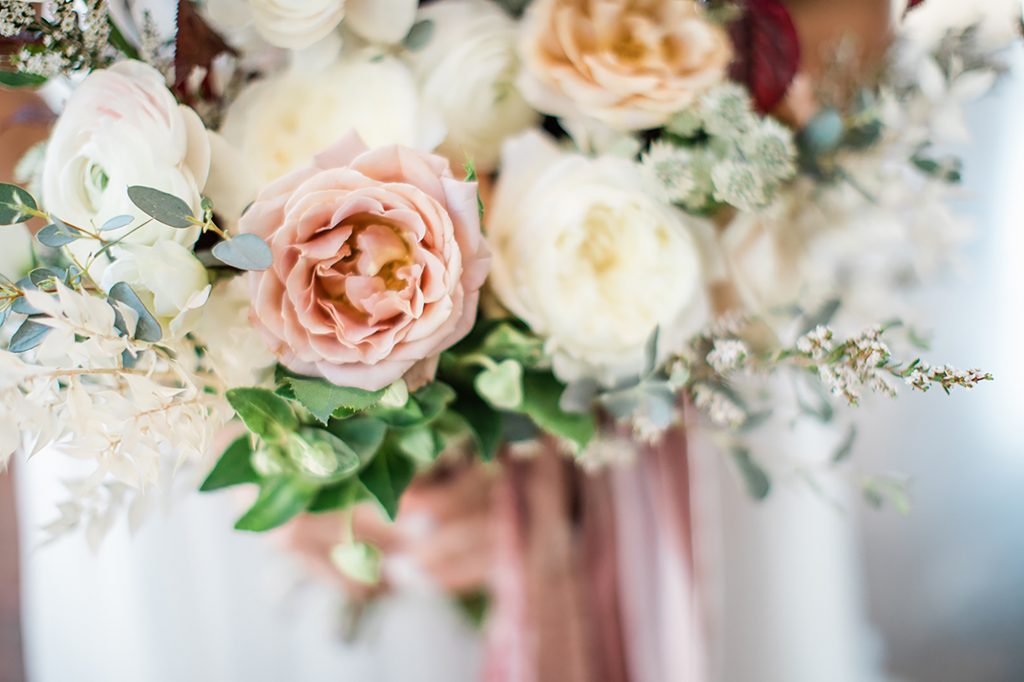 Having flowers shipped is a very frustrating experience. Our flowers are often delayed or stuck somewhere overnight, and fedex assumes no liability for dead flowers. If you are doing the flowers yourself and don't have a floral cooler, you will want your blooms in hand on Thursday (for a saturday wedding) to hydrate and process. You CANNOT put flowers in a regular refrigerator. Gases from the other foods in the fridge will reduce the vase life of the blooms and usually fridges need to be kept colder than floral coolers since they are used to preserve meat and dairy.
Once our flowers are hydrated we have Wednesday, Thursday and Friday to design and it's glorious! Since you will be getting your flowers in on Thursday (to preserve freshness), that leaves you with just Friday to design. Do you know how busy you are going to be on Friday? You will have appointments, a rehearsal, rehearsal dinner and people to see. What if your flowers come in and they are not perfect and you have to find replacements? What if they get lost by fedex?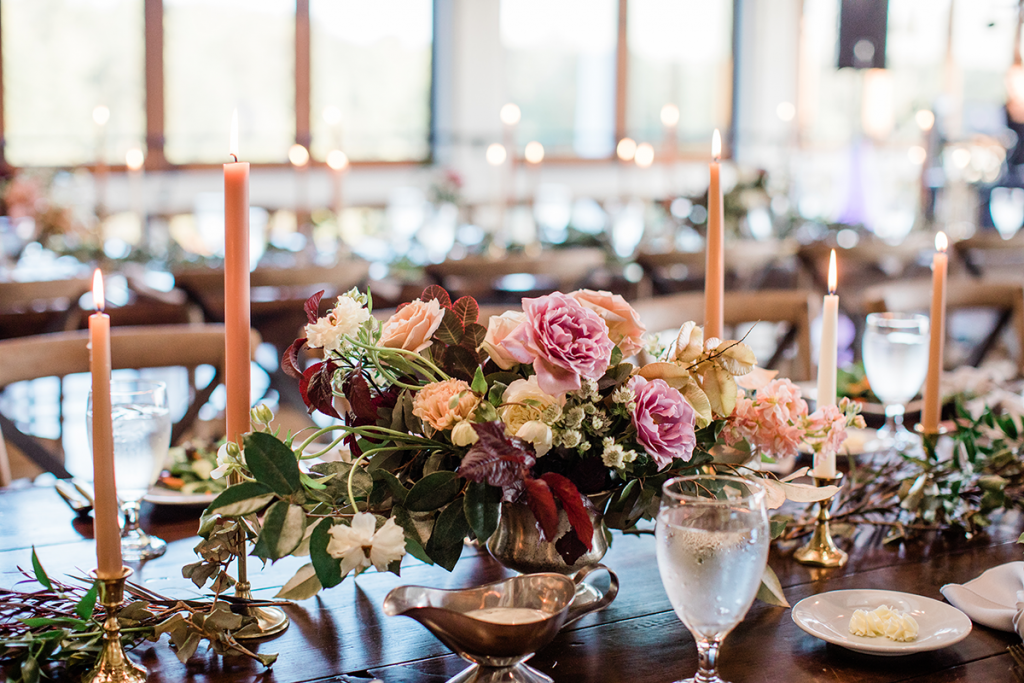 Wedding Day – typically our team of usually 4 people load the van around 8am to get to a venue around 10am. Do you know what you will be doing at that time on a wedding day? Getting your hair and makeup done! You also have to think about weather and what time you can start setting everything out, sometimes we place flowers just an hour prior to ceremony due to hot weather or wind. So this task would be extremely difficult for you or a family member to take on.
Some other things to consider:
Flowers take up lots of space and are fragile to transport.
You will make a huge mess processing flowers, so make sure you have plenty of space to work and access to trash cans.
Flowers need to be kept in a cool, dark place in order to ensure freshness come day of.
Designing takes more time than you think- we design most weddings in our studio in 3 full days with 4 people working.
Do you know how many flowers to order for centerpieces and bouquets?
As a florist, we have access to wholesale pricing. Unfortunately if you are not a florist you will still have to pay retail price for any flowers you purchase.
Ways to save money on flowers:
Focus on a few focal elements that are beautifully designed, you don't need flowers everywhere! Quality over quantity. IDEA // Splurge on an altar backdrop but don't put flowers on every chair down the aisle.
Re-purpose your bridesmaid bouquets as centerpieces – we like to place them in a vase at the center of the table and then have 6 bud vases with blooms placed around them. That way it doesn't look like someone just plopped a bouquet down on a table.
Have your florist design things that are easy for them to move. This will probably add more labor to your quote, but your flowers will do double duty. IDEA // Line the aisle with blooms designed in trays and then move them to line the front of the stage for the reception.
Let us help your wedding dreams become reality! Schedule a consult TODAY!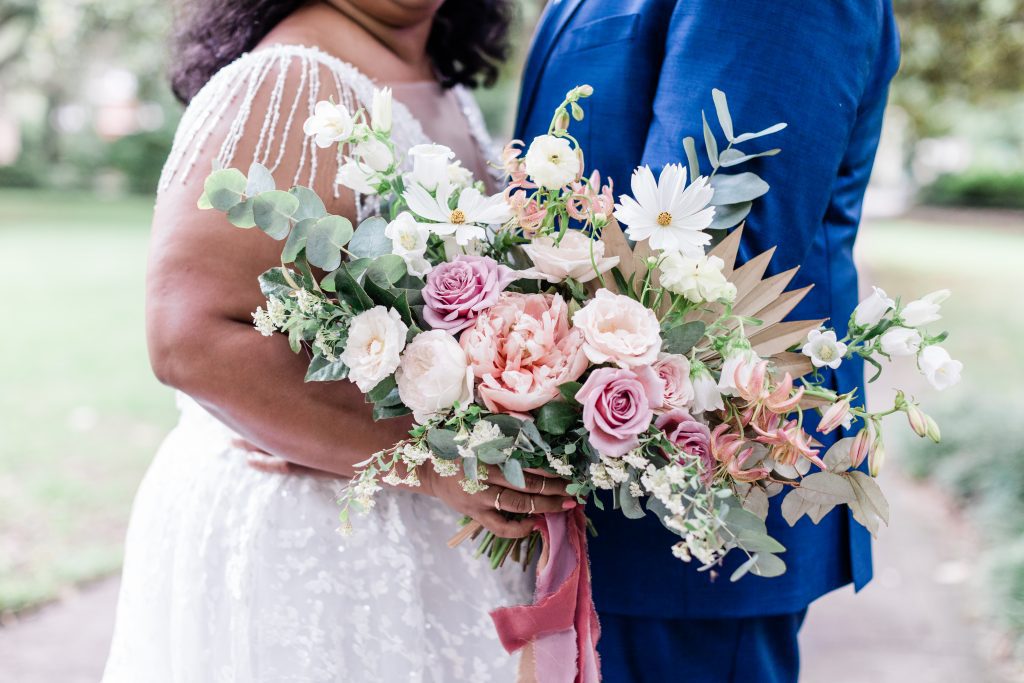 This past June we had the honor of designing flowers for the sweetest elopement right here in Savannah, Georgia.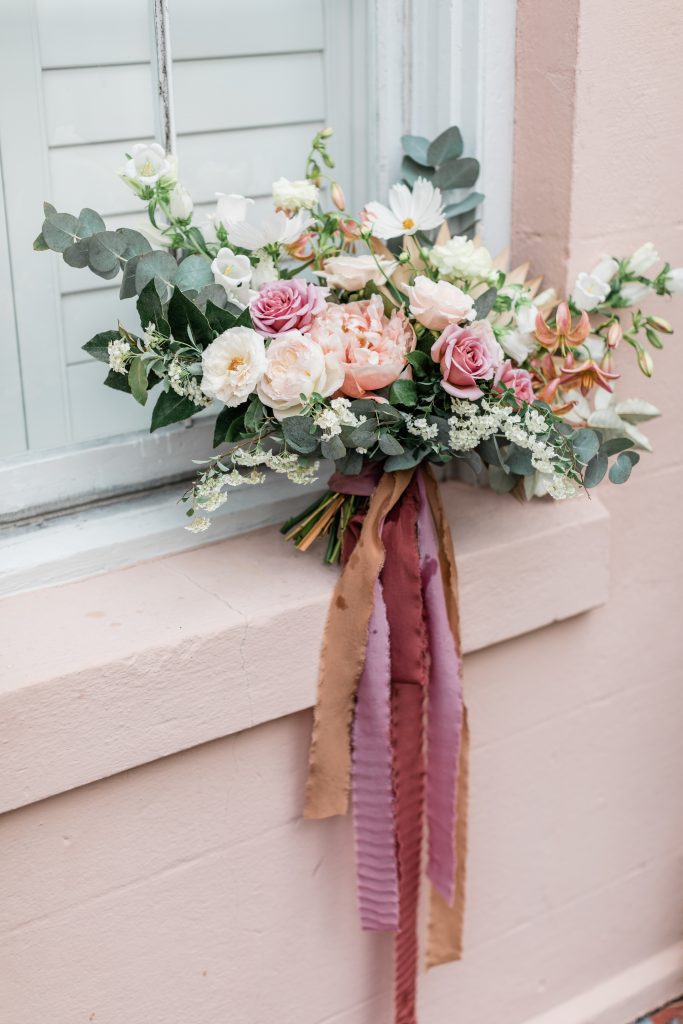 Teresa's bouquet was definitely the star of the show (after Teresa of course!). We incorporated three different shades of hand dyed raw edged silk ribbon from Tono & Co.
This wedding day, while intimate, was FULL of beautiful details. We kept the boutonnieres simple and sweet with a mix of flowers from our garden, our new favorite tiny lillies, garden roses and eucalyptus.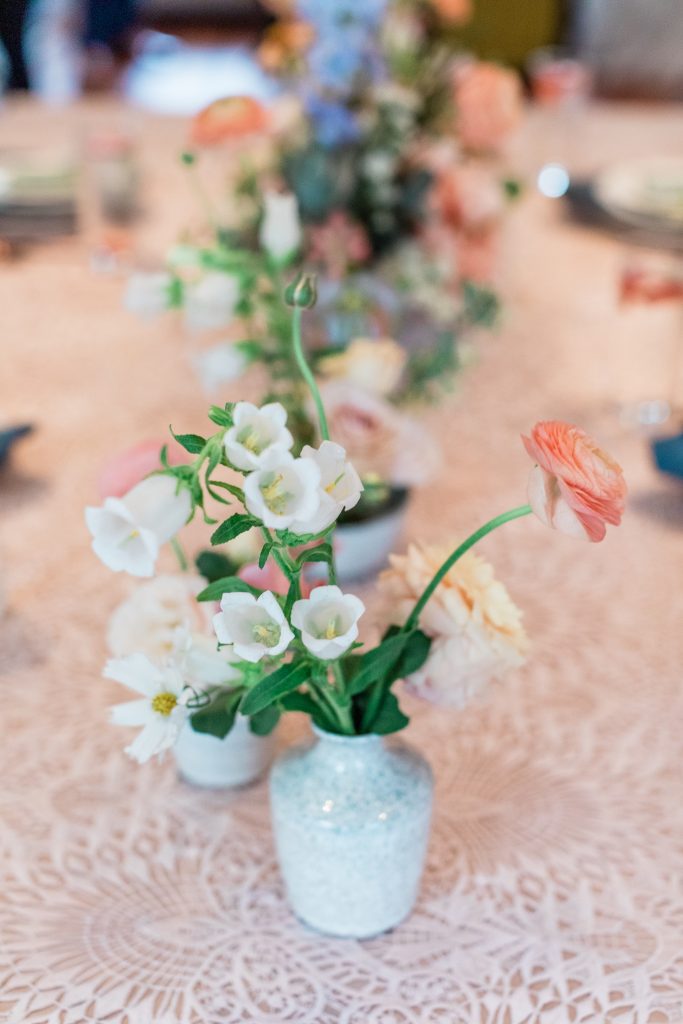 We loved the contrast between the subtle intricate linens and boho ceramic vessels.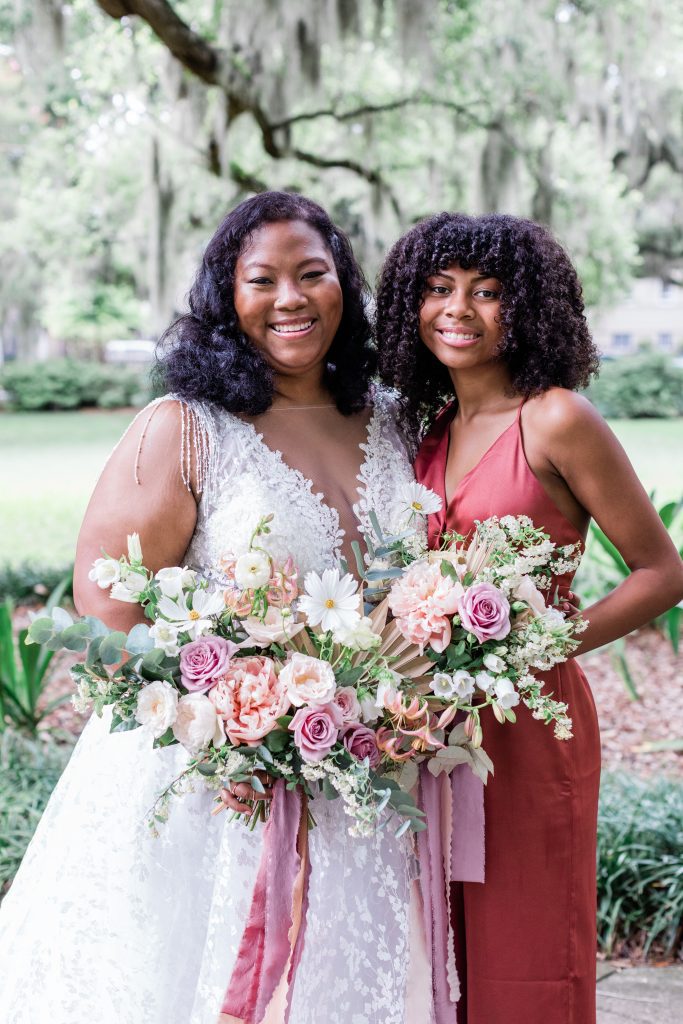 Teresa + TJ shared these special moments with Teresa's two children, and the foursome spent most of the day together. Despite the summer heat, I don't think I've ever seen a happier bunch!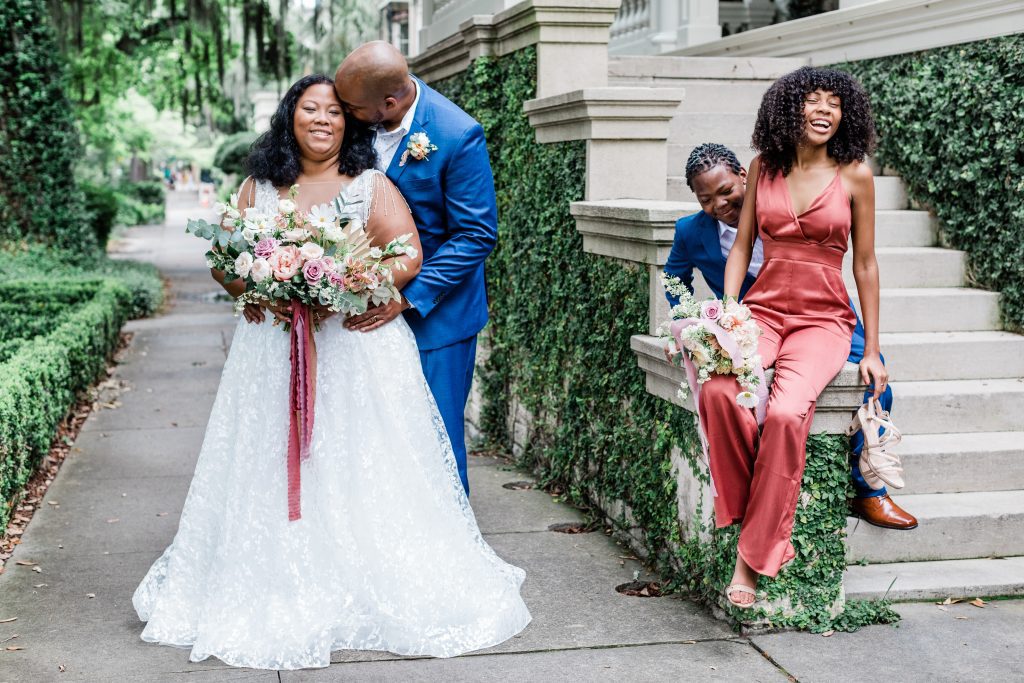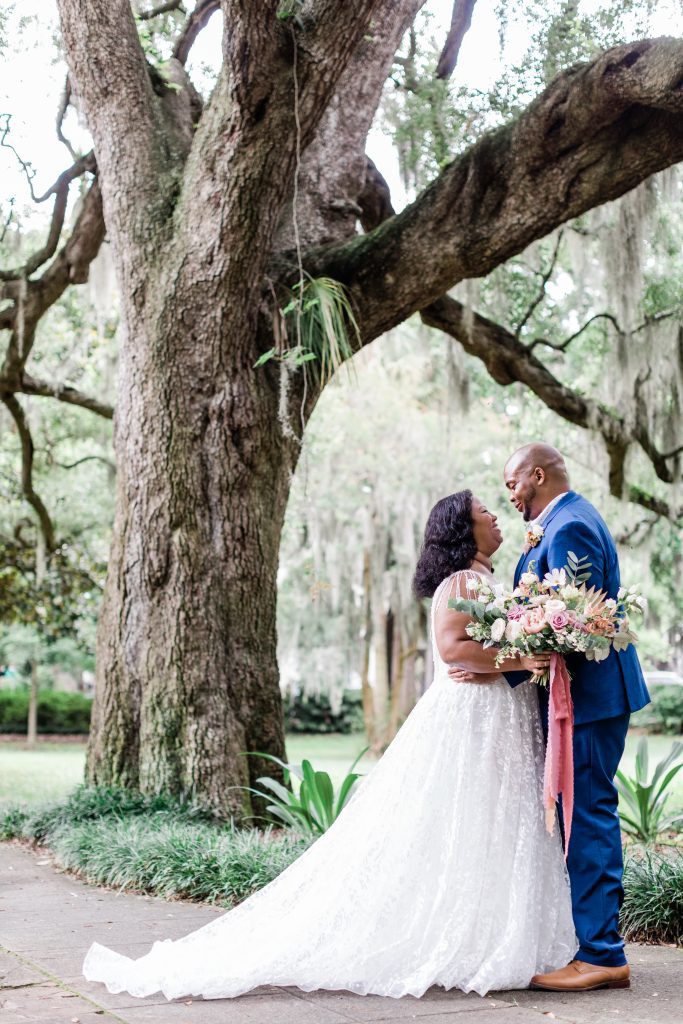 We fell in love with the color palette Teresa picked and had the best time sourcing blooms from The Floral Reserve + Grace Rose Farm + even my very own garden, for her event.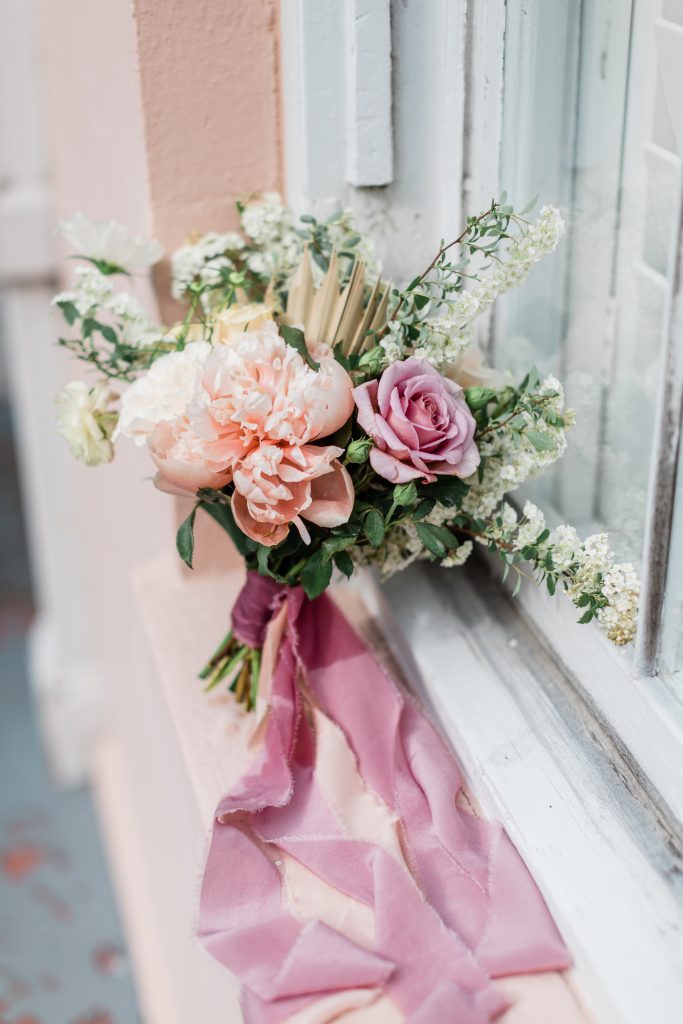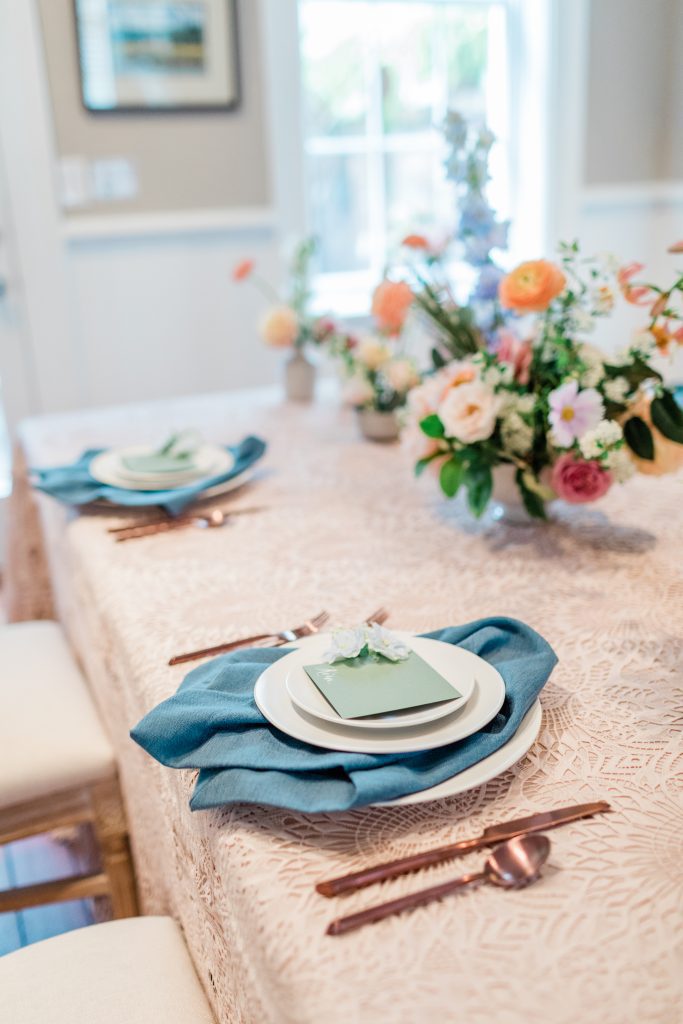 Following the ceremony, the family sat down together at a lovely table styled with Nuage Linens for a delicious brunch.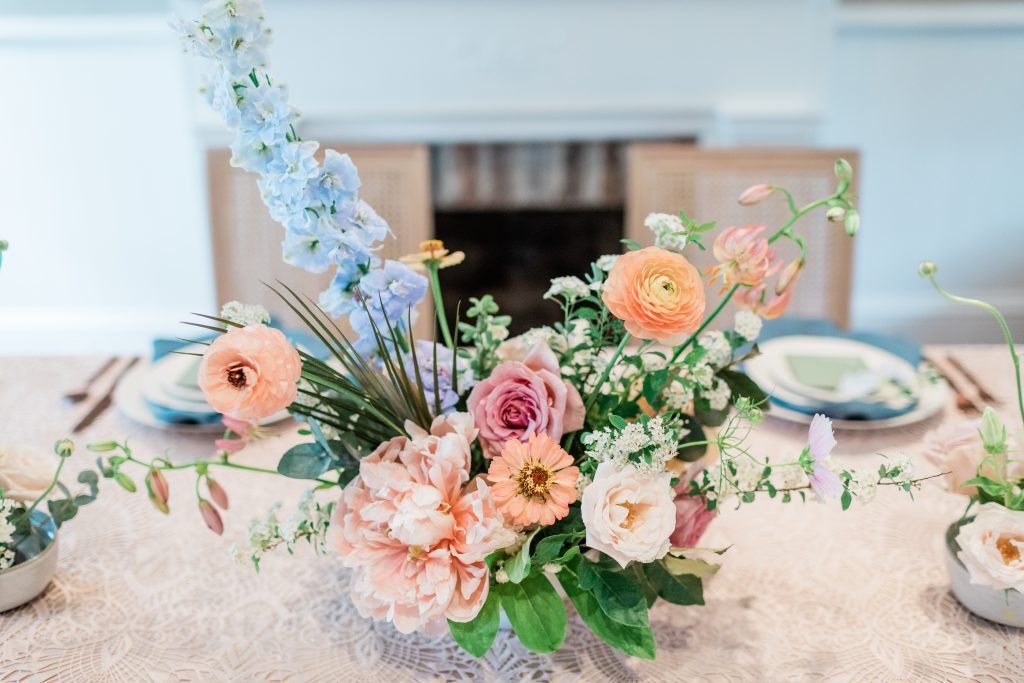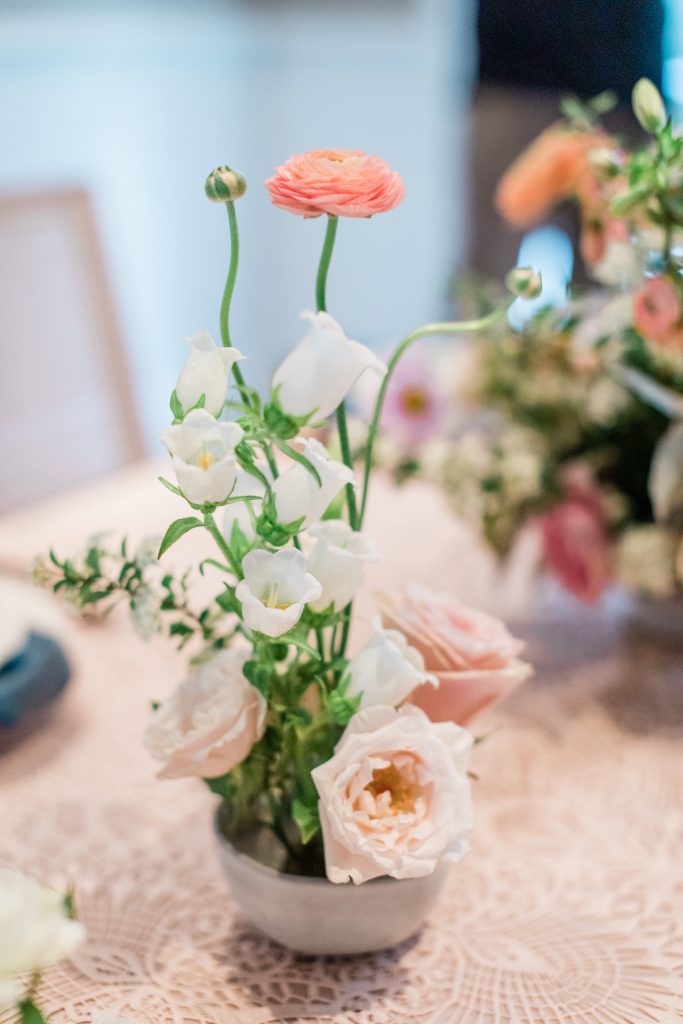 Interested in learning more about our intimate wedding packages or how we can make your small wedding have a big wedding feel? Fill out the form on our contact page today!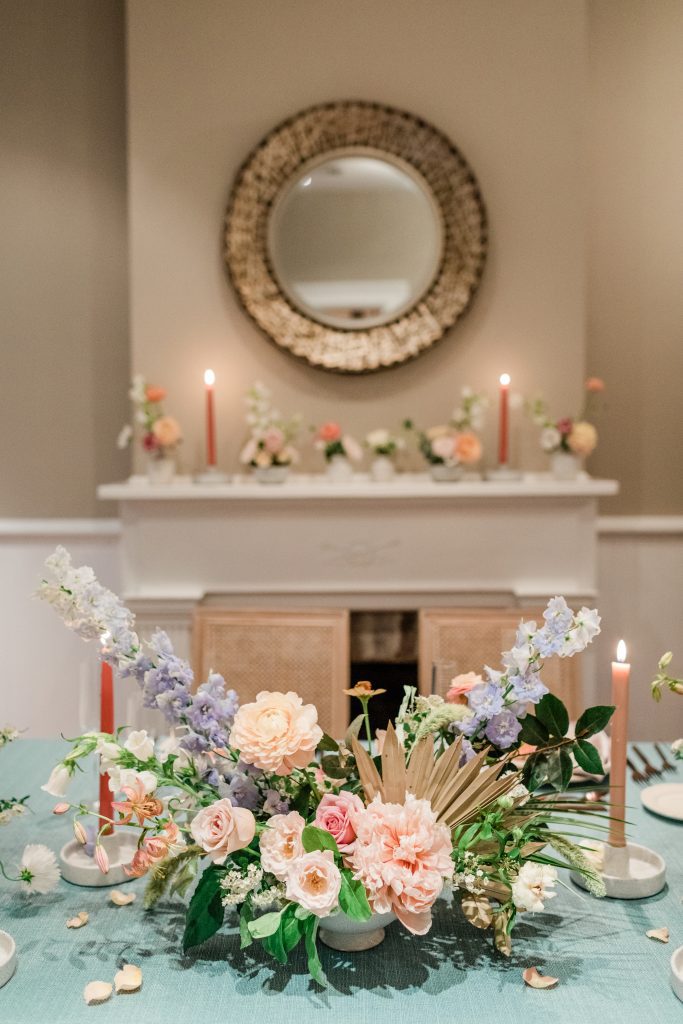 Later that day, Teresa + TJ returned to the lovely table (which had been expertly flipped by us!) to enjoy a private 5 course meal, just the two of them.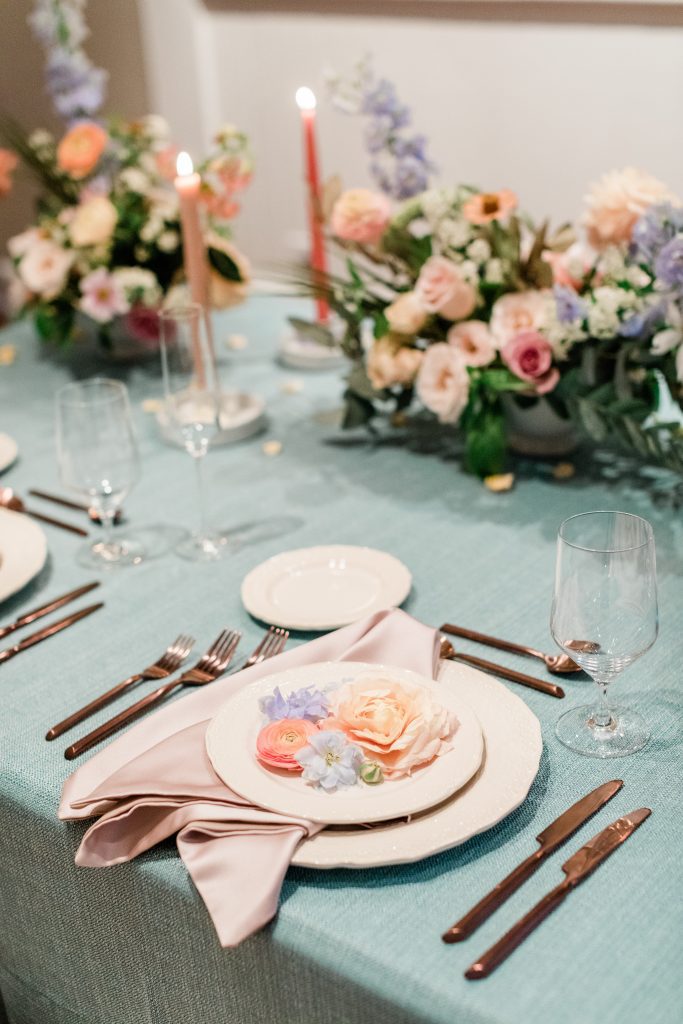 Planning an intimate wedding or elopement in Savannah, Georgia or the surrounding areas? We're here for you! Get in touch with us using our contact form today!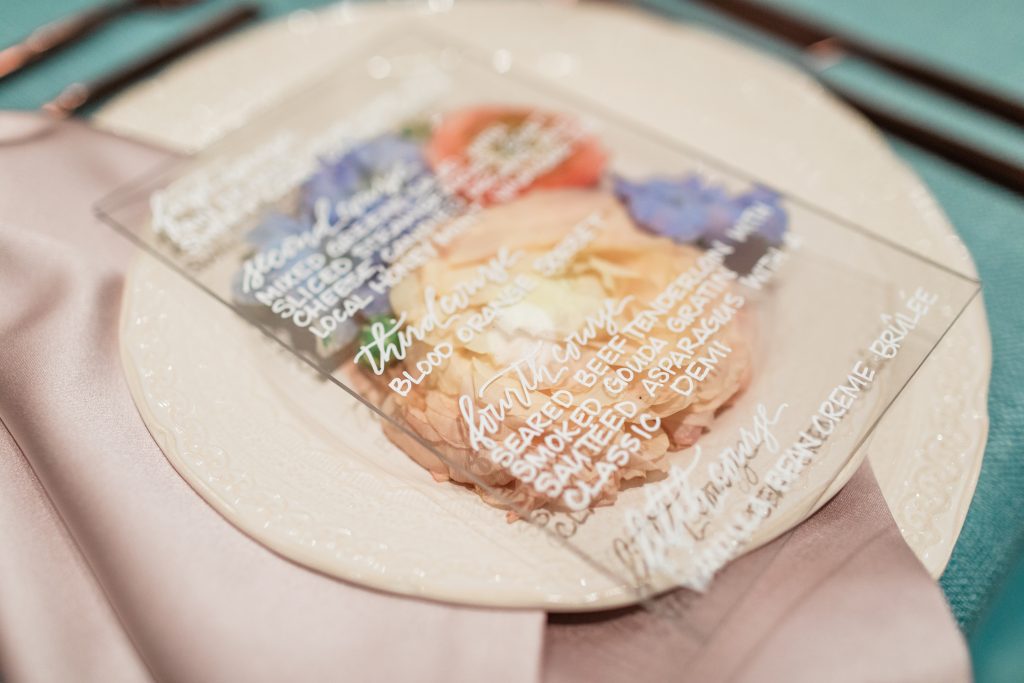 Photography: Apartment B Photography // Caterer: Current Catering // Baker: Vanilla and the Bean // Hair + Makeup: Jo Nettles Artistry // Rentals: Amazing Event Rentals // Paper Goods + Calligraphy: Lowcountry Paper co. // Linens: Nuage Designs // Bride's Dress: Elly // Bridesmaid's Jumpsuit: Lulus
Joanna + Eric's colorful Fall fete was one of our all-time favorites to design. Bride Joanna, a wedding planner IRL, gave us the color palette and a few key details and then let us run with it.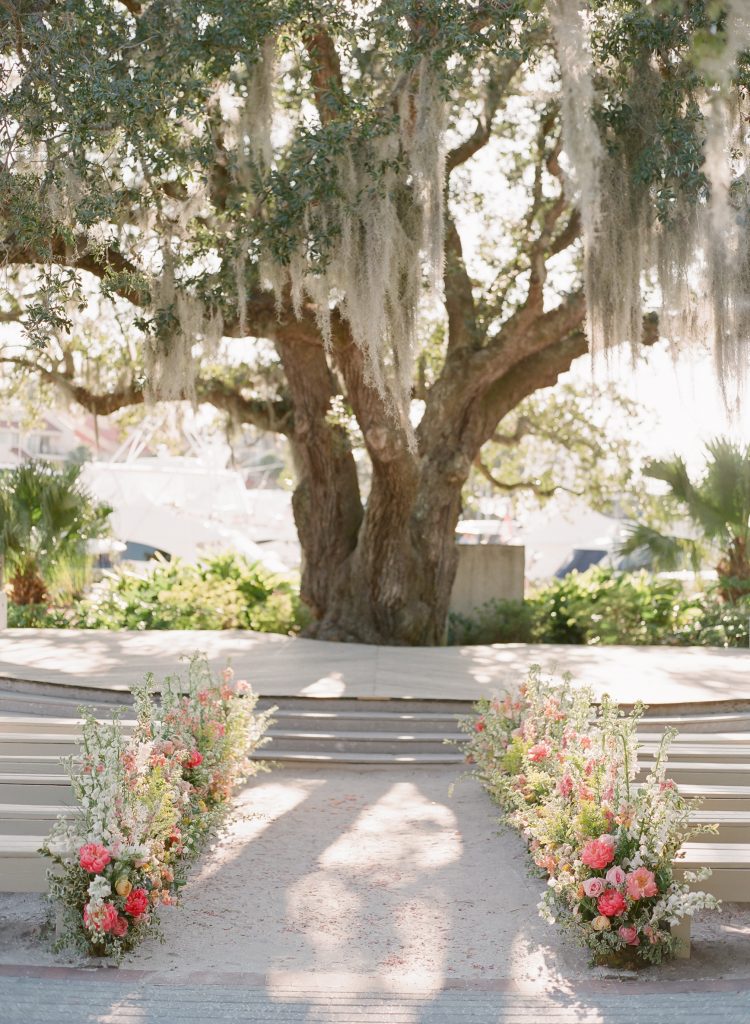 The focal point of their ceremony location was the famous Liberty Oak in Hilton Head Island's Harbour Town. We wanted to design something that accentuated this landmark and highlighted the beauty of the lowcountry, without distracting from it. This colorful floral aisle was the perfect solution.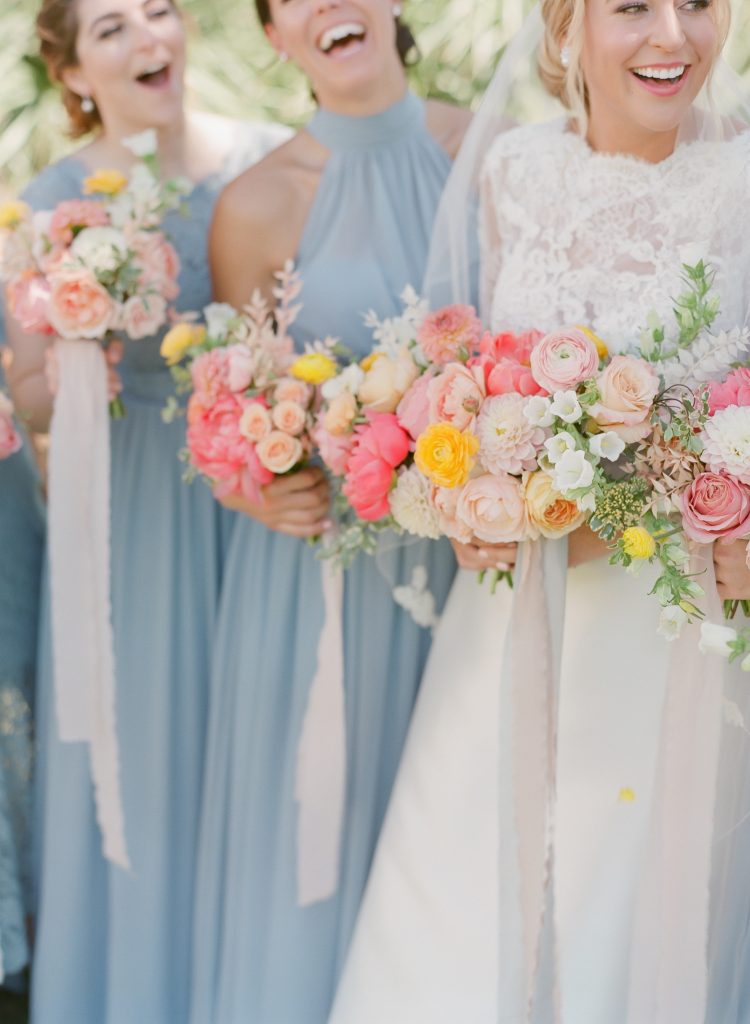 Interested in learning more about how we can customize your wedding with flowers? Visit our contact page and get in touch!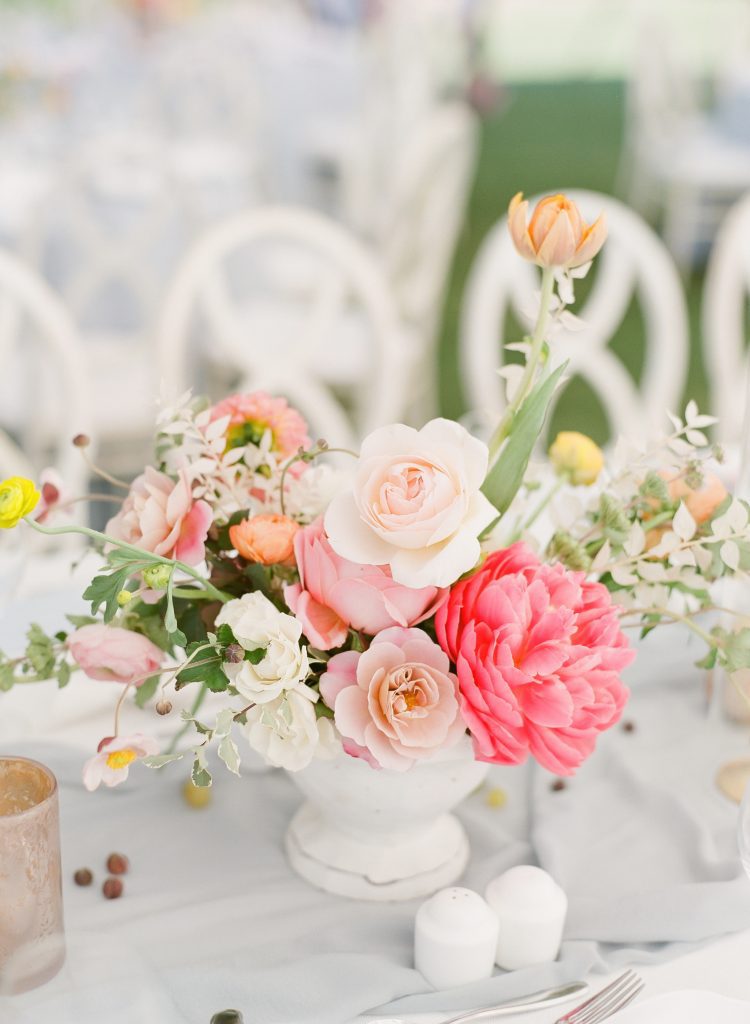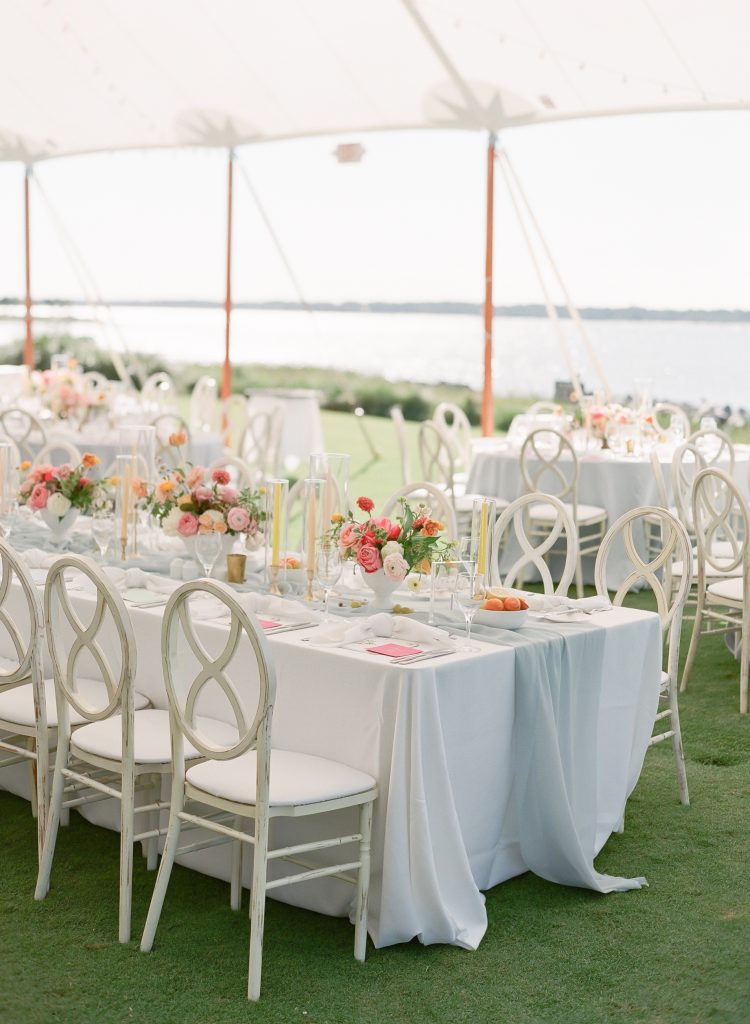 The 18th hole overlooking the water at Sea pines Resort is already stunning. We kept floral arrangements simple yet impactful by highlighting seasonal blooms and reducing filler flowers and greenery.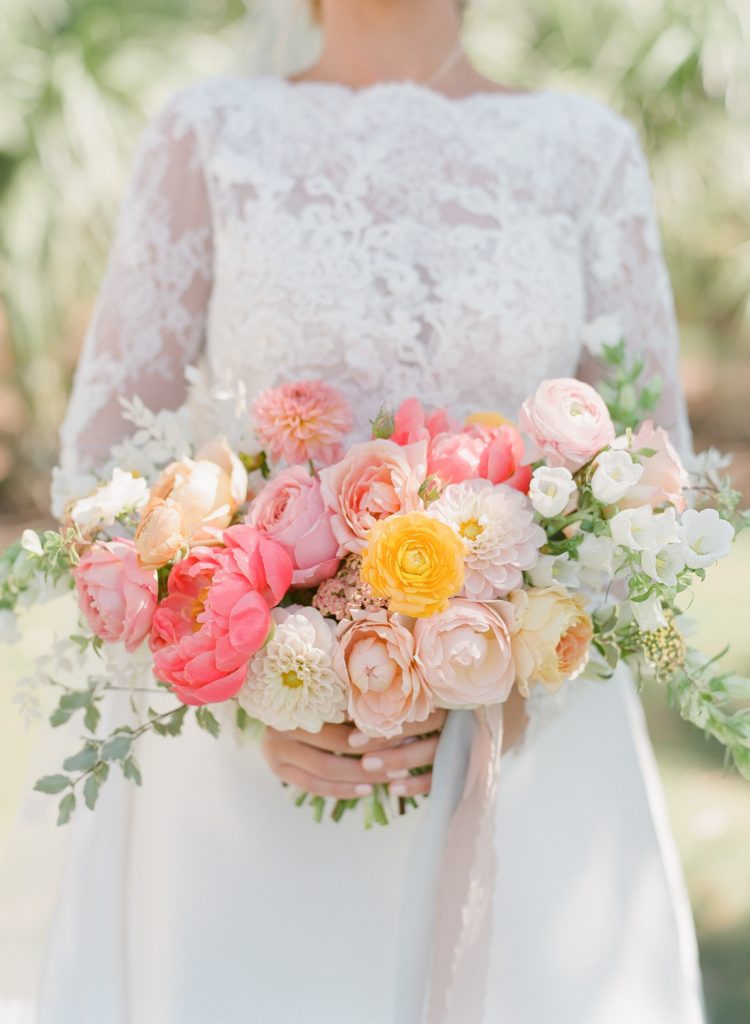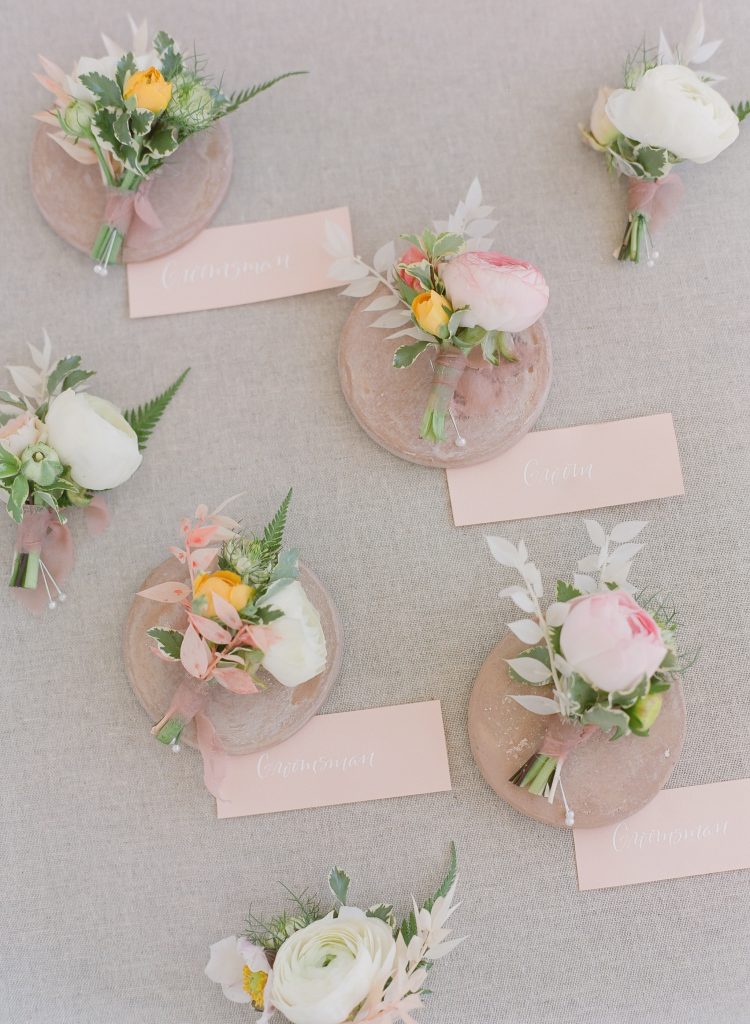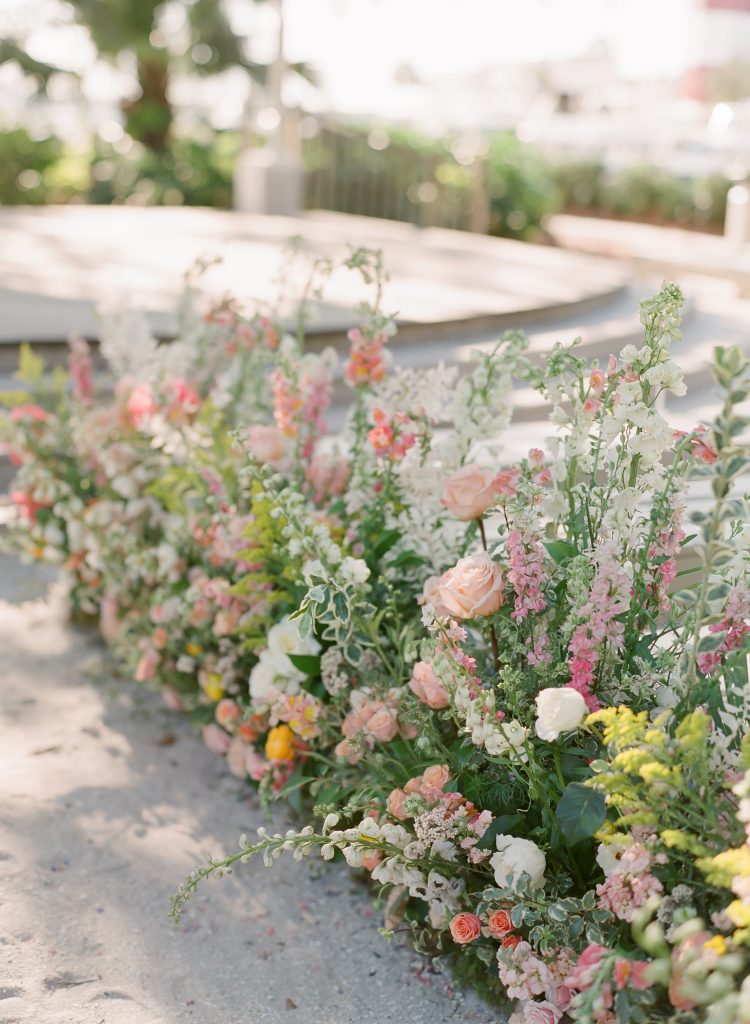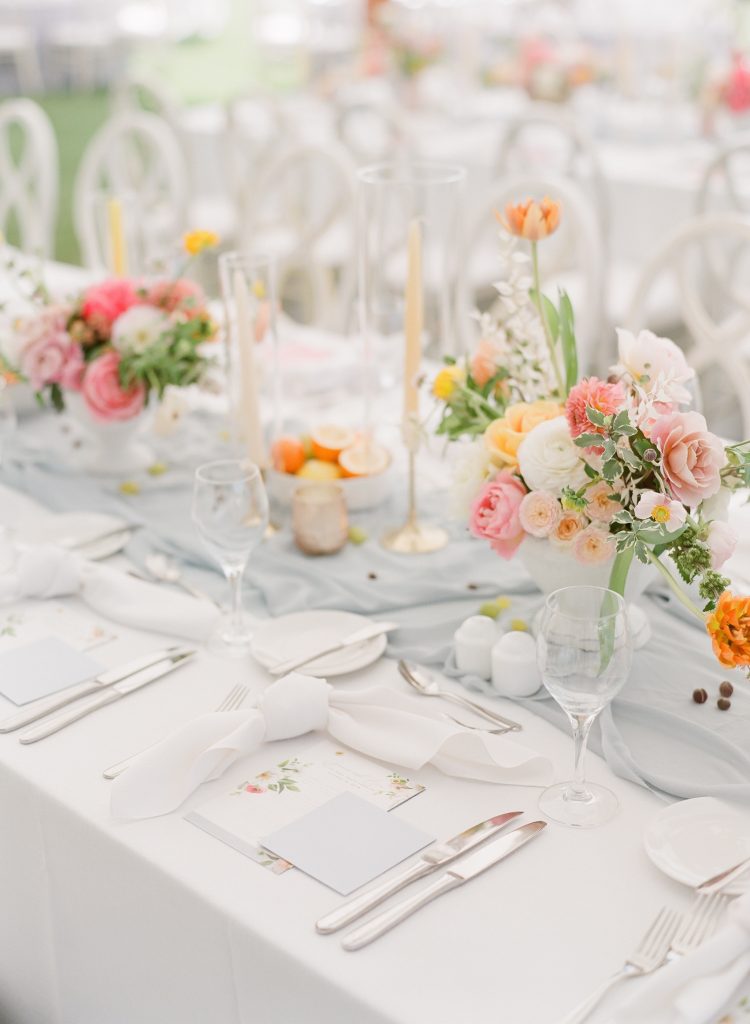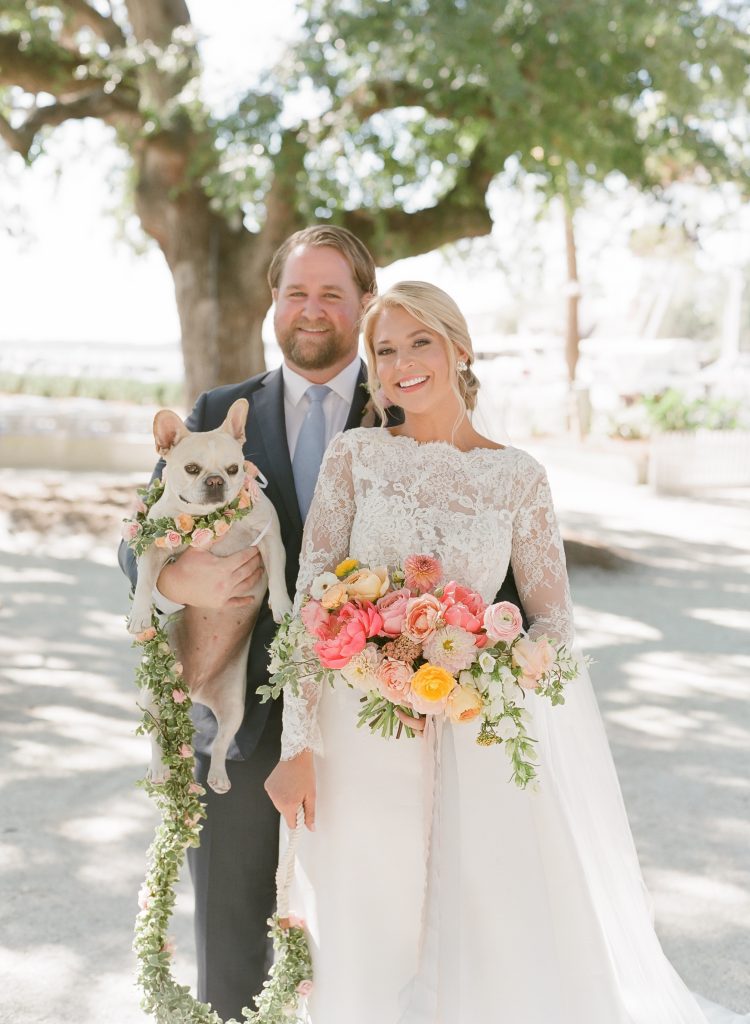 All images by The Happy Bloom