Tag:
tropical design
After three postponements due to the pandemic, it was an absolute joy to finally celebrate Kelley + Watts Sea Island wedding. The couple welcomed family and friends to their destination wedding in Georgia with a weekend of wedding activities. The wedding weekend began with a relaxed wedding welcome party with a tropical atmosphere and ended with the joy of Kelley + and Watts celebrating their marriage with out-of-town guests.
Classic White Floral Design
Our bride, Kelley, had a vision of all-white florals with a dash of tropical elements on her Sea Island wedding day. So, the Gray Harper team created a floral design with lush white blooms and lots of greenery. For the bridal party, we blended ferns and orchids with all white flowers to create green and white wedding bouquets. The bridesmaids and bridal bouquets were filled with texture-rich white blooms like Stock flowers, Hellebore, Phalaenopsis Orchids and Anthurium. While the groom's and groomsmen's boutonnieres were made with white mini Cymbidium Orchids.
Tropical Floral Details At Sea Island Wedding
Kellie Ryan Designs did a wonderful job at designing the reception space to highlight the bride and groom's all-white and tropical floral vision. Centrepieces and floral arrangements included a variety of textured white blooms like anthuriums, canterbury bells, orchid stems, and orchid plants. Palm leaves and ferns were used to bring the tropical elements of the design to life.
Guest tables were draped with crisp white linens and topped with greenery runners, white blooms, french gray-coloured pillar candles, and votives. The chandeliers were draped with lush greenery, which provided an element of depth to the reception space.
One of the most memorable features of this Sea Island wedding reception was the two breathtaking floral arrangements that wrapped the pillars of the entrance. These installations welcomed guests as they entered the space and were the perfect pieces to set the tone for the evening.

As florists, we love to create unique and stunning personalized designs for each of our couples! When designing the florals for Kelley + Watts Sea Island wedding, we wanted to bring the bride's all-white floral and tropical vision to life in every floral element possible. Each detail was thoughtfully chosen and incorporated into the design, from the moment guests arrived and saw the statement floral installation to the bridesmaids all white tropical-inspired bouquets. If you are dreaming of a destination wedding in Georgia, we would love to work with you! We love bringing our couple's unique visions to life through the beauty of flowers!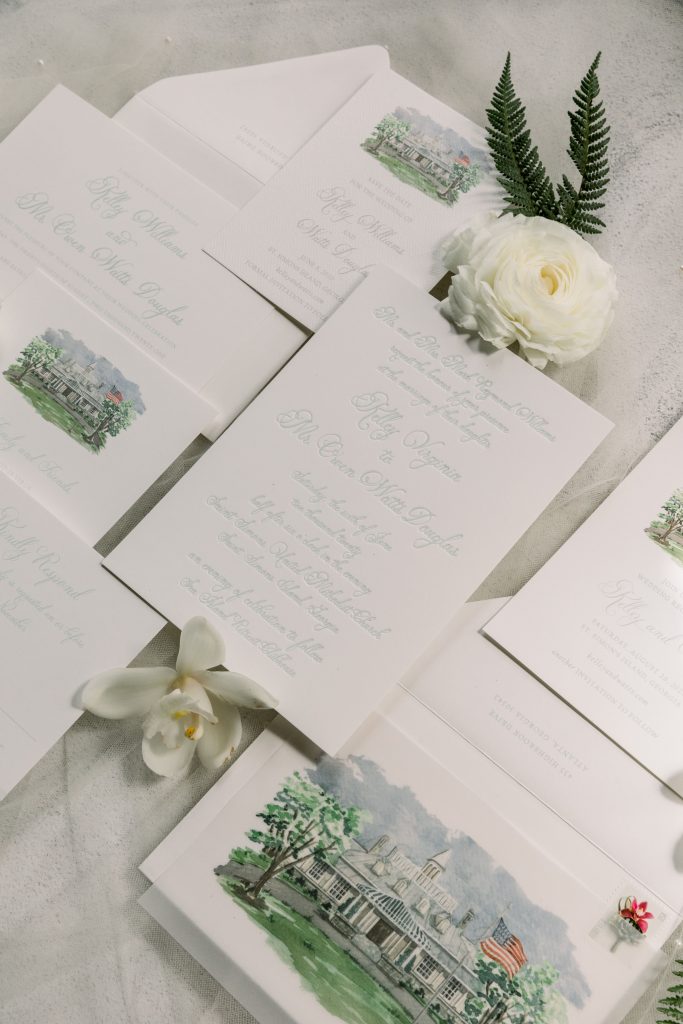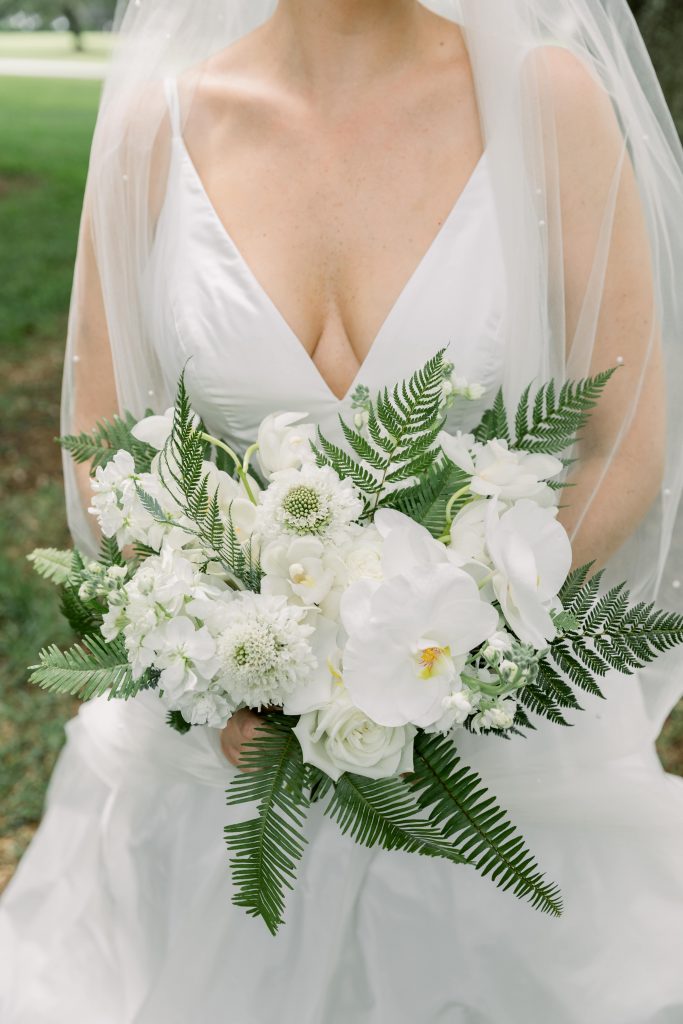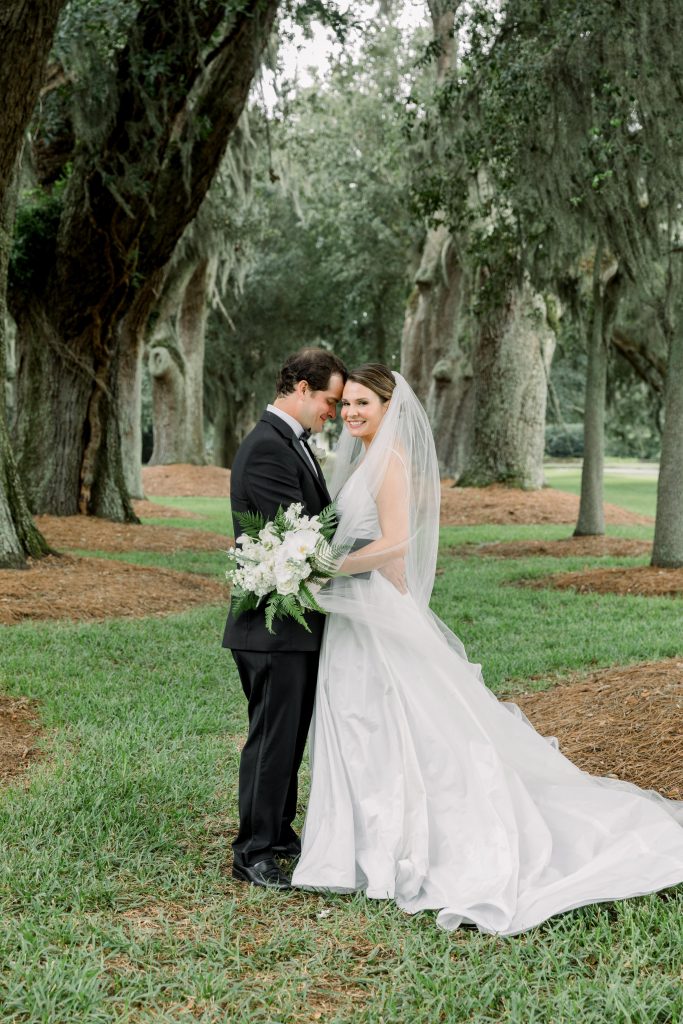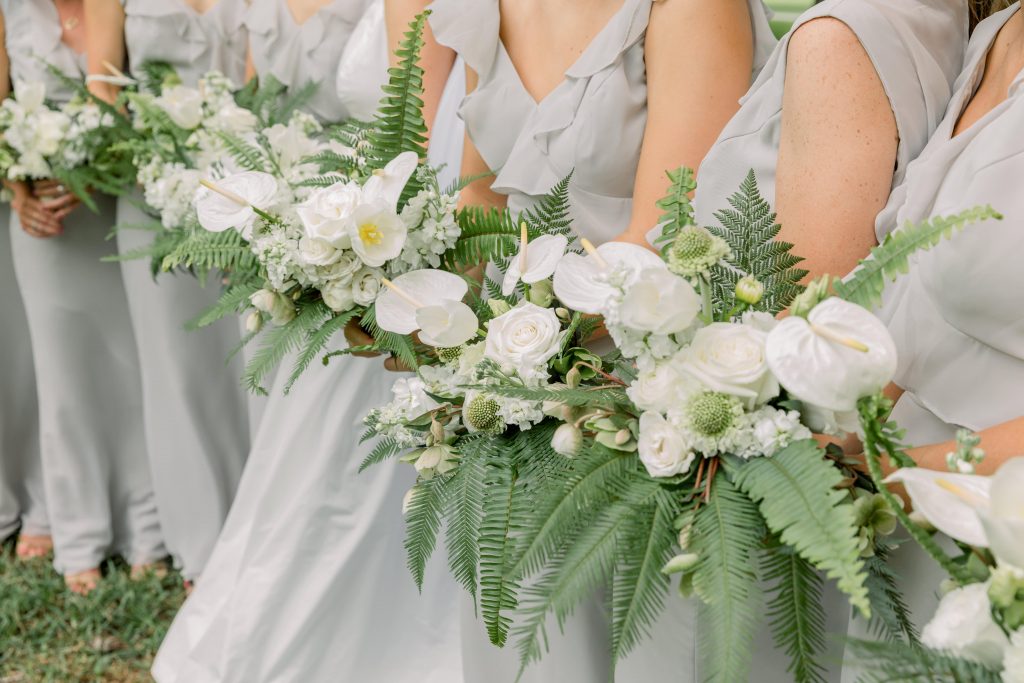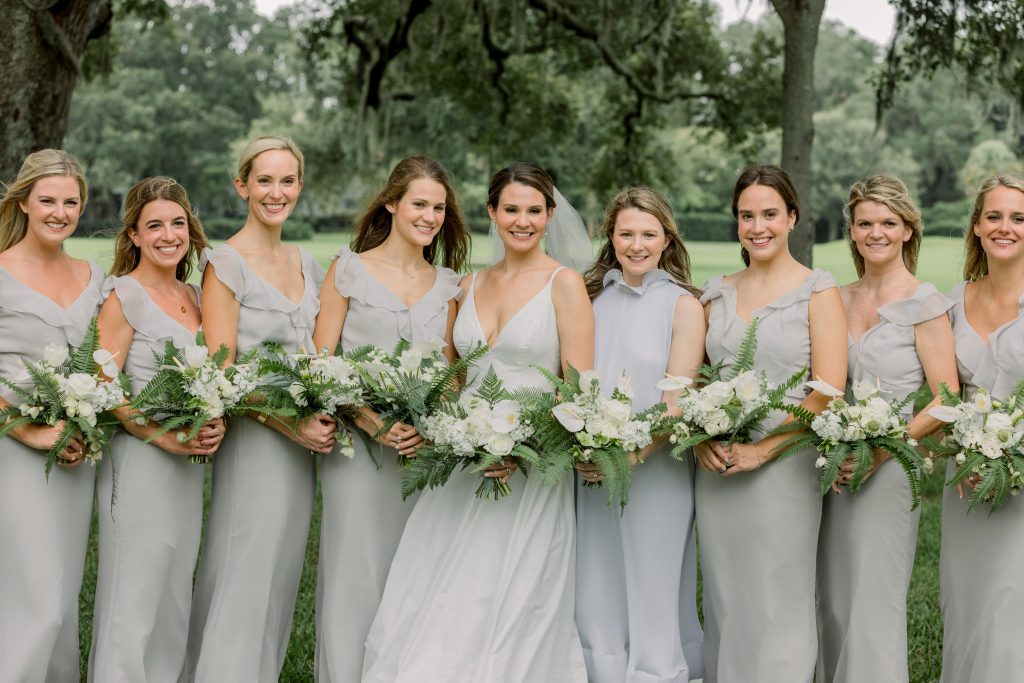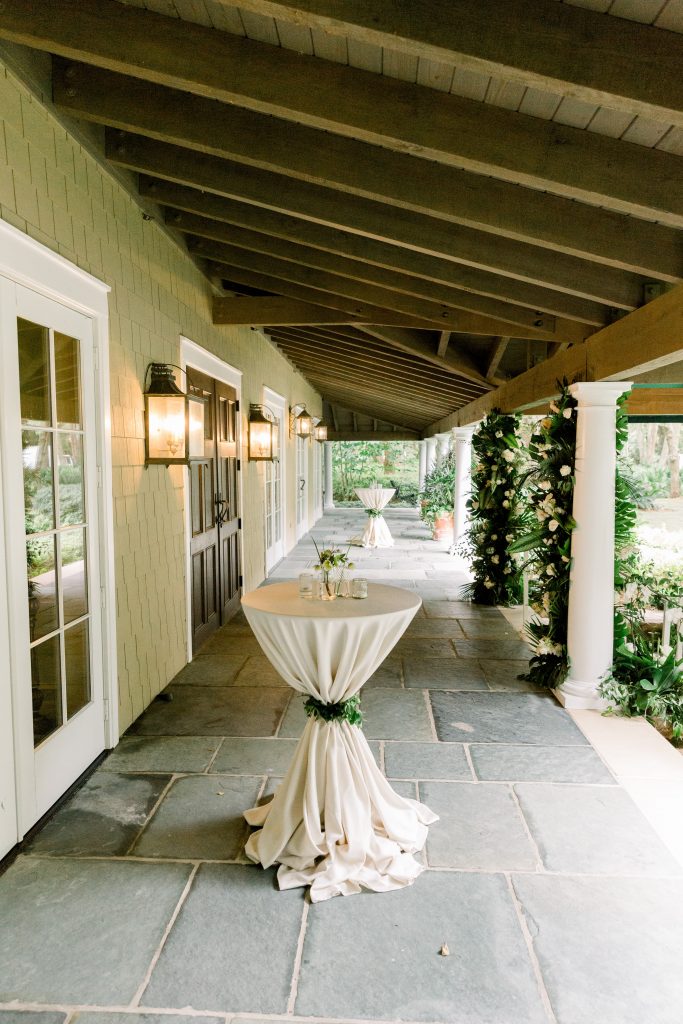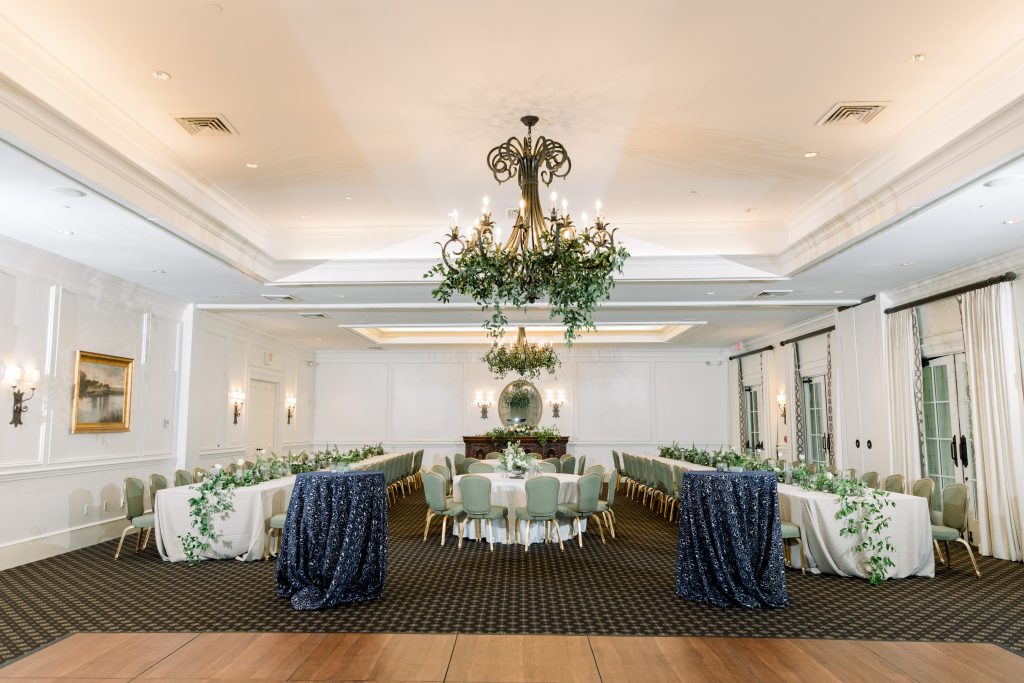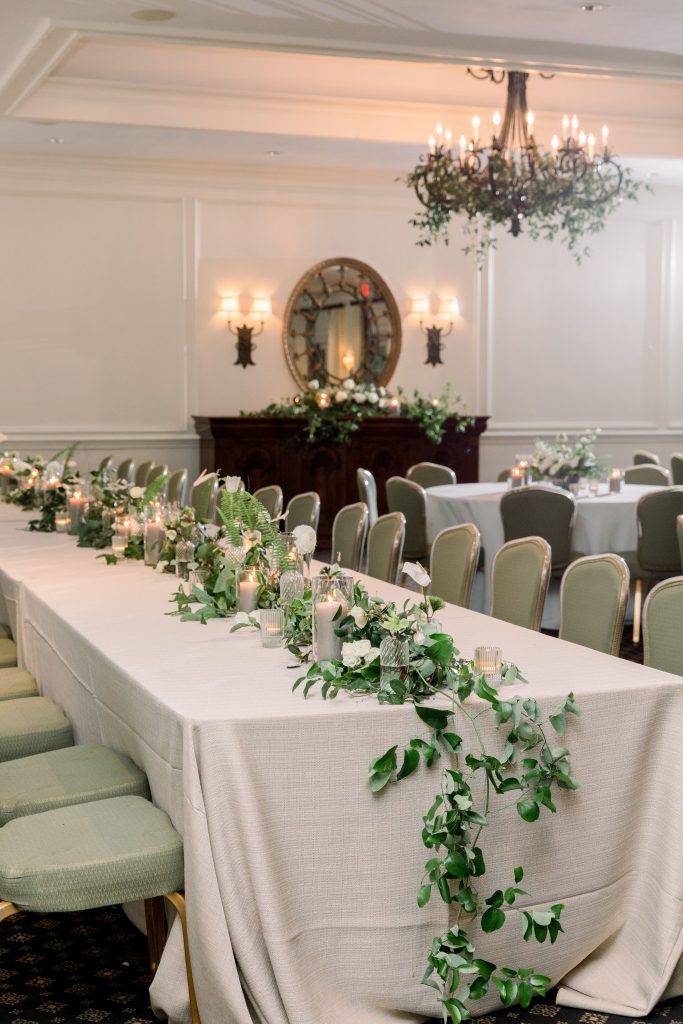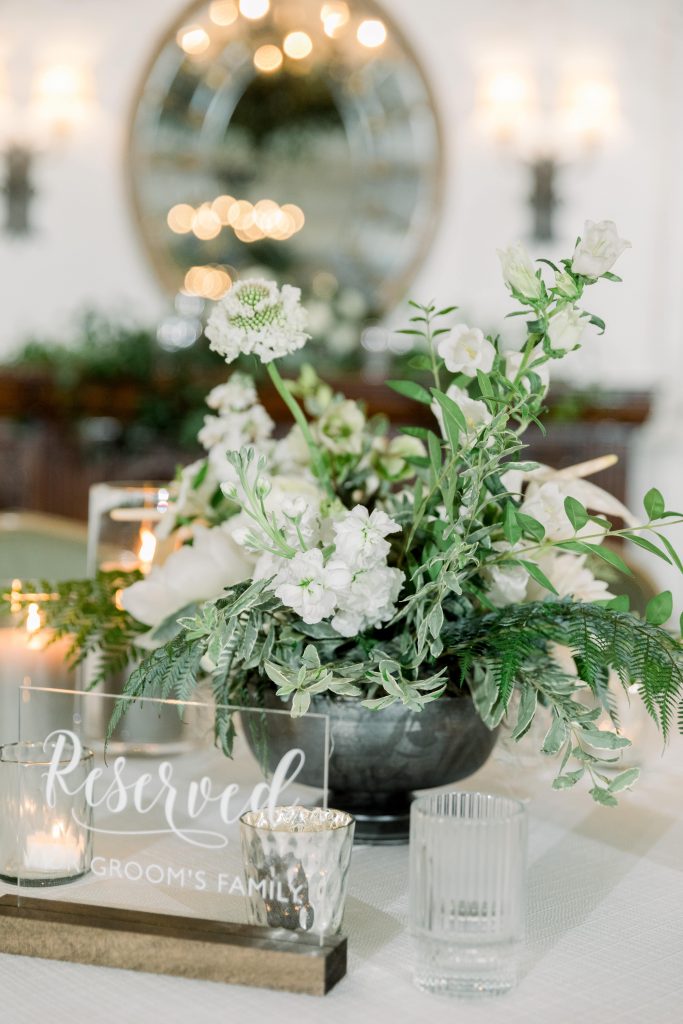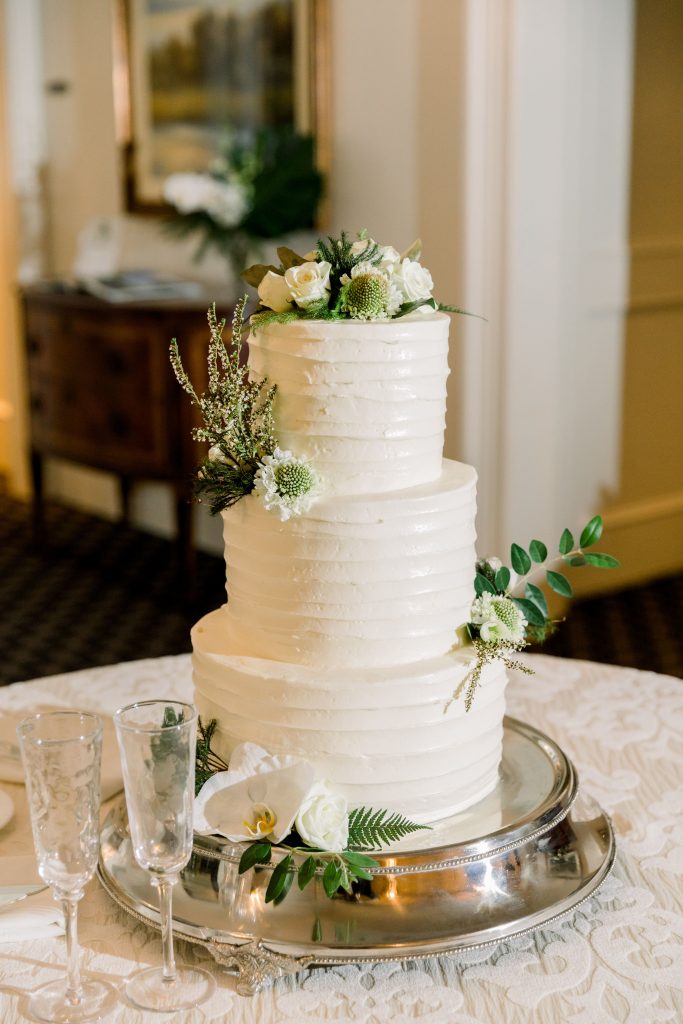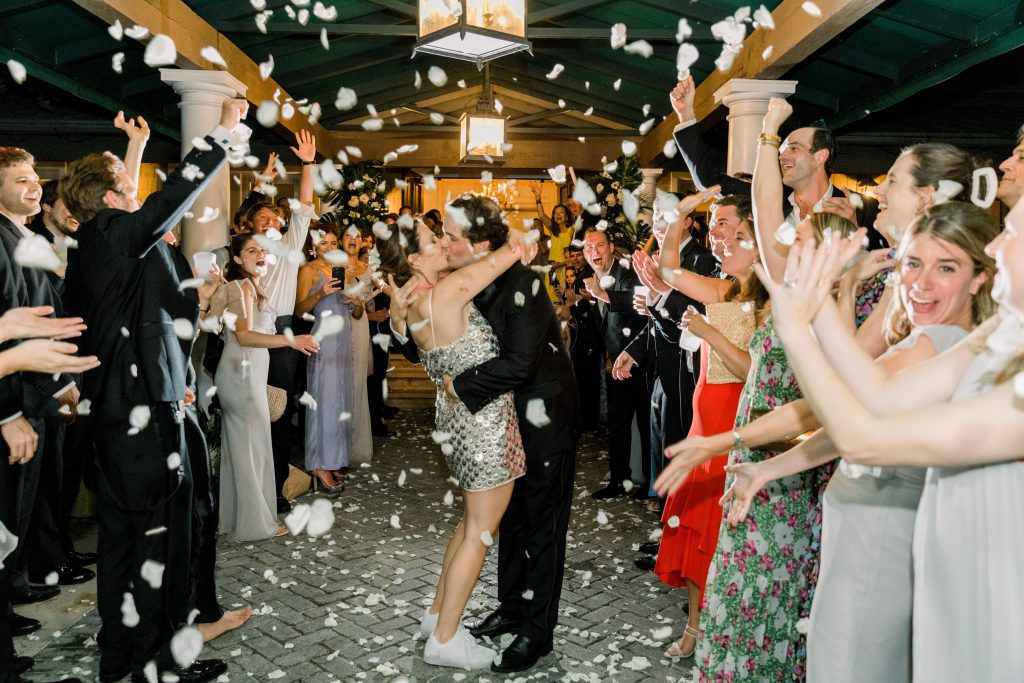 Vendors
Planning: Kellie Ryan Designs 
Photography: Brooke Roberts Photography
Rentals: Beachview
Venue + Catering: The Retreat – Sea Island
For this wedding welcome party on St. Simons Island, we had the pleasure of working with our couple Kelley and Watts, along with their fantastic planner, Kellie Ryan. After postponing their original St Simons Island wedding due to Covid 19, it was a joy to work with them on their re-imagined wedding welcome party at Village Creek Landing.
A Welcome Party At Village Creek Landing
Village Creek Landing is a gorgeous Georgia wedding venue for a casual Lowcountry event. Guests can enjoy the vast property and beautiful marsh views overlooking Sea Island and Little St Simons Island with both outdoor and indoor space. This Georgia wedding venue was also the perfect setting for a large crowd to gather during the pandemic. With lots of outdoor space and different areas for guests to explore, everyone was able to feel safe at this wedding welcome party.
The Wedding Welcome Party Design
As this was Kelley and Watts's third time planning their wedding welcome party, the couple entrusted the Gray Harper team with creating a design inspired by their venue's relaxed atmosphere on St. Simons Island.
For their design, our team took inspiration from Kelley and Watts's simple yet classic taste and blended it with tropical elements that complemented the surrounding foliage of St. Simons Island. Florals with soft blue tones were paired with peach blooms. Pops of orange and mustard were incorporated into the design to give it a fun and exciting twist on tradition. Tropical greenery was infused throughout with preserved palms and dried florals to provide the floral design with a relaxed feel.
Classic blue and ivory linens highlighted the venue's tropical elements and paired perfectly with the floral design. We brought in the most beautiful cashmere-colored candles that glistened amongst the blooms for the guest's tables.
The Gray Harper team loved being on St. Simons for this wedding welcome party. We are honored when our clients trust us to bring their events to life. We'd love to chat with you more about your wedding vision and help your Georgia wedding dreams come to life!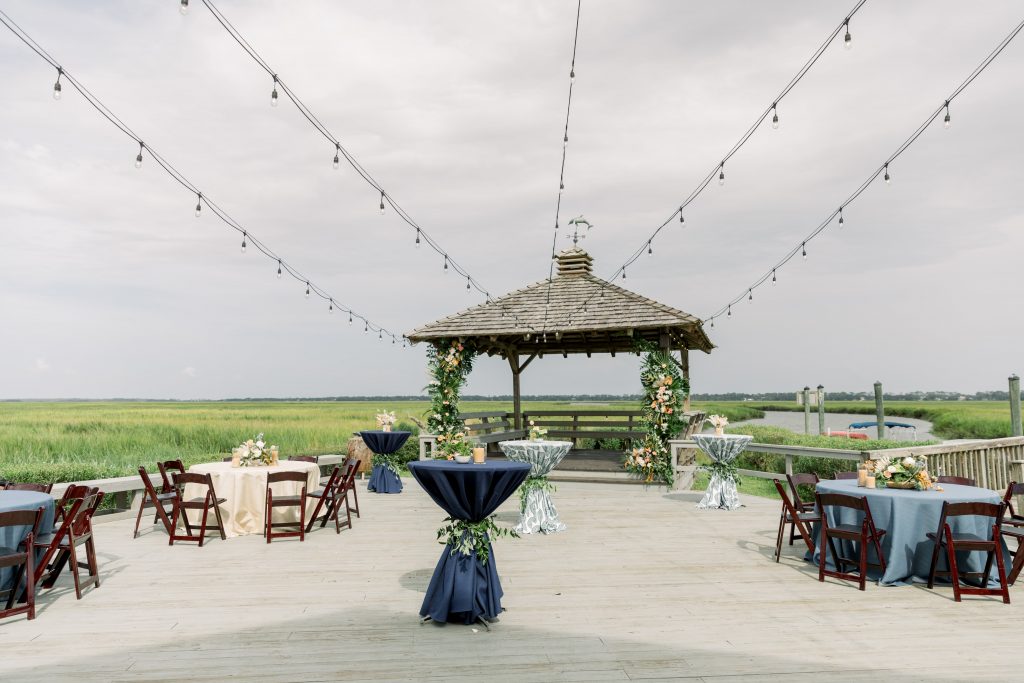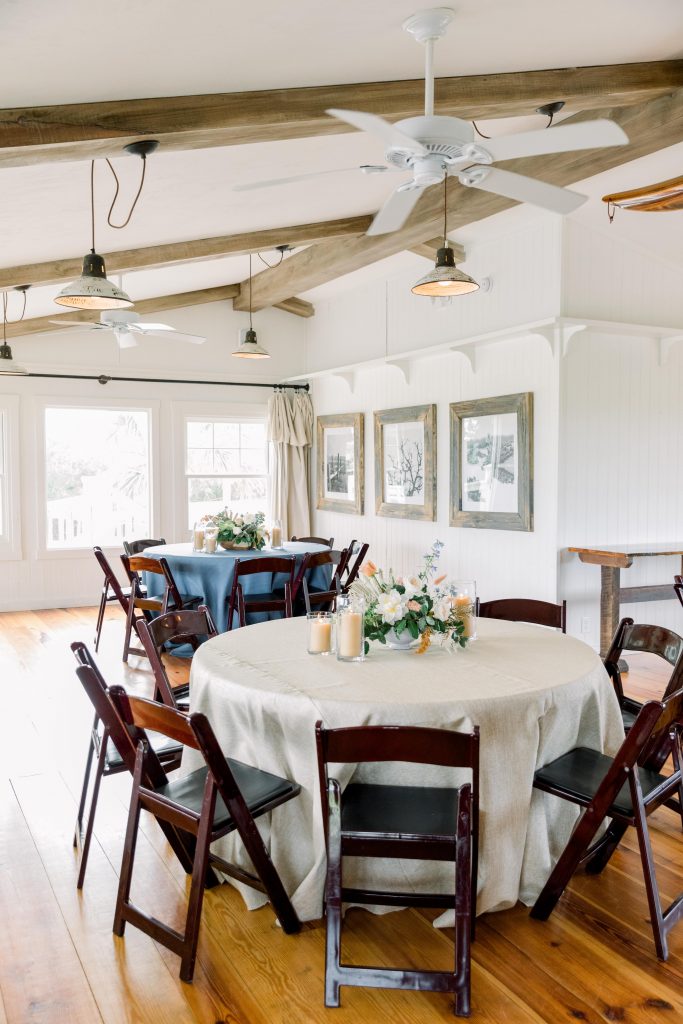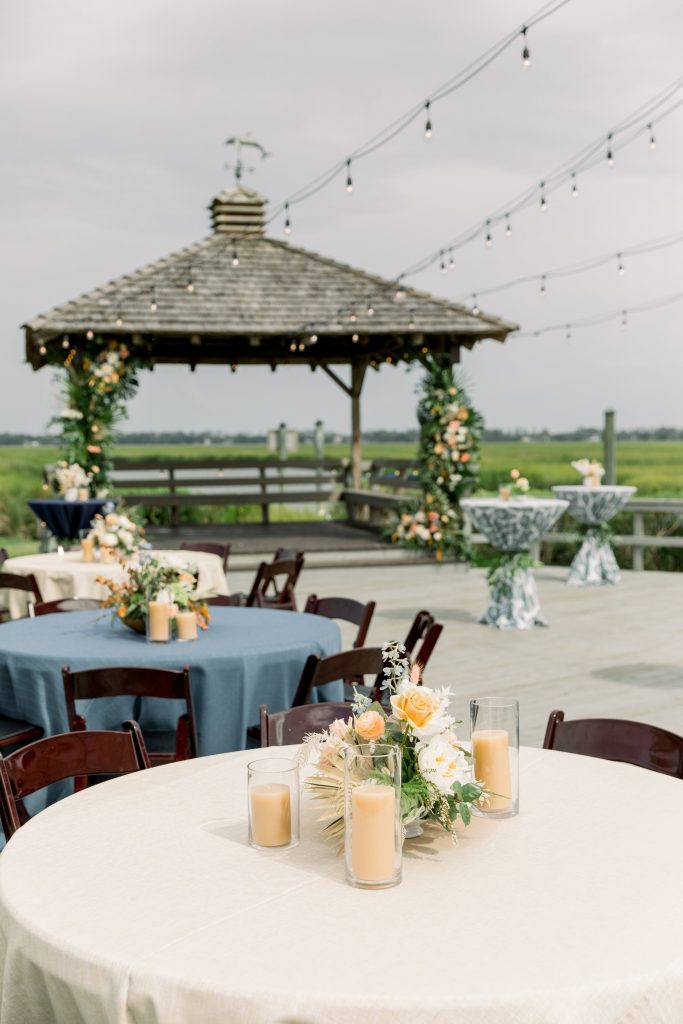 Vendors
Planning: Kellie Ryan Designs
Photography: Brooke Roberts Photography
Venue: Village Creek Landing
This past October we had the pleasure of working with Amir and Bess for their destination wedding at the King and Prince Resort on Saint Simons Island. The couple had a unique vision for their wedding day and wanted a fusion of 1920's glam with some tropical Island accents. Both Bess and her mother were very knowledgeable about specific floral types and worked with our team to select their favorite blooms which we incorporated into the design. 
As the Calla Lily is an important flower to Bess we went with a simple and classic bridal bouquet with all white Calla Lilies. Bess tied a vintage Hermes scarf around the stems of her bouquet, as a way to incorporate a family heirloom.
Tropical Glam Design
To continue with this all-white classic floral design, white bouquets and boutonnieres were created for each member of the wedding party. For the bridesmaid's bouquets, we designed each with a single flower type of different white blooms. We loved this idea because it emphasized how each bridesmaid is part of the group but also different. We did the same thing with the groomsmen boutonnieres, designing each with a different white focal bloom. This was a beautiful way to honor the unique and special relationships Amir and Bess have with their wedding party members.
For the ceremony, lush white floral arrangements with tropical accents were elevated on acrylic stands as to not take away from the focal blooms. Bundles of tropical greenery and simple white florals were incorporated throughout the ceremony space and were the perfect selection for this destination wedding on Saint Simons Island.
At the reception, the stunning five-tiered wedding cake was definitely the showstopper of the evening. Designed with fresh white Calla Lillies and petite fern leaves this wedding cake was the epitome of tropical glam. The reception space at this destination wedding on Saint Simons Island included tall centerpieces with flamboyant tropical foliage, along with simple and subtle bud vases for small white floral blooms.
With a number of different types of blooms and greenery included in the design, there were a number of dynamic interests and elements within each arrangement. We love how we were able to bring Bess's vision of a 1920's glam design with tropical accents to life with only the simple green foliage and white blooms.
If you are planning a destination wedding in Georgia and are looking for a floral designer to bring your unique design to life, we'd love to hear from you!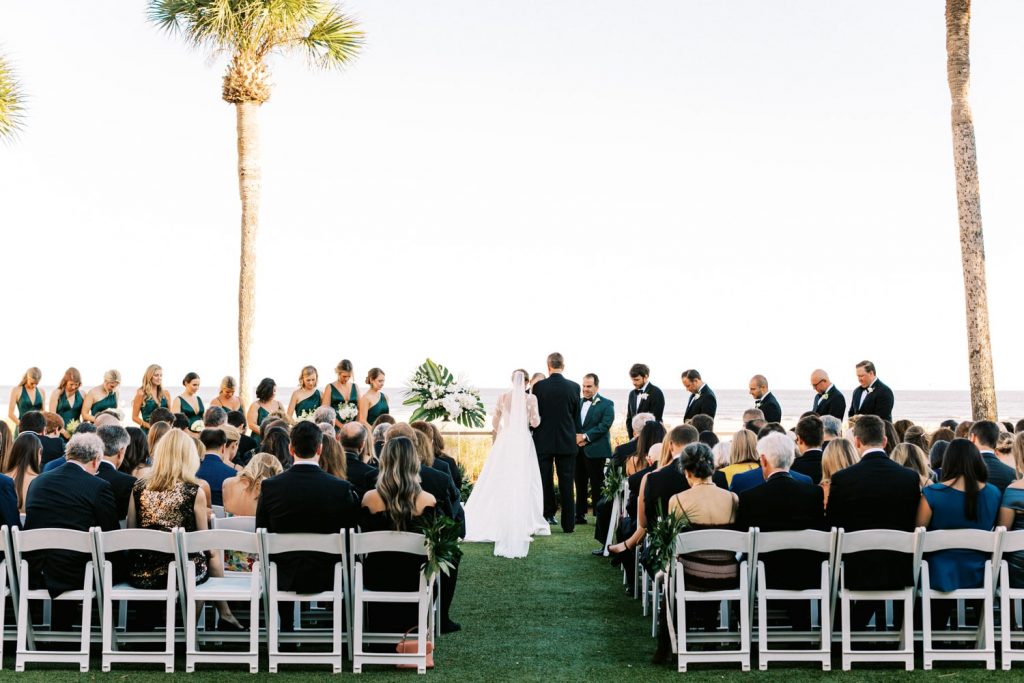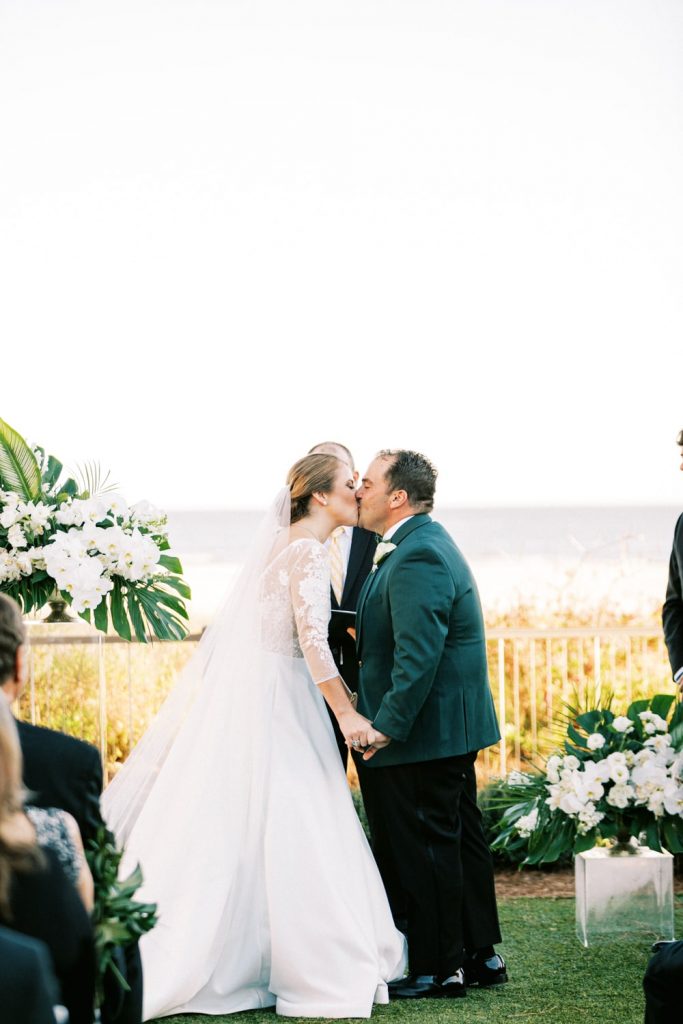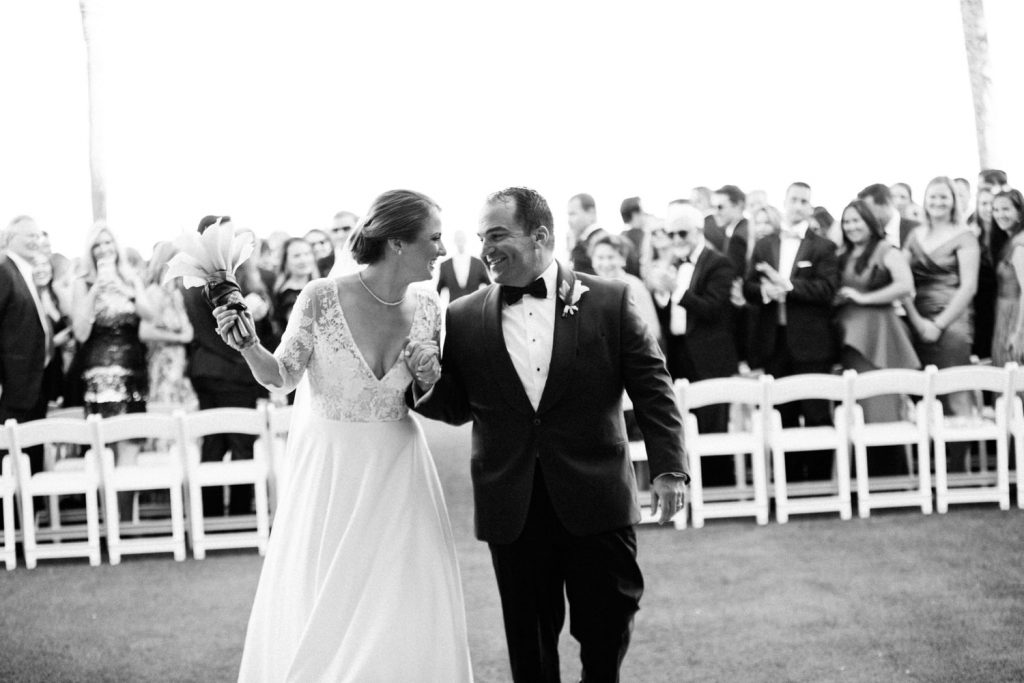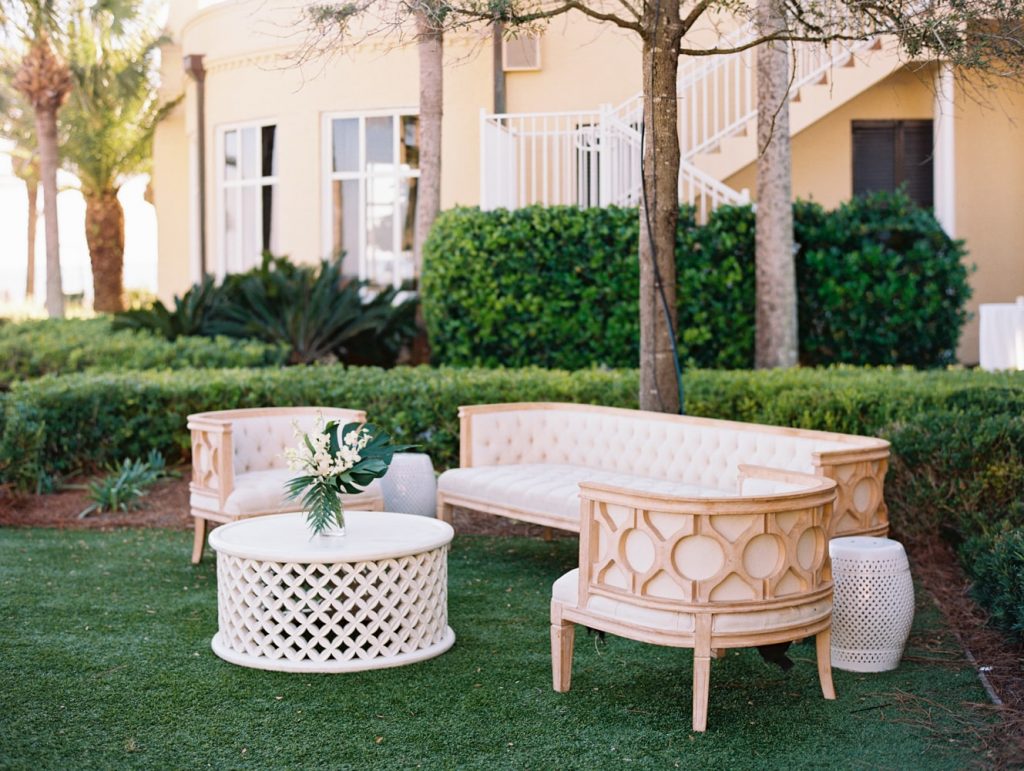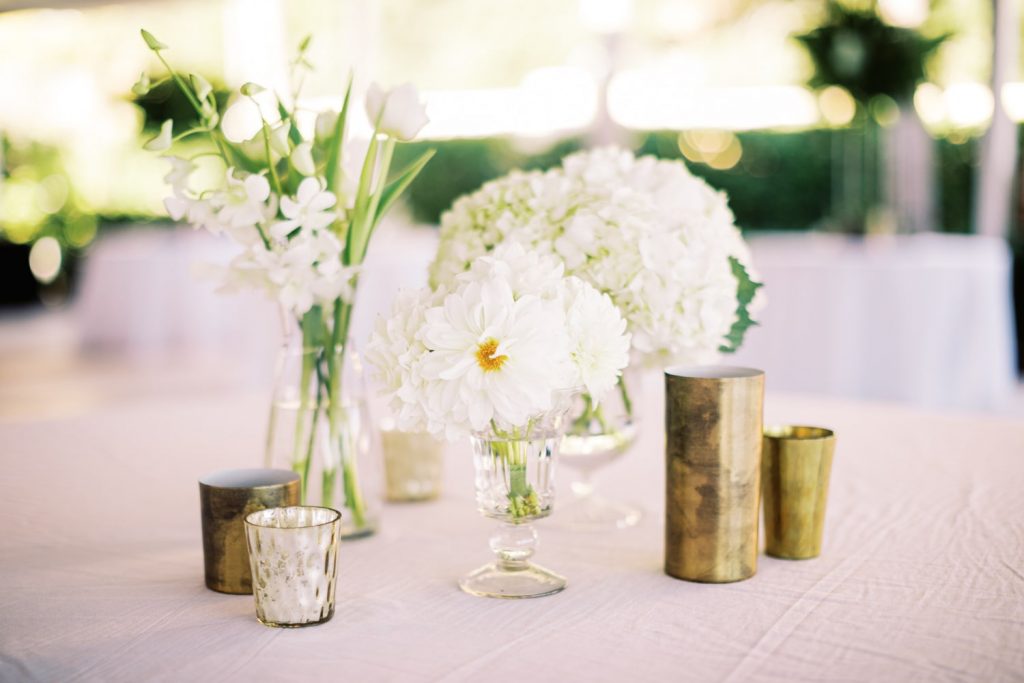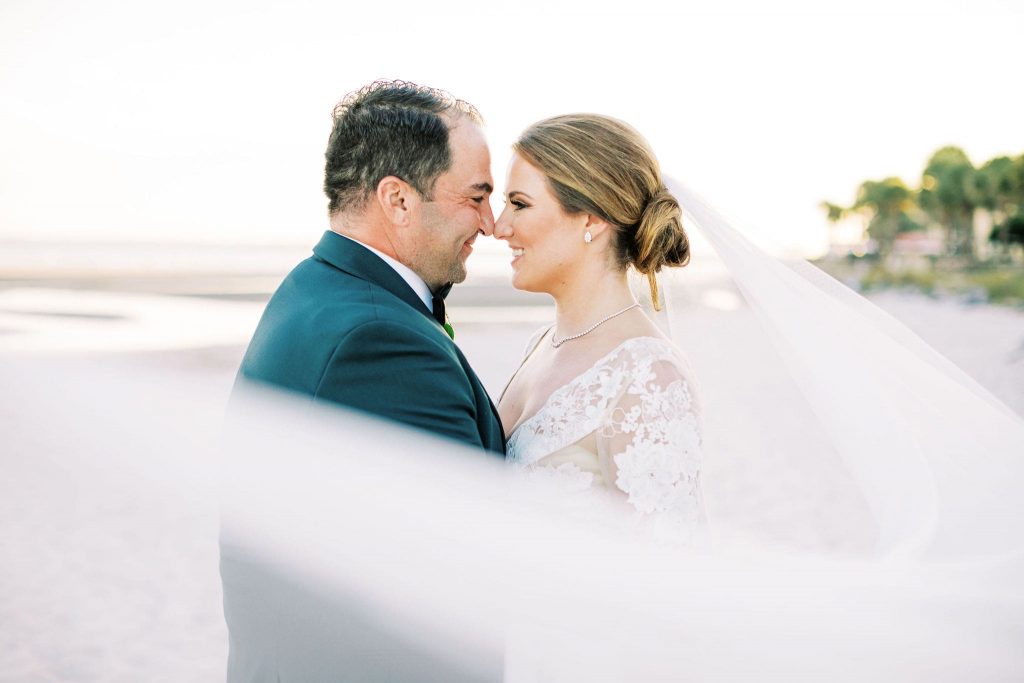 Vendors
Hair + Makeup: Pamper Polish + Primp
Photographer: Allison Pedigo
Rentals: Beachview Event Rentals
Venue & Caterer: The King + Prince Resort
Planner: Beth Williams + Co
Ceremony Music: Music by Pegge
Reception Music: Emerald Empire Band
Transportation: St. Simons Trolley