Category:
Tips & Tricks
If you are looking for a unique wedding design, consider basing your plan on a monochromatic color palette!
This calming and subtle color palette is not only aesthetically pleasing but is perfect for your wedding design or floral design palette. For a bonus to really make your design dynamic, pair the monochromatic colors with modern pops of black and white.
What is a monochromatic color palette?
A monochromatic color palette consists of various brighter and darker tints, tones, and shades of one monochromatic color. A monochromatic color consists of colors that are one singular hue and can include any of the twelve colors on the color wheel.
Monochromatic does not mean just black and white and can consist of 3-7 variations in darker or lighter shades of your original hue.
Designing an event with a monochromatic color palette
Start off by deciding your base hue for your monochromatic color palette. This hue will be the inspiration for your design and will be included in various aspects throughout.
For this event, we chose mustard yellow as our base hue. Not only was it a unique and bold color to work with it was readily available in the fall. We recommend choosing a color that pairs nicely with the season in which your event is taking place. This will help with sourcing the most suitable items for your design.
Monochromatic Colors & Your Event Design
It may be challenging to source the exact items desired for your event with a monochromatic color palette, so being innovative is essential.
For example, the yellow Baby's Breath that was a key element in this design was actually ordered in its natural color of white. Our team then spray-painted each individual stem to the precise yellow color desired.
We also decided to use a lot of dried and preserved items, which was great as they not only added texture to the arrangements, but we could design them way in advance.
Elements that are a great area to insert this monochromatic palette include bridesmaid dresses, linens, florals, stationery, china, and event food!
This Wedding Industry Professionals Association event was a fun event to design and pushed the boundaries of standard event color palettes. We wanted to use a color that was not only bright but bold and made a statement, and we think the mustard yellow was the perfect choice for this event. Head over to our Portfolio to see how our team has incorporated different color palettes into luxury event designs.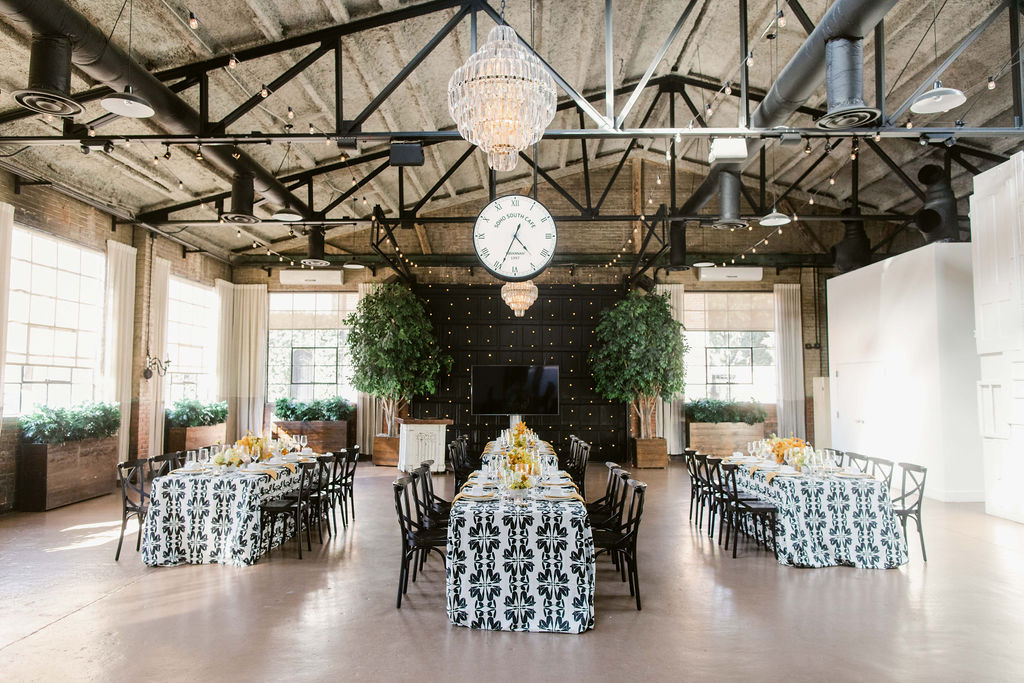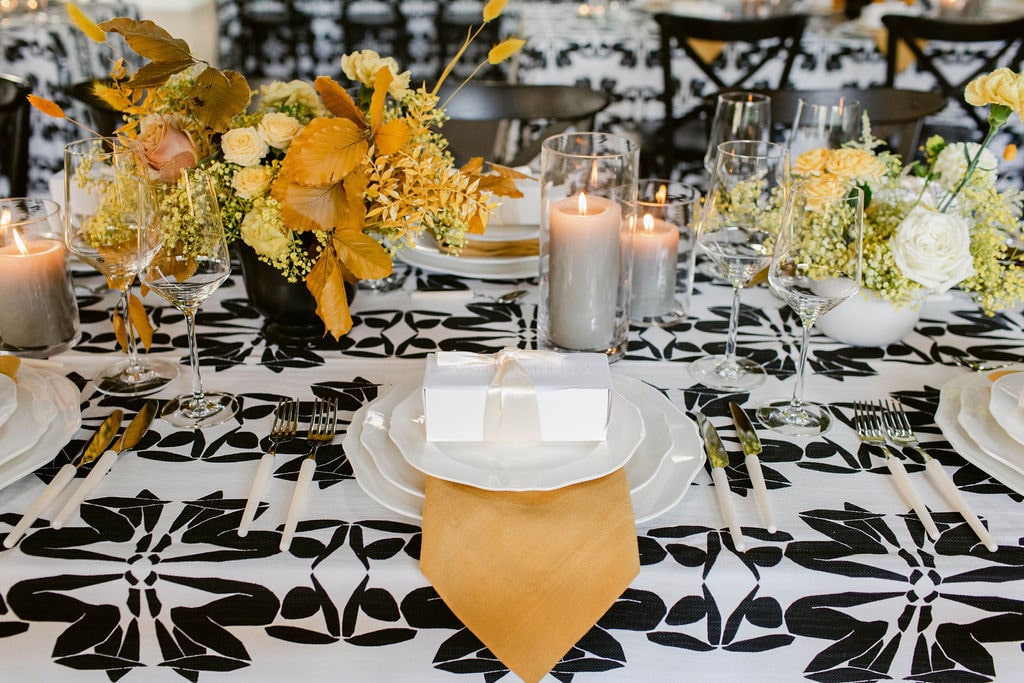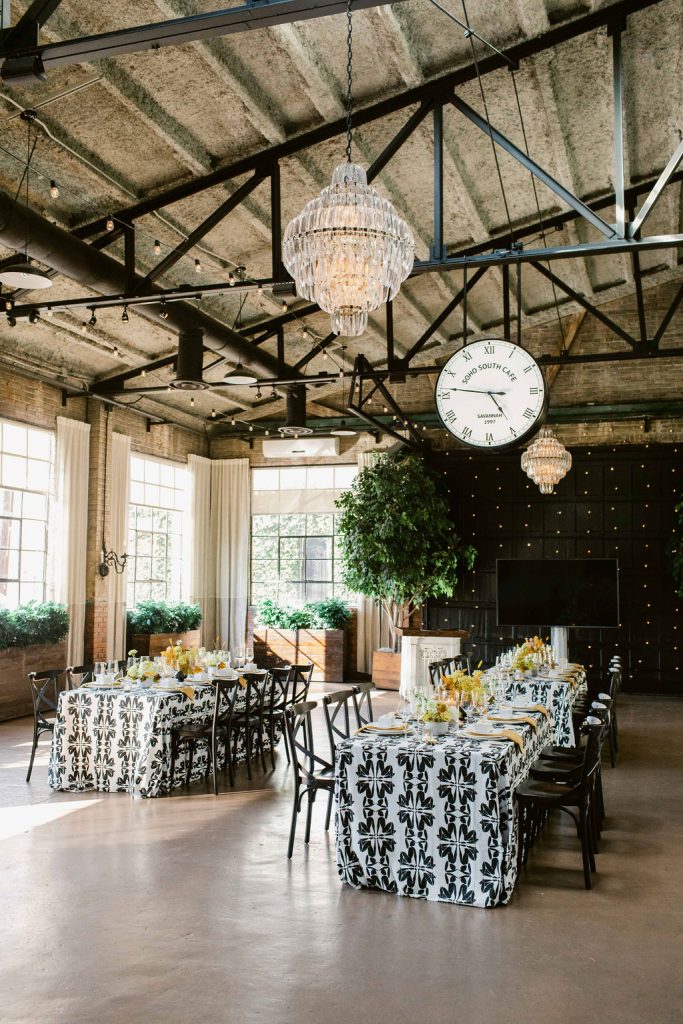 Vendors
Photography: Izzy + Co
Design: Design Studio South
Florals: Gray Harper
Videography: Two Arrow Films
Favors: Vanilla And The Bean
Rentals: Event Works Rentals
Table Linens: Stradley Davidson
Linen Napkins: Nuage Design Inc
Venue + Catering + Bar Service: Soho South Cafe
Wine Provider + Educator: Georgia Crown
Host: WIPA
Speaker + Presenter: Party Slate
Audio Visual: Advanced AV Rentals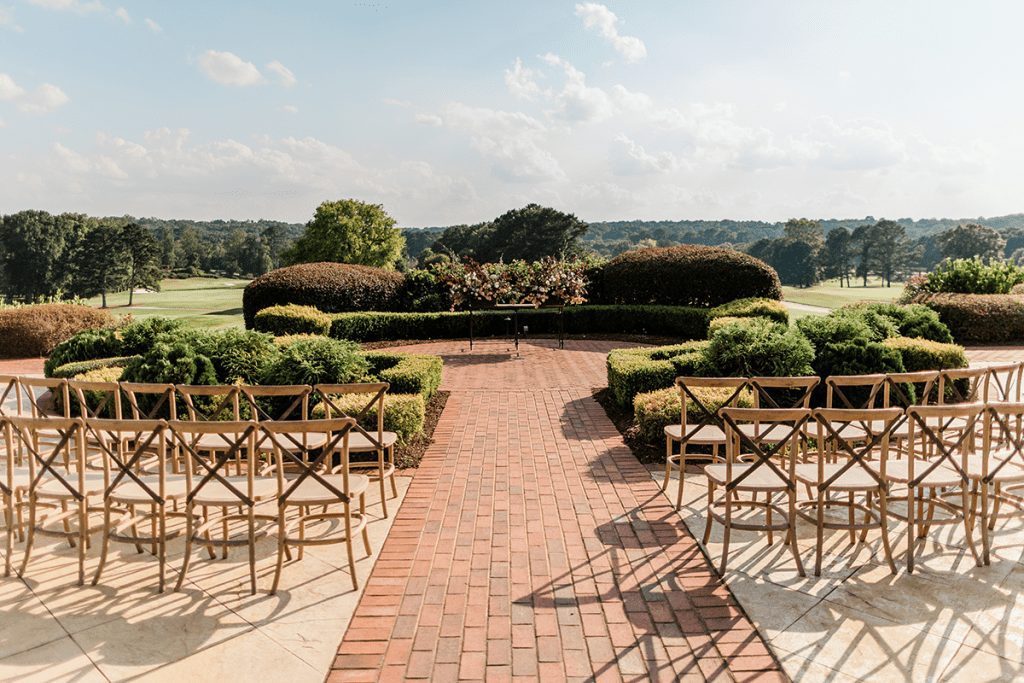 We often have couples tell us that they are going to DIY their wedding flowers to save money. And that statement is usually met with wide eyes and silence on our end. Because here is the thing: we know how hard, time-consuming, messy and frustrating the process is and we know the skill level required to pull off an event this important. Let us take you through an overview of the wedding florist's process.
The Wedding Florist's Flower Prep
To give you an idea of a wedding florist's process, for a Saturday wedding our flowers arrive on Tuesday, and are stored in our floral cooler. The entire day is spent processing, cleaning and hydrating the flowers. We don't live near a nice big flower market, so most of our blooms are shipped in via FedEx.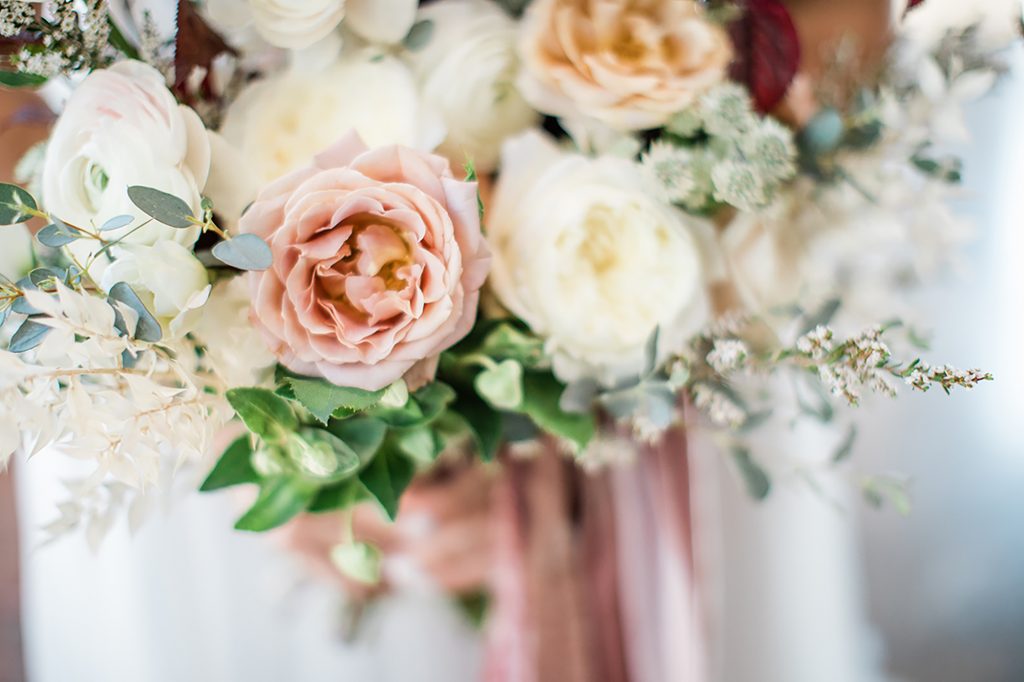 Having flowers shipped is a very frustrating experience. Our flowers are often delayed or stuck somewhere overnight, and FedEx assumes no liability for dead flowers. If you are DIYing wedding flowers yourself and don't have a floral cooler, you will want your blooms in-hand on Thursday (for a Saturday wedding) to hydrate and process. You CANNOT put flowers in a regular refrigerator. Gases from food in the fridge will reduce the vase life of the blooms and usually fridges are kept colder than floral coolers since they are used to preserve meat and dairy.
Tuesday – Friday: Designing Wedding Florals
Once our flowers are hydrated, we have Wednesday, Thursday and Friday to design the flower arrangements, bouquets and decor. Since you will be getting your flowers in on Thursday (to preserve freshness), that leaves you with just Friday to design. But think about it: You'll be far too busy on Friday to spend the entire day working with flowers (assuming you even know how to create these designs in the first place)! You will have appointments, the wedding rehearsal, rehearsal dinner and people to see. What if your flowers come in and they are not perfect and you have to find last-minute replacements? What if they get lost by FedEx?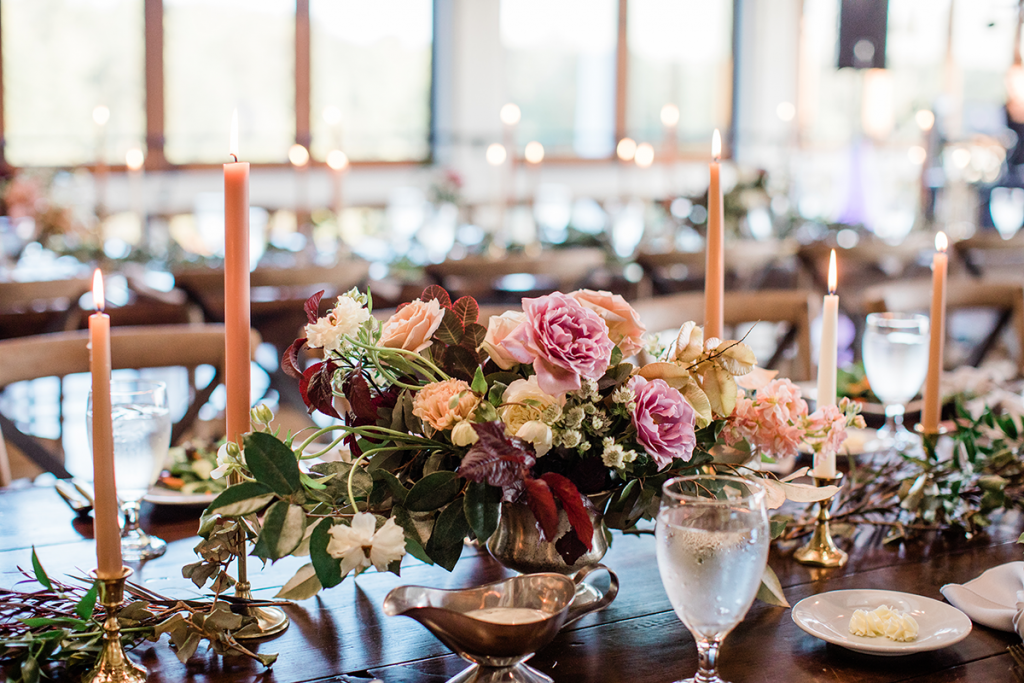 On the Wedding Day: Floral Installation and Setup
Typically our team of about four people load the florist van at 8am to arrive at a venue around 10am. For a bride and her bridal party, that time is spent getting hair and makeup done. You also have to think about weather and what time you can start setting everything out. Sometimes we place flowers just an hour prior to ceremony due to hot weather or wind. This task would be extremely difficult for you or a family member to take on right before the ceremony begins.
Other things to consider for DIY wedding flowers:
Flowers take up lots of space and are fragile to transport.
You will make a huge mess processing flowers, so make sure you have plenty of space to work and access to trash cans and sinks.
Flowers need to be kept in a cool, dark place in order to ensure freshness on the wedding day.
Designing takes more time than you think; we design most wedding florals in our studio over three full days with four people working.
Ordering the flowers – do you know how many flowers to order for table centerpieces and bouquets?
As a florist, we have access to wholesale pricing. Unfortunately if you are not a florist, you will still have to pay retail price for any flowers you purchase, which really adds up on a budget.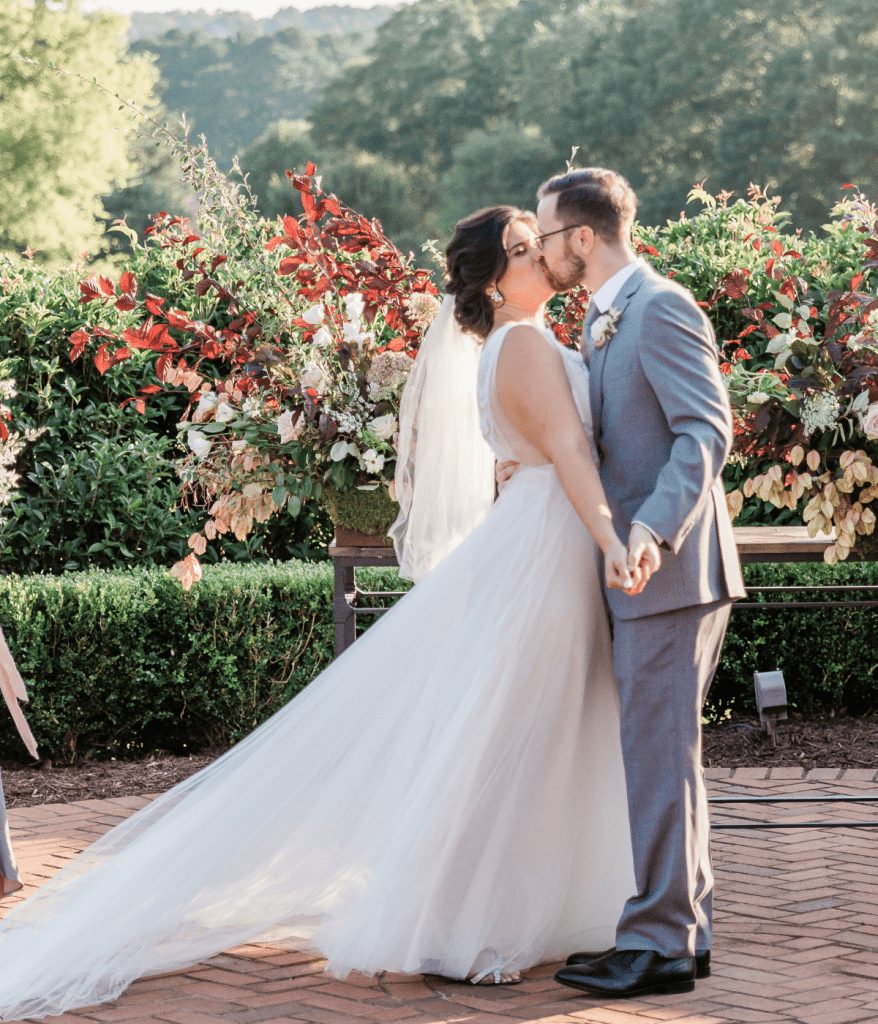 How to Save Money on Wedding Flowers
Focus on a few focal elements that are beautifully designed
You don't need flowers everywhere! Think quality over quantity. Tip: Splurge on a floral altar backdrop but skip putting flowers on every chair down the aisle.
Repurpose your bridesmaid bouquets as centerpieces
We like to place bouquets in a vase at the center of the table and then have six bud vases with blooms placed around them. That way it looks like a centerpiece and not like someone just plopped a bouquet down on a table.
Have your florist design decor that's easy to move
This will probably add more labor to your quote, but your flowers will do double duty. Tip: Line the ceremony aisle with blooms designed in trays and then move them to line the front of the stage for the reception.