Tag:
destination wedding in Savannah
One year after their initially planned wedding, S+D had a beautiful destination wedding at Ships Of The Sea Maritime Museum. The couple had to postpone their original plans due to Covid 19 because they and their guests were traveling from Brooklyn, NY. After having a small wedding on their original date in Maine, the couple renewed their vows in a fabulous destination wedding in Savannah with friends and family nearby.
Fun fact, S+D's wedding took place at the same venue as my wedding reception exactly 11 years later. It was so fun to celebrate the couple on our 11th wedding anniversary!
Modern & Pink Wedding Design
The bride had envisioned a modern and pink wedding design for her wedding at Ships Of The Sea Maritime Museum. To bring this design to life, we used all pink blooms with minimal greenery and modern vessels. The floral centerpieces were paired with sage-colored taper candles for the reception. The one floral item that didn't have pink was the bridal bouquet, which was designed with all-white blooms and stood out beautifully.
On the day of the wedding, it poured all day. Luckily, it stopped just in time for the ceremony, the skies cleared, and the sun shined down on the happy couple. Our bride looked absolutely stunning in her modern and sleek Carolina Herrera wedding dress as she walked down the aisle. For the wedding ceremony, the couple stood between two modern floral pillars with gold stands and pink florals that were set up at the base of the steps in front of the William Scarbrough House.
We had so much fun working on this floral design for this modern and pink wedding! Over 1200 stems of baby's breath were used for this event, each of which was individually painted pink by our team. One of our favorite details of the floral design for this wedding at Ships Of The Sea Maritime Museum was the floral installation for the reception. Billowing bundles of pink baby's breath were suspended along with sparkling disco balls above the dance floor, and the results were more than we could've imagined!
Sometimes when plans don't go as intended, the alternate arrangements can go much better than ever imagined. This was the case with S+D's postponed Savannah wedding at Ships of the Sea Maritime Museum. After a year of waiting to celebrate the couple, guests traveled to Savannah for this destination wedding, and we were incredibly excited to join in on the festivities. If your original wedding plans don't go as intended, we will be there for you to help adjust plans and your design so that you can have the wedding of your dreams! Fill out our inquiry form on our website, and we'd be happy to help you bring your floral design to life!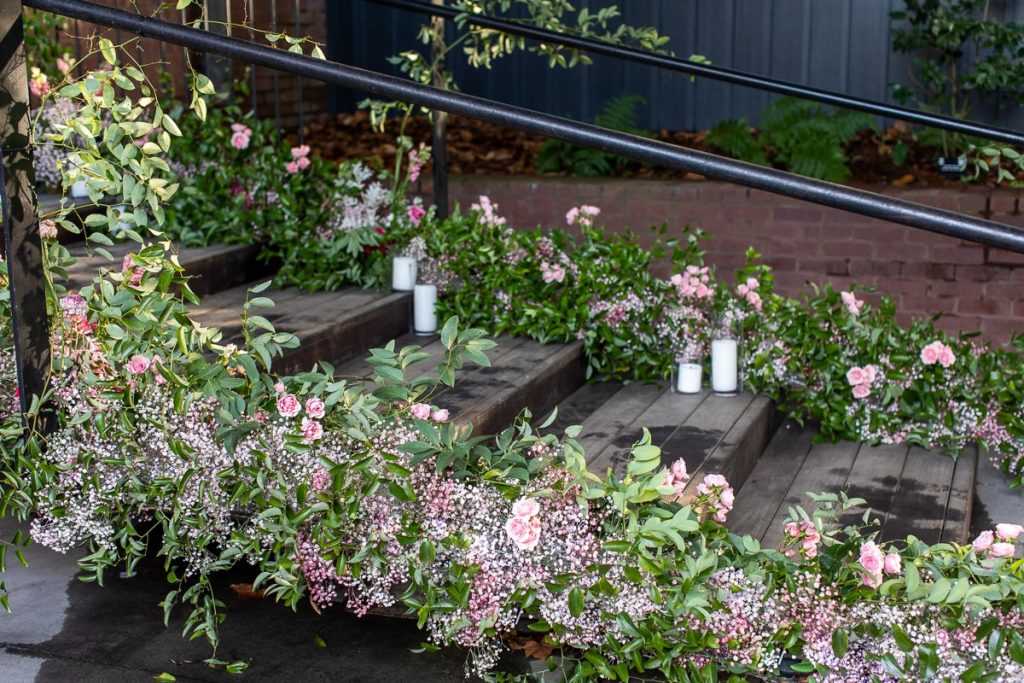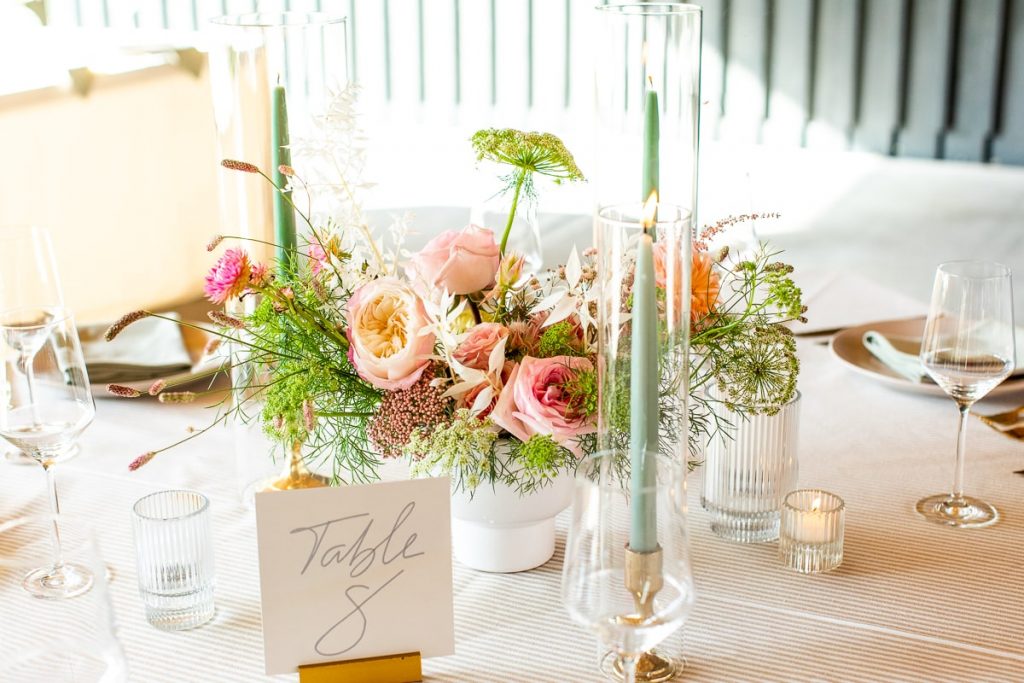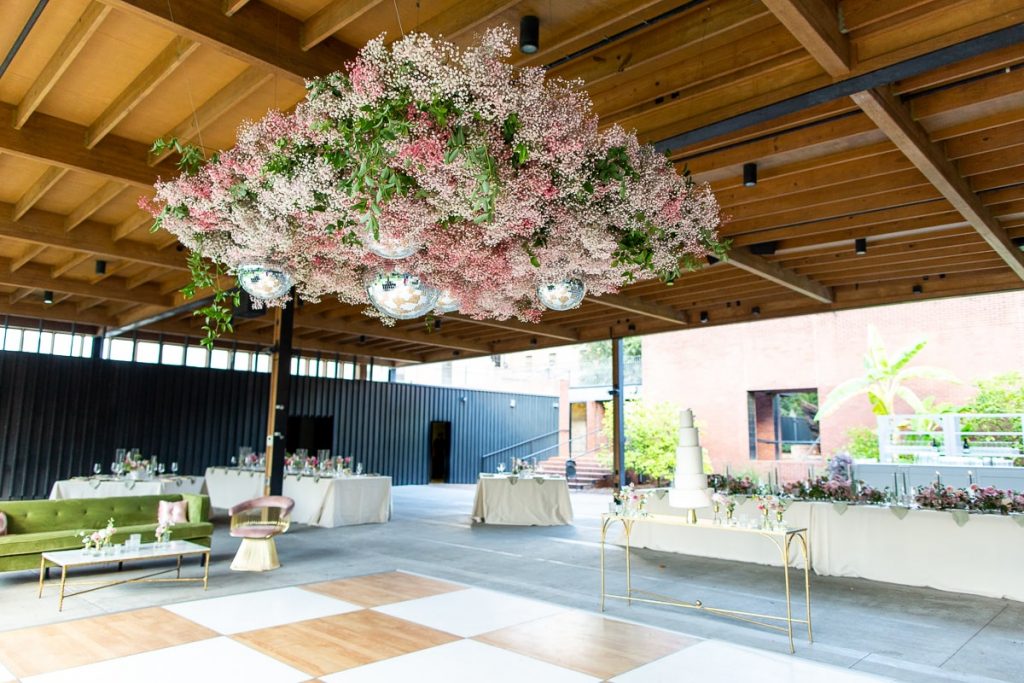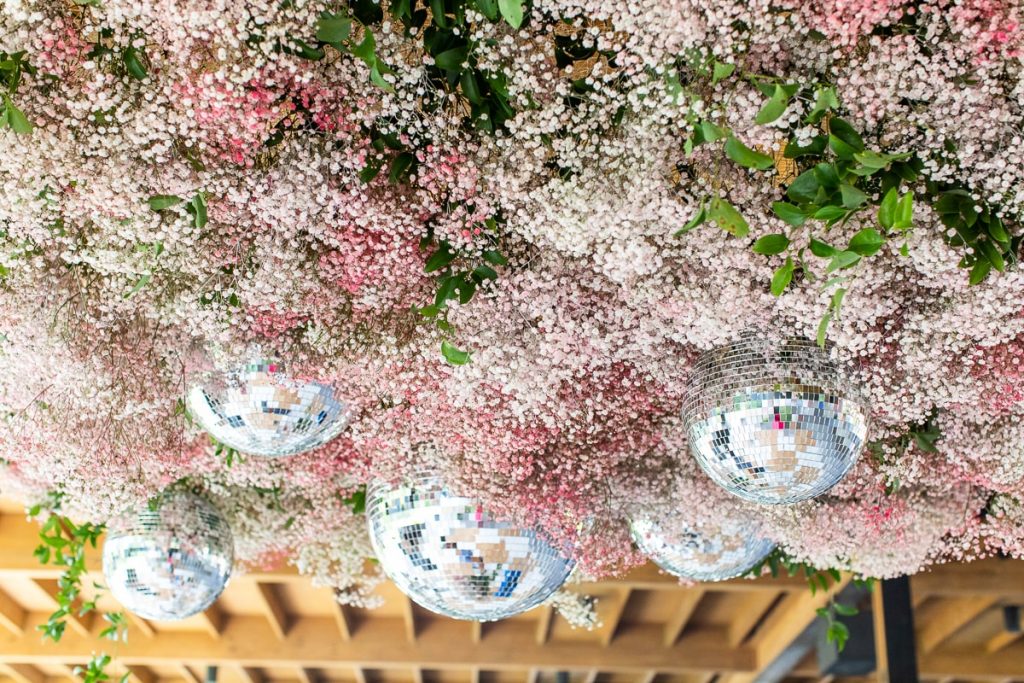 Photographer: Jade + Matthew Take Pictures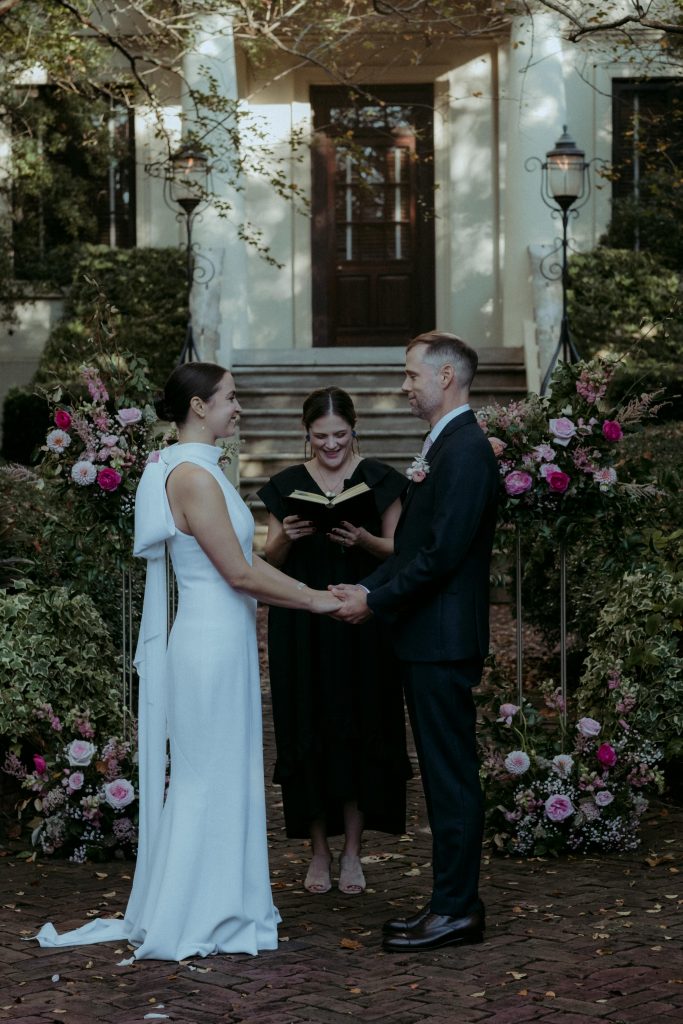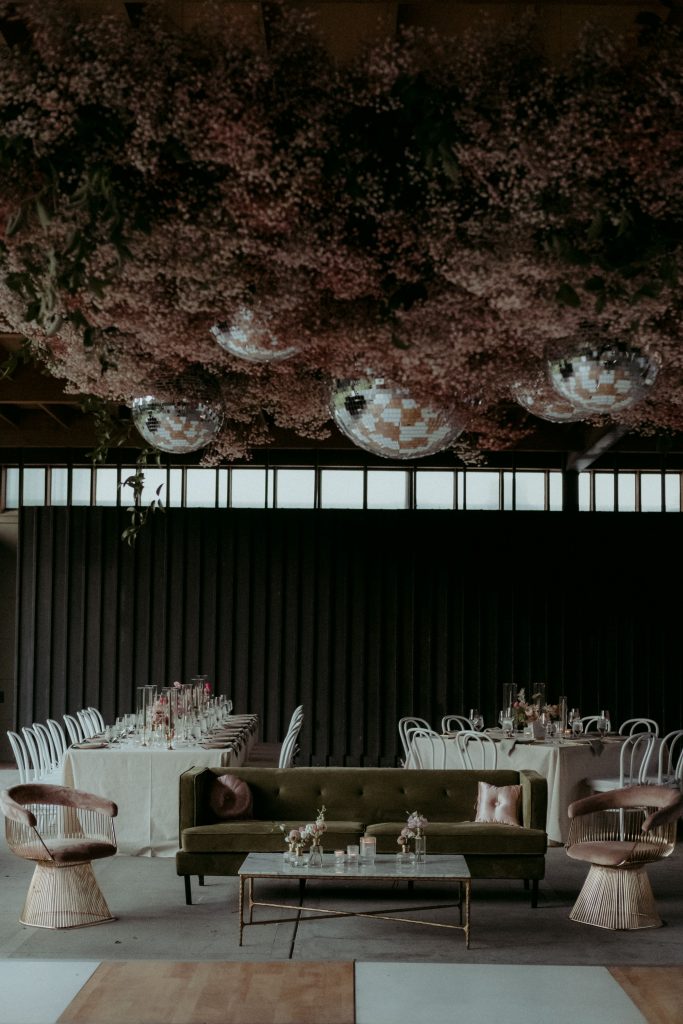 Photographer: Les Loups
Vendors
Photography: Les Loups
Photography: Jade + Matthew Take Pictures
Design + Management: Design Studio South
Venue: Ships Of The Sea Maritime Museum
Hair + Makeup: Royal Makeup and Hair
Cake: Vanilla and the Bean
Caterer: Current Catering
Ceremony + Reception Music: Chances with Wolves
AV Rentals: Advanced AV
Rentals: Eventworks Rentals
Rentals: Ooh! Events
Lighting: JLK Events
Linens: Nuage Designs Inc.
Napkins: BBJ Linen
Wedding Invitation: Idyll Paper
Day of Paper + Signs: Lowcountry Paper Co
Bride's Dress: Carolina Herrera
Groom's Attire: Brooklyn Tailors
Grace and Sean originally had a beautiful destination wedding in Savannah planned for September 2021. However, like many other couples, they chose to postpone their wedding due to Covid 19. Almost exactly one year later, the two said their vows during a beautiful garden wedding ceremony in the Scarbrough Garden at Ships of the Sea Maritime Museum.
On the wedding day, it was the perfect Southern weather for a wedding in Savannah! Typically Savannah can still be quite hot in September. However, the week leading up to the wedding brought cooler than usual temperatures. These temperatures were not only favourable for Grace and Sean's guests, but the flowers also loved it!
Simple Yet Stunning Wedding Design
Grace and Sean had a clear vision for their wedding day design. For this destination wedding in Savannah, they wanted the day to have a simple and classic aesthetic focused on greenery. Grace expressed her love for greenery during our initial consultations, we knew it had to be a focal point of the floral design.
Our team paired traditional white blooms with lush greenery for this classic wedding design. A selection of white flowers including dahlias, hydrangeas, roses, ranunculus, and iris' were used. In addition, the white anemone flower was chosen as an accent to the floral design bringing a modern element to the arrangements. We love the anemone flower with its dark black and sometimes navy center as a way to add a touch of color to all-white floral designs.
Garden Wedding Ceremony
Located in the historic district of Savannah, the Scarbrough gardens at Ships of the Sea Maritime Museum were the perfect wedding venue for this destination wedding in Savannah. The William Scarbrough House is home to the largest private gardens in Savannah. With this in mind, we knew there was already endless amounts of beauty at the ceremony site, so attention was focused on the bridal bouquet and bridesmaid flowers. Various white blooms were used for the bouquets that were finished with an elegant dusty blue ribbon.
Ships Of The Sea Wedding Reception
Amongst guest tables, we rotated tall and low centerpieces designed with white florals and greenery. It was the perfect combination for this mixed floorplan with round and long tables.
The tall centerpiece arrangements on the round tables consisted of all greenery and paired nicely with the simple aesthetic. We incorporated over five different types of foliage in each arrangement to create texture and variety. The greenery for this wedding was sourced locally and was foraged from a local friend's farm here in Savannah.
On the long tables, we placed blue pillar candles with greenery intertwined and elegant white floral centerpieces in white vases. We were so excited that we were able to source pillar candles that matched the dusty blue color palette, and we love how they tied the design together.
From the all-green centerpieces to the greenery intertwined in the reception decor, this simple and classic floral design worked perfectly for this destination wedding in Savannah. Whether you are local to Savannah or planning your dream destination wedding beyond, we'd love to work with you to bring your design vision to life! So, reach out and let us know where you are planning your dream destination wedding!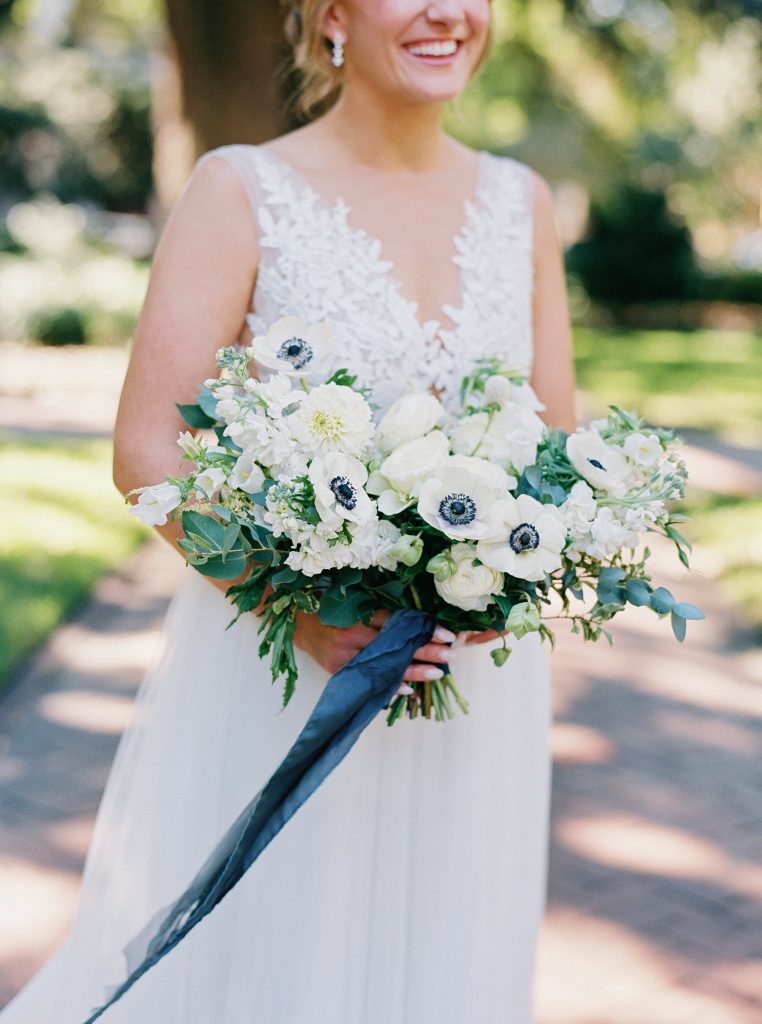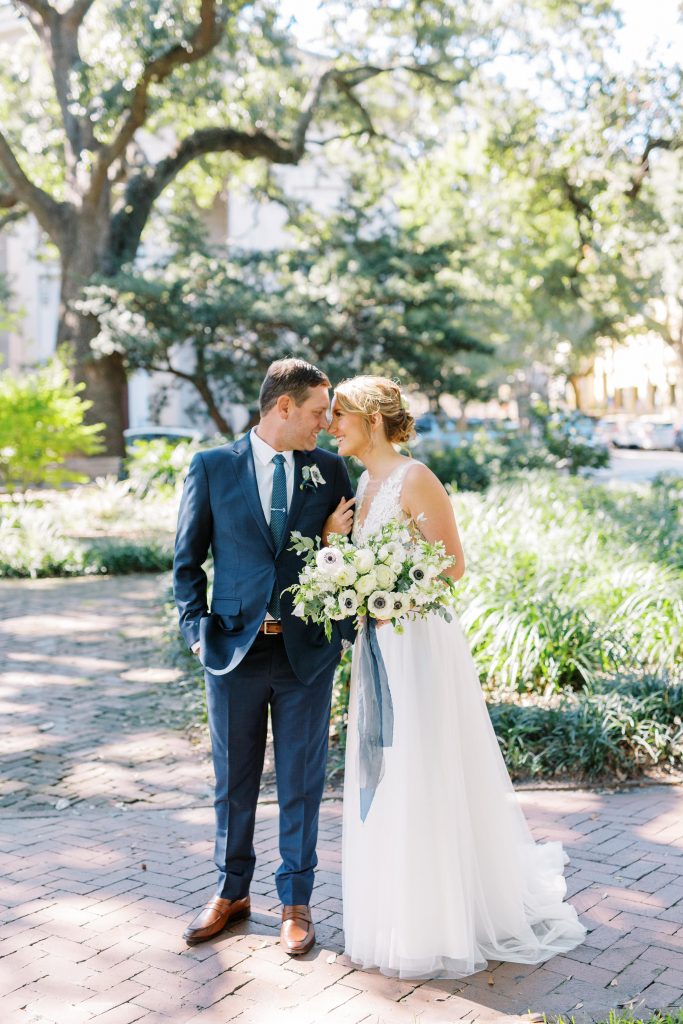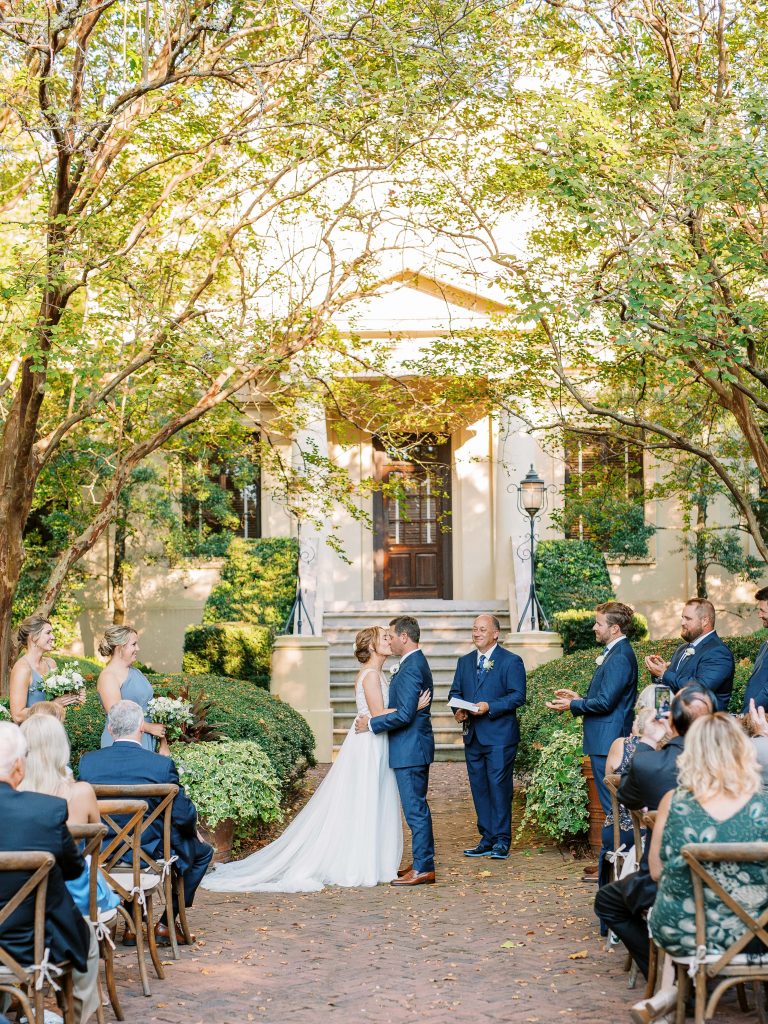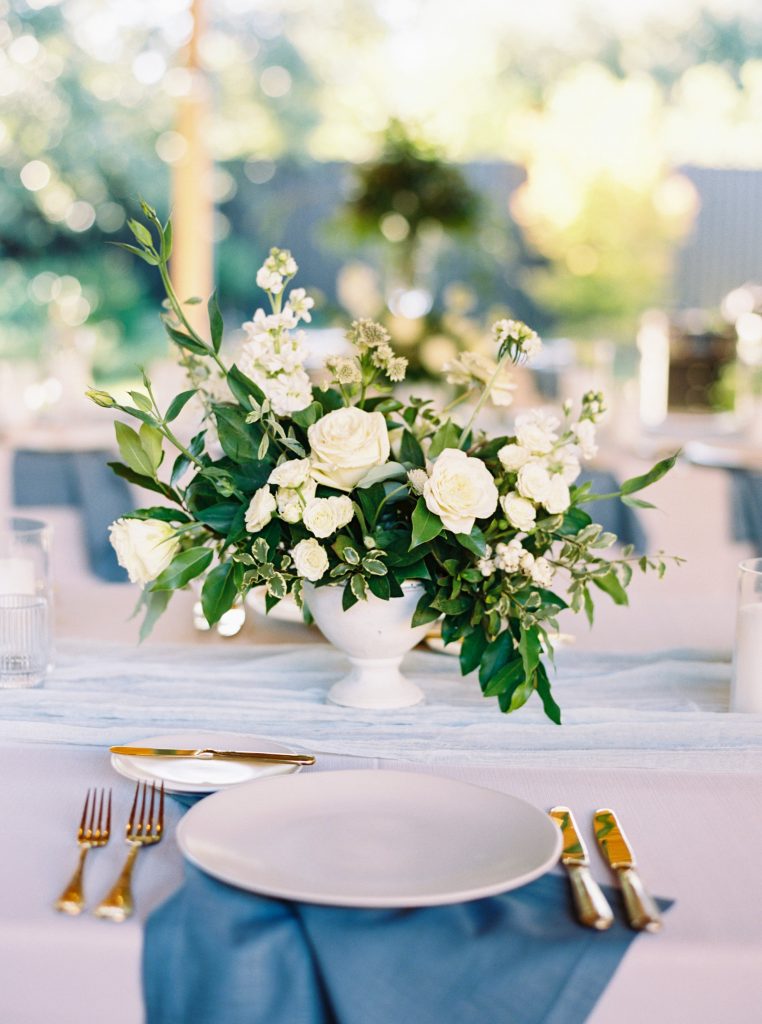 Vendors
Venue: Ships of the Sea
Catering: J. Thomas
Cake: Vanilla and the Bean
Hair + Makeup: Emma Collins
Photograph: Kati Rosado
Band: The Midnight City
Ceremony + Cocktail Hour Music: All About You Entertainment
Rentals: Amazing Event Rentals & Event Works Rentals