Category:
Events
Abby & Michael approached us looking for help with their floral design for their wedding at Jekyll Island Club. During the planning process, they decided to host an intimate Crane Cottage wedding rehearsal for family and friends and asked the Gray Harper team to help with the florals! It is always fun working with our couples on their wedding weekend events, especially when it is at the beautiful Jekyll Island Club!
Crane Cottage Wedding Rehearsal
Crane Cottage At Jekyll Island Club
Crane Cottage is a beautifully designed Italian Renaissance-style cottage surrounded by lush gardens and immaculate lawns. The exterior of the building includes a sunken lawn perfect for your ceremony and a picturesque courtyard ideal for a cocktail party. Inside, the living room and library are hosts to ornate architecture embellished with wood detailing. The living room is the perfect place to host guests for dinner for your wedding or rehearsal. Our team can transform it into a romantic and dreamy backdrop with beautiful flowers for your wedding.
One of our favorite things about working with Jekyll Island club is when you plan a Crane Cottage wedding; you get the entire cottage for your wedding weekend. As a vendor, this is extremely helpful as we have a space to store things, allowing us a greater opportunity to maximize your florals.
The Design
For their rehearsal dinner, Abby & Michael wanted to keep things classic with simple white blooms to accentuate the already ornate and beautiful ballroom at Jekyll Island Club. The white blooms set atop the white linens were the perfect look for this beautiful, warm June day. After the Crane Cottage wedding rehearsal, our team deconstructed the rehearsal arrangements and prepared them for the wedding day. This clean and simple design was the perfect choice as it allowed us to repurpose all of the blooms on the wedding day.
We love working with our clients on their multi-day wedding weekends. If you are planning a wedding rehearsal or welcome party, we'd love to help create a floral design that flows seamlessly throughout your wedding weekend events! Head on over to our Contact Us page and share some of your wedding weekend details! We can't wait to hear from you!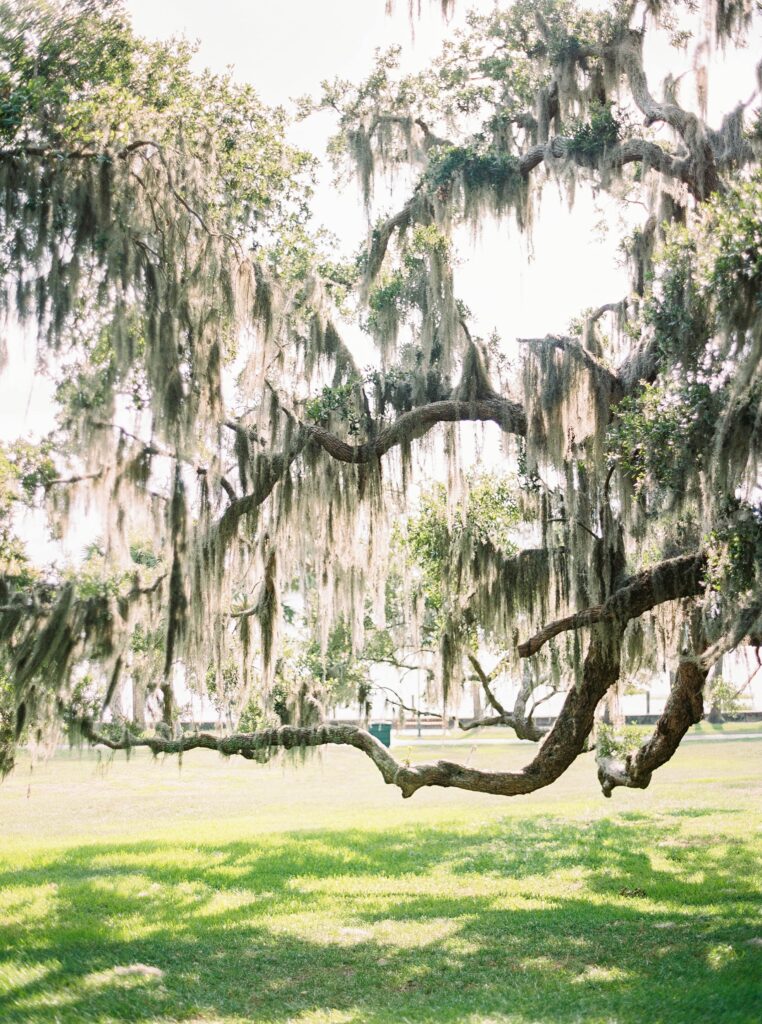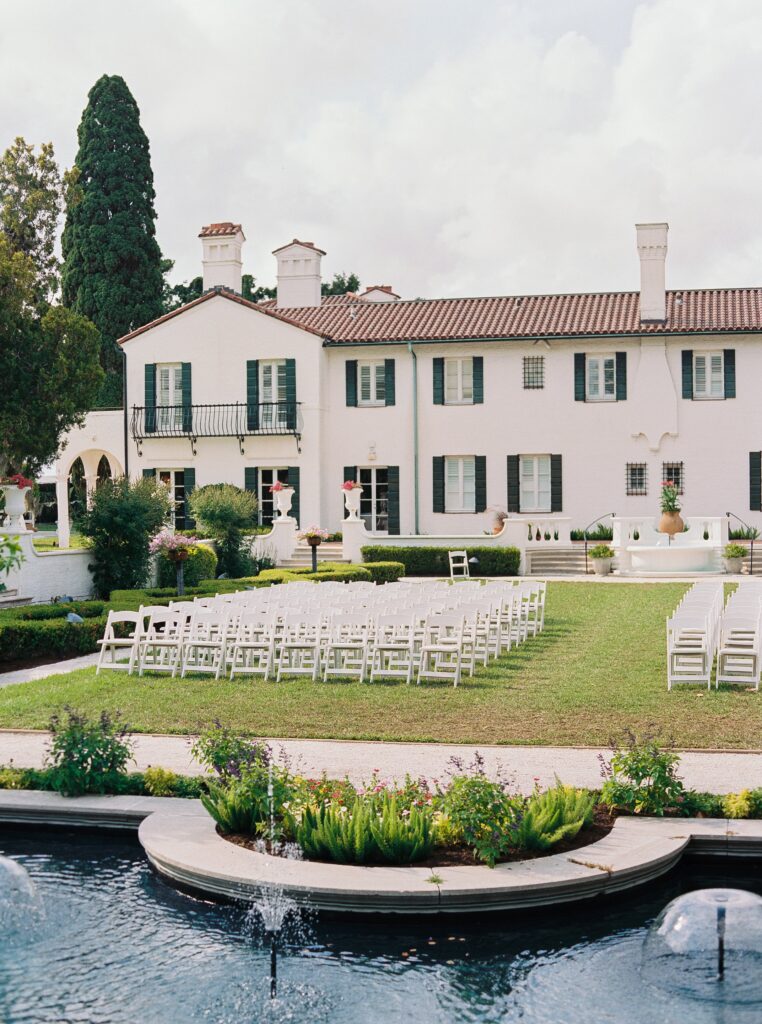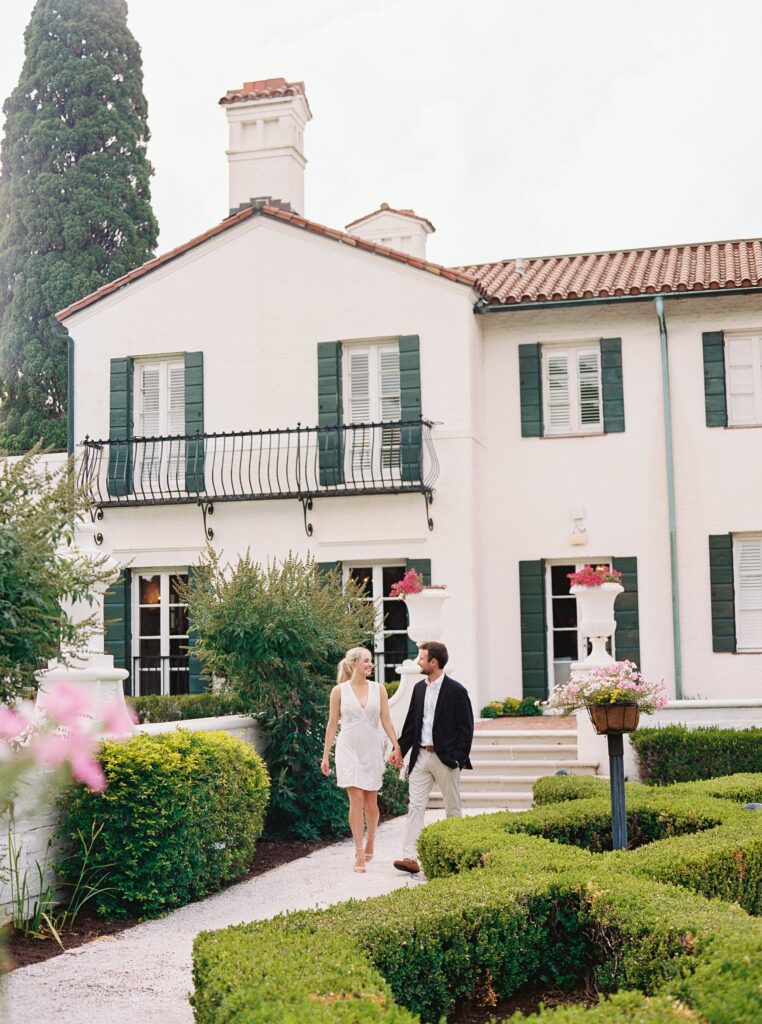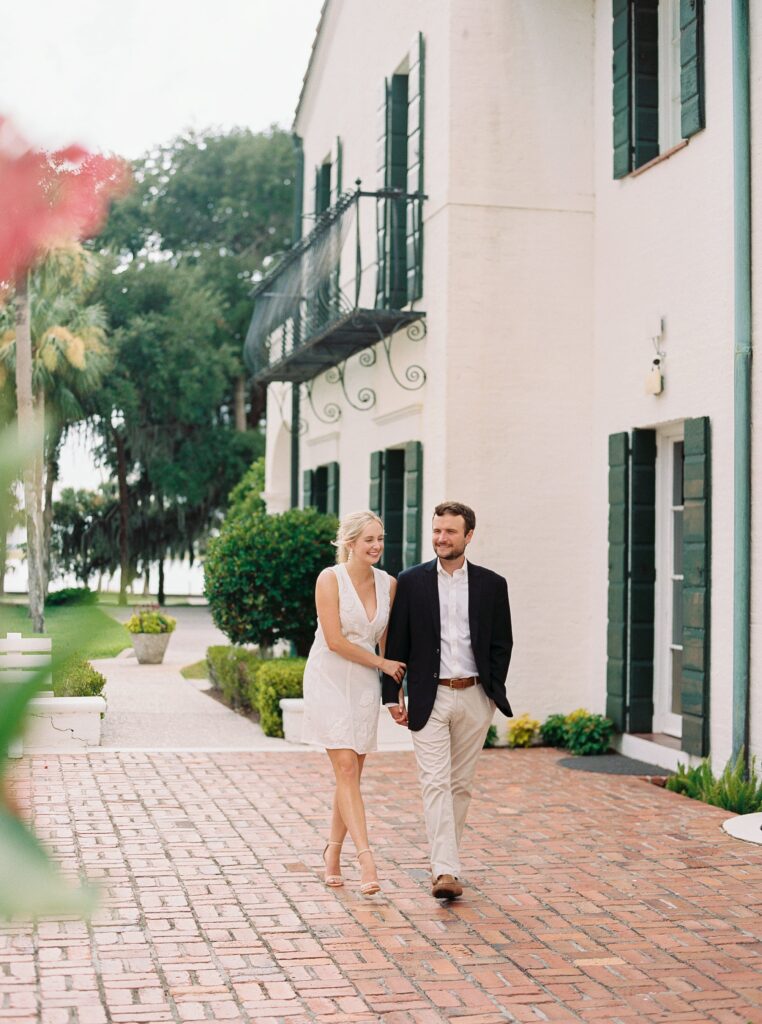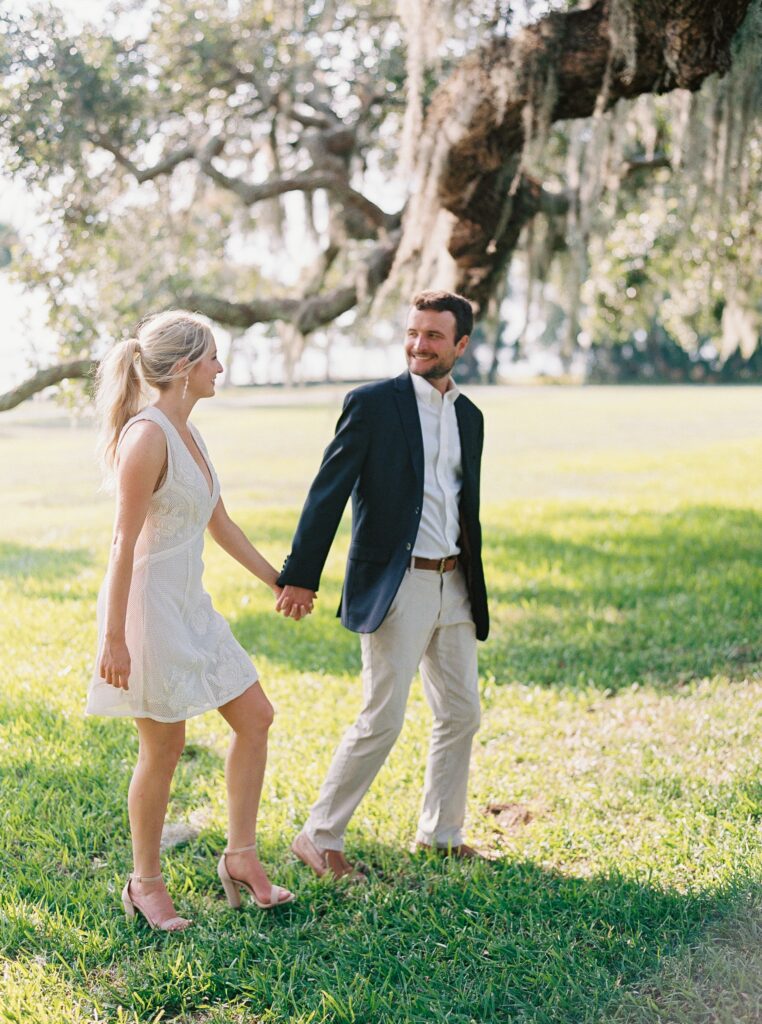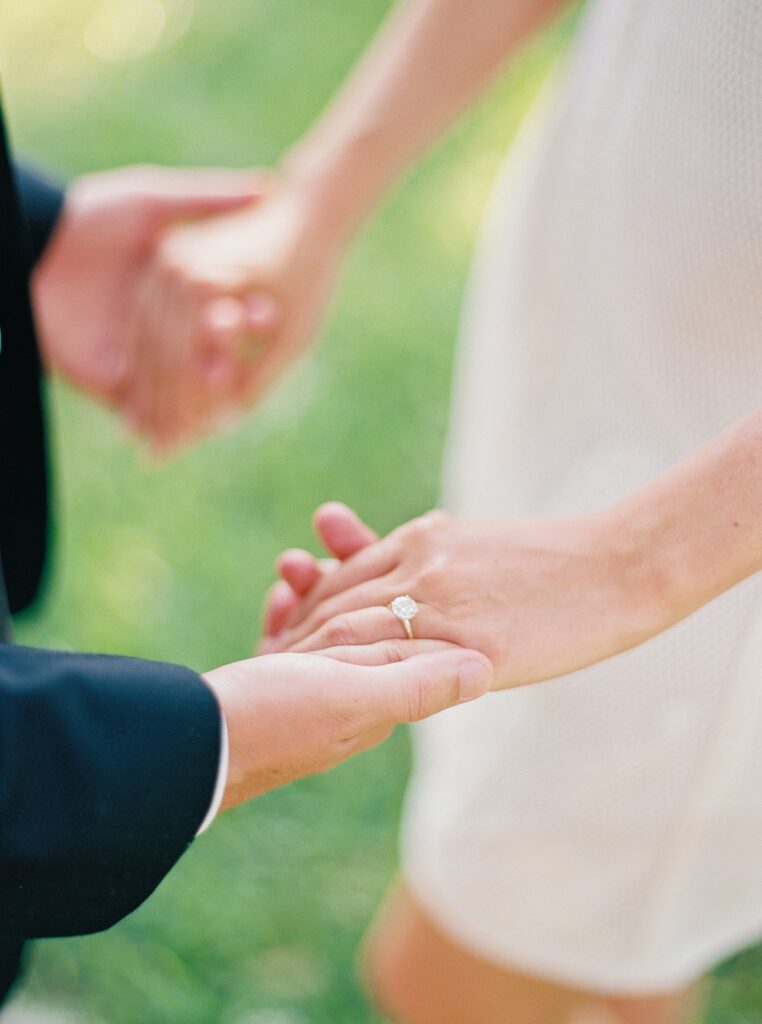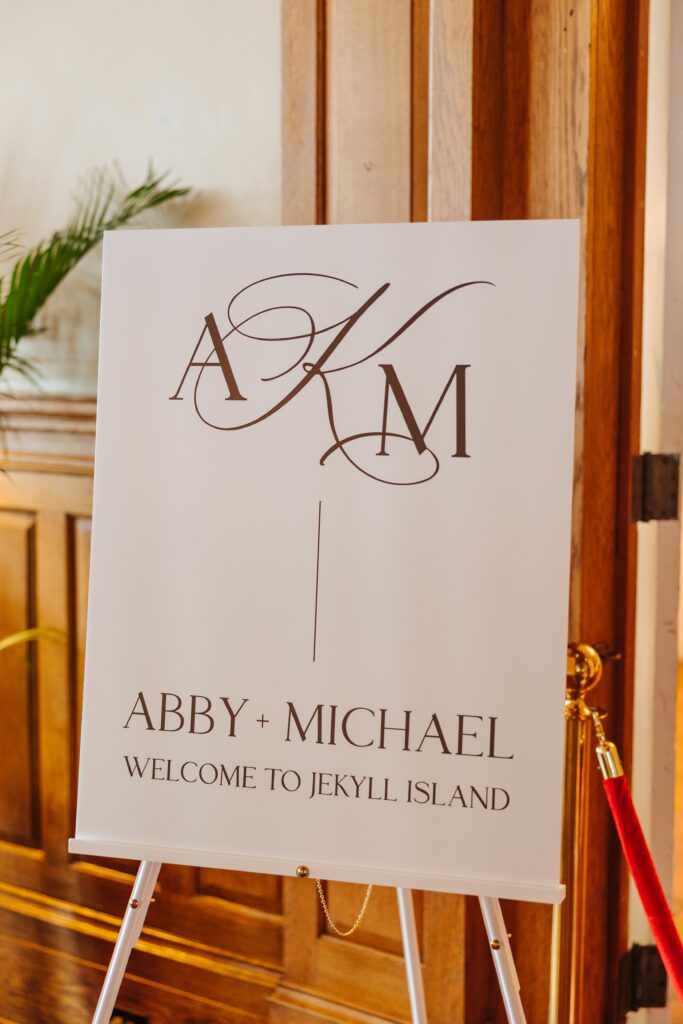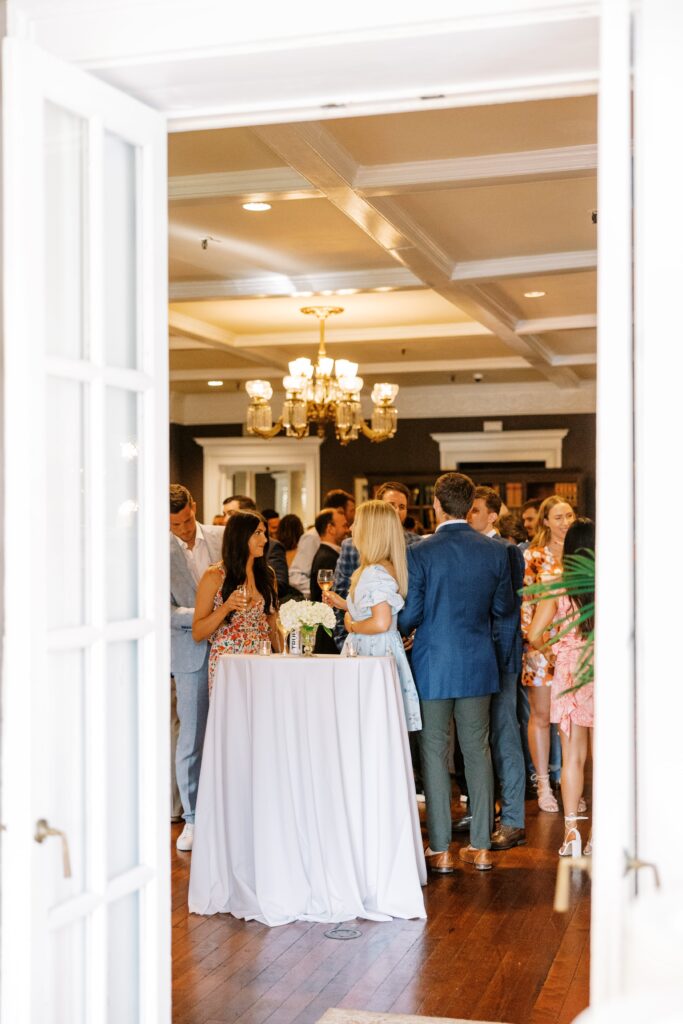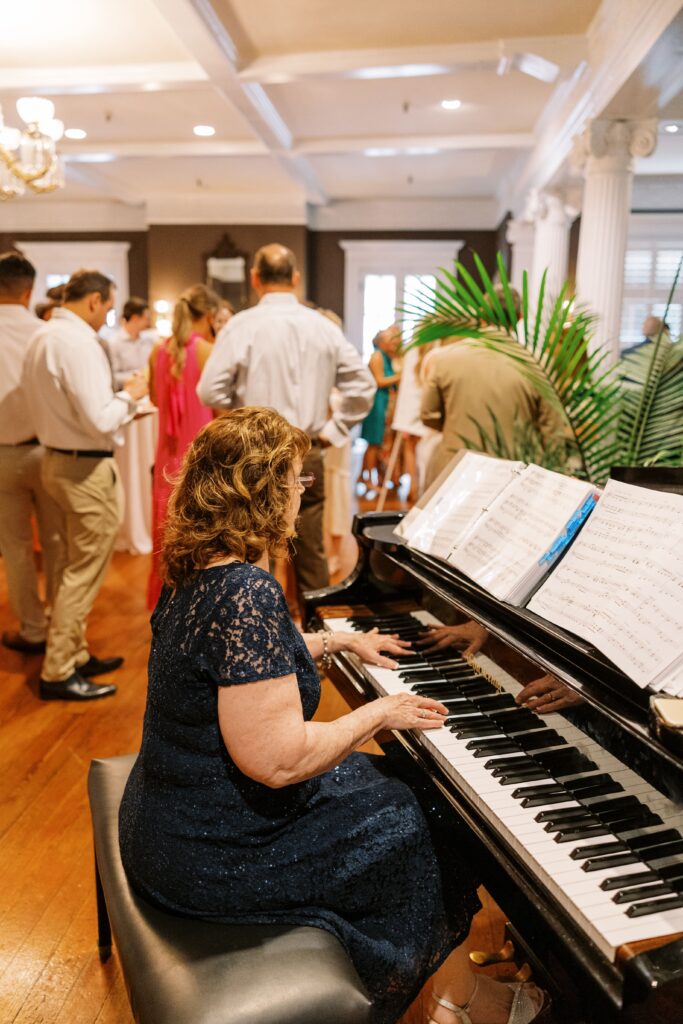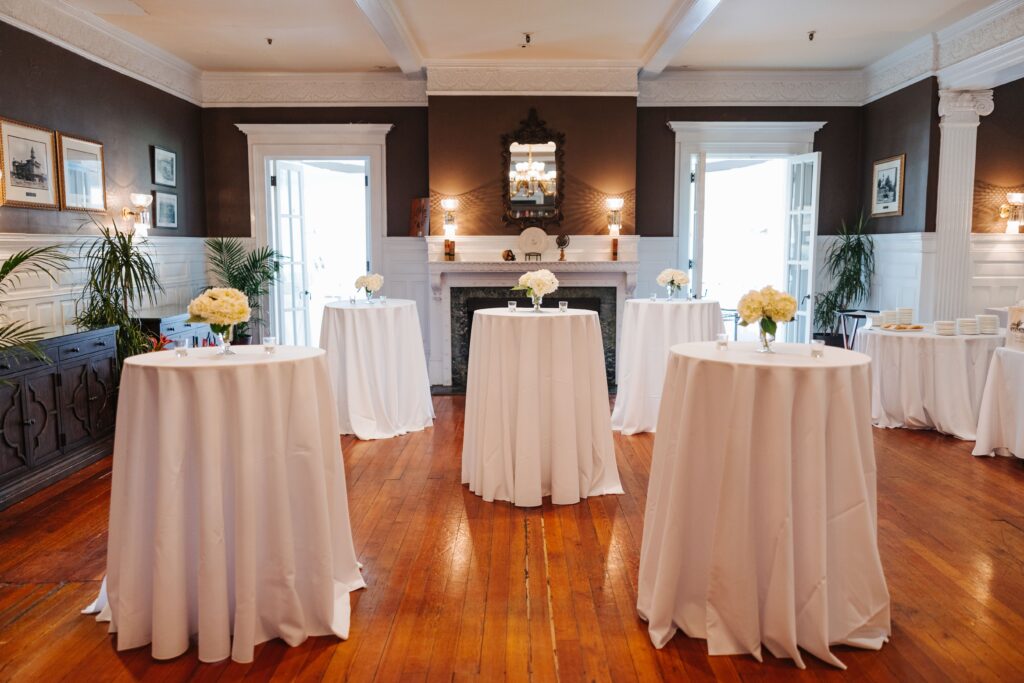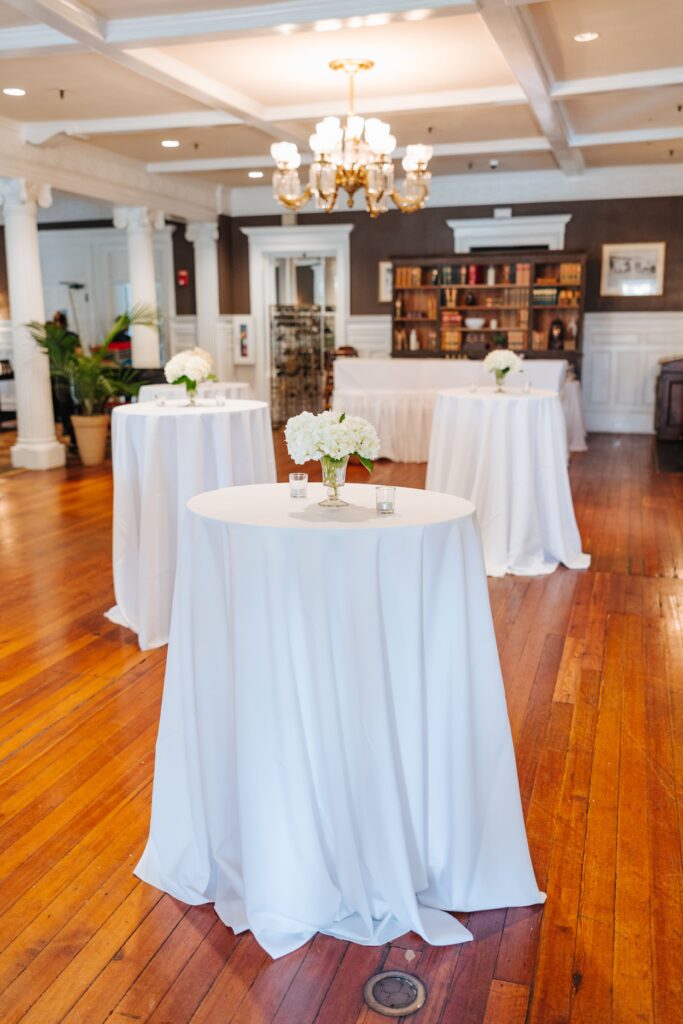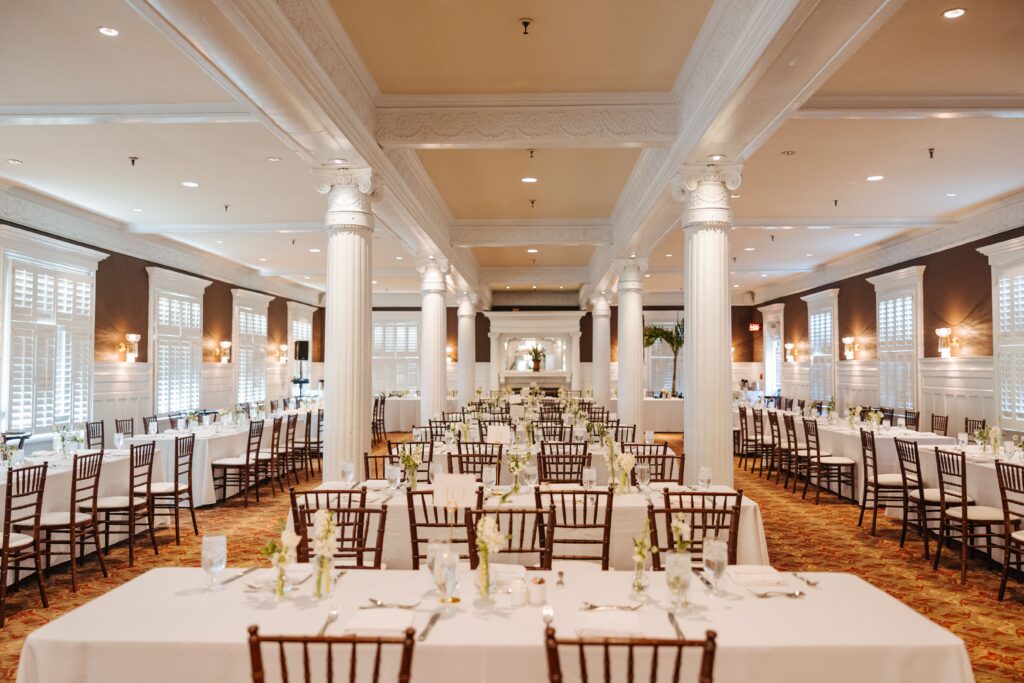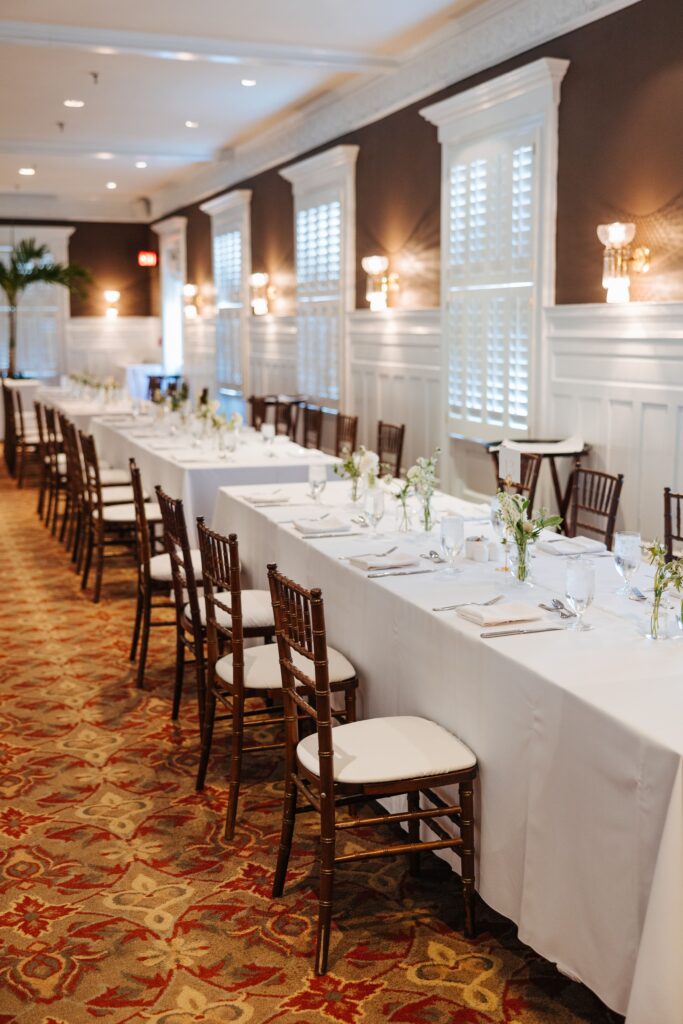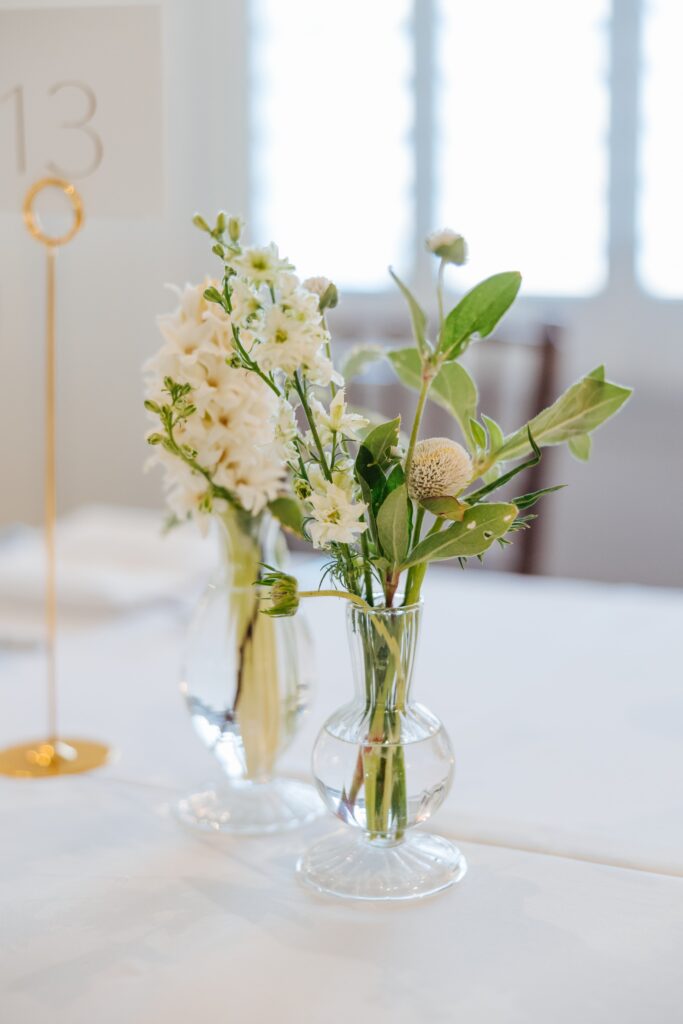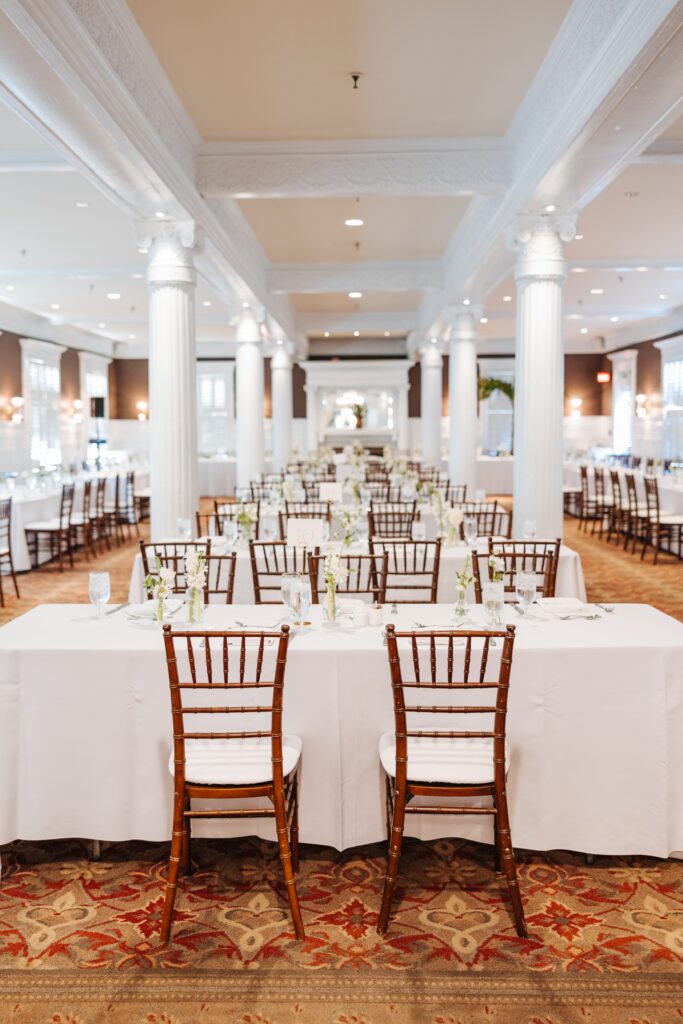 Vendors
Photography: Kati Rosado Photography 
Florals: Gray Harper
Venue: Jekyll Island Club
Rentals: Beachview Event Rentals
When working with Julia and Chase on their Jekyll Island Club tented wedding design, they also asked us to be a part of their Jekyll Island Club rehearsal dinner, and we could not resist! As we went with a design with pops of blue for their wedding day, we wanted to go with a more simple and clean design for their rehearsal dinner. So, we chose a timeless white palette with subtle green accents from the blooms.
Jekyll Island Club Rehearsal Dinner
On arrival day to Jekyll Island, guests were invited to a fun and casual afternoon playing croquet. After the rehearsal, the couple and their guests then headed to Cherokee Cottage at Jekyll Island Club for a beautiful rehearsal dinner on the lawn.
Our team designed simple arrangements of single-bloom groupings, coincidently foreshadowing what would come the next day at the wedding. On the guest's tables, bundles of white hydrangeas were incorporated into the centerpieces. I loved how they looked like clouds of vanilla ice cream scoops so delicately placed. The head table was simply styled with a plethora of white pillar candles and vining greenery.
As the sunset, the bistro lights above the lawn illuminated the rehearsal dinner while the white pillar candles twinkled below. It was the perfect start to this wedding weekend!
It was so fun to be on-site for Julia and Chase's wedding a day early and help with their Jekyll Island Club rehearsal dinner. We love a good multi-day destination wedding where guests come from all over to enjoy multiple events! Be sure to check out the highlights from Julia and Chase's wedding day here; we know you will love their blue and white wedding design as much as we did!
If you are considering planning a multi-day wedding and want to welcome your guests with a stunning welcome reception, we'd love to help! Our team can work with you to create a simple yet elegant design to kick the weekend festivities off in style! So, check out our blog for some highlights of our recent events, and fill out our inquiry form to share more about your wedding plans!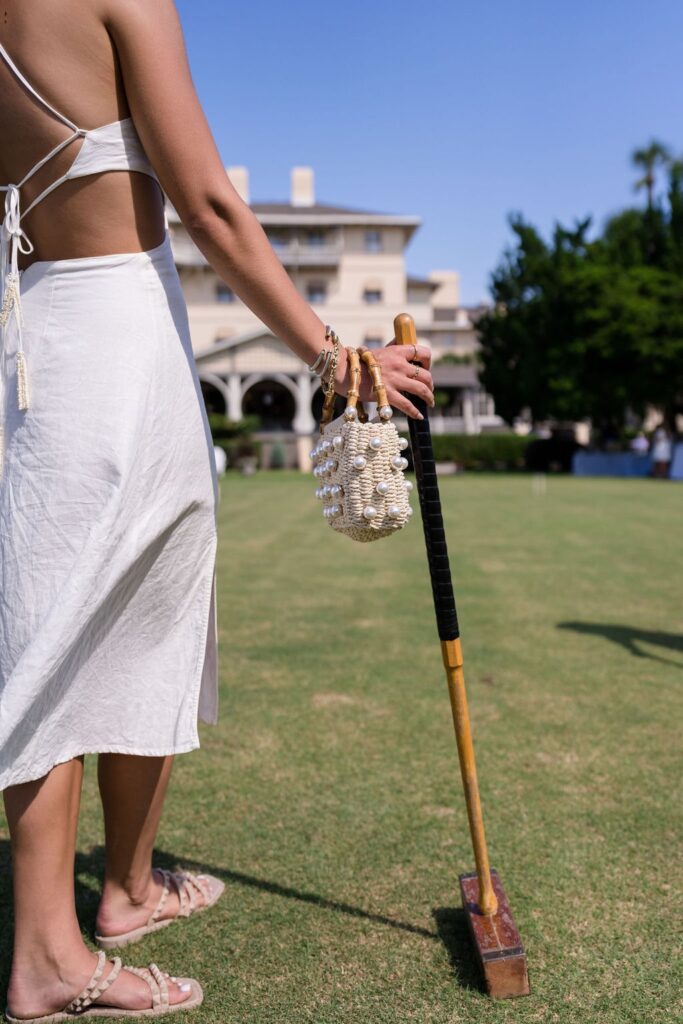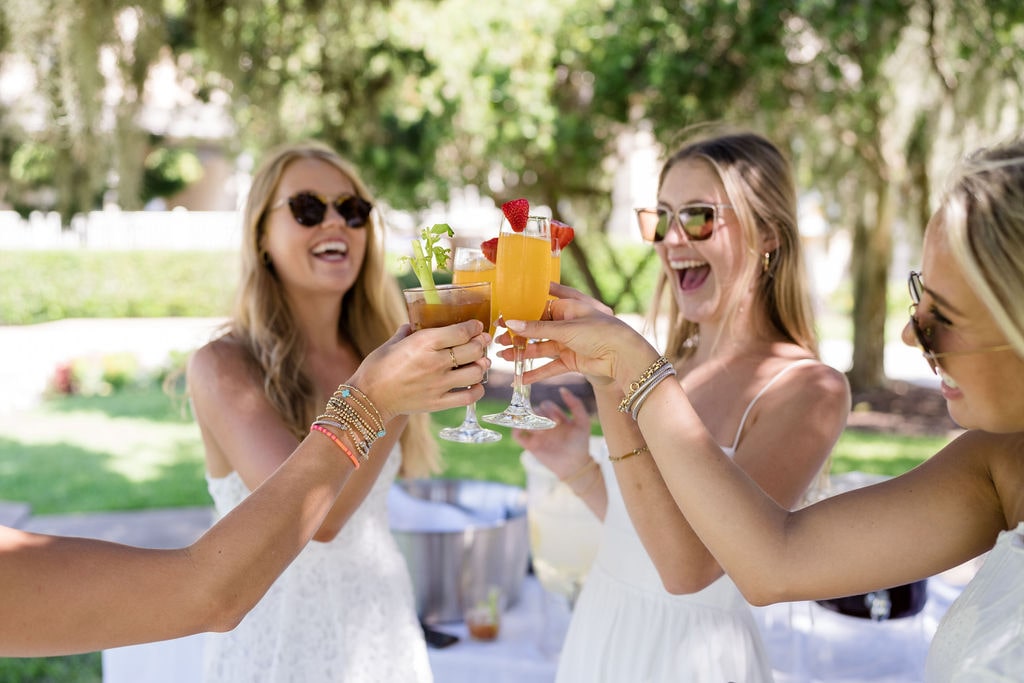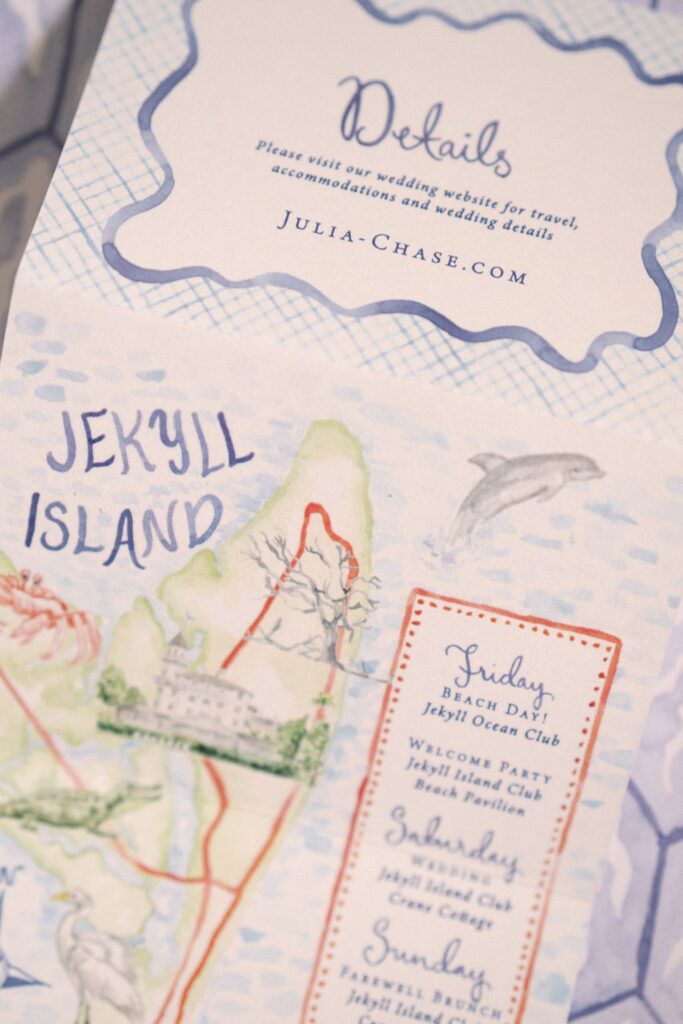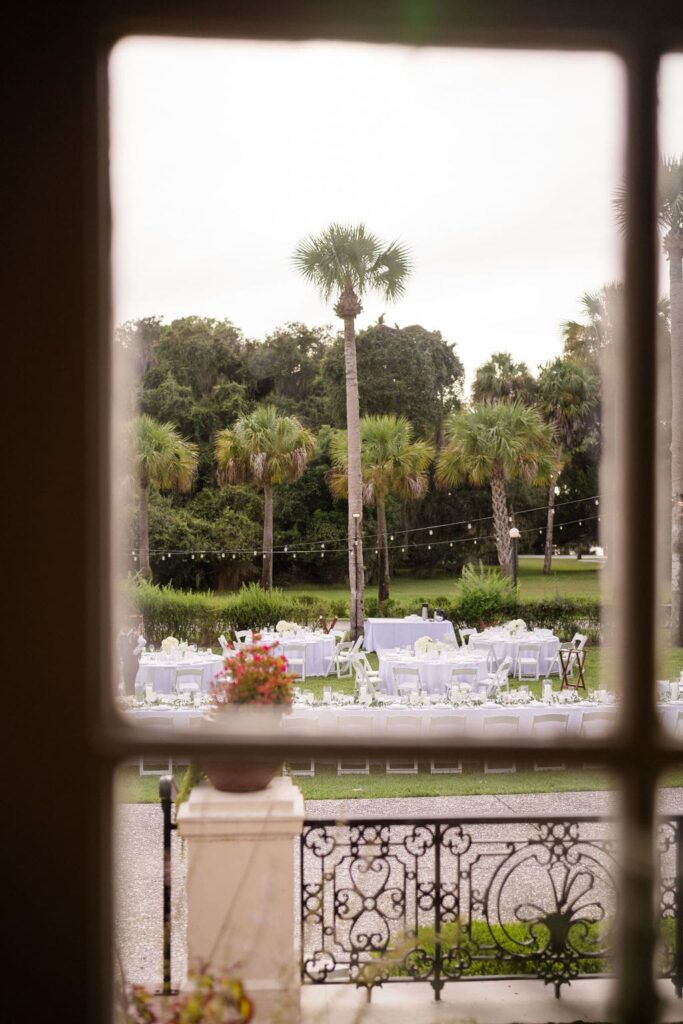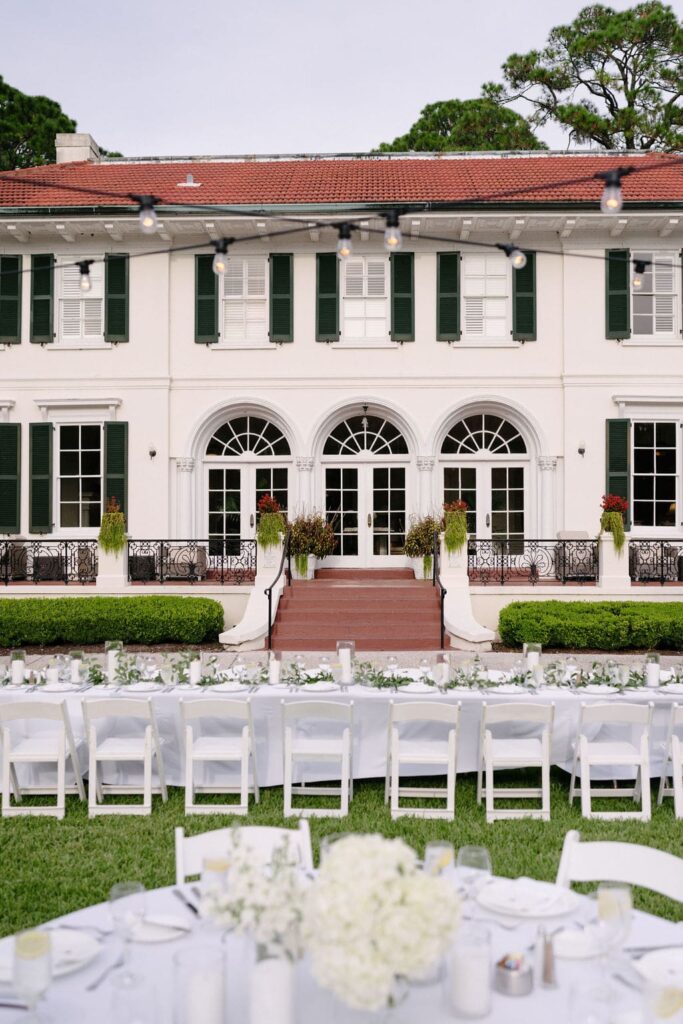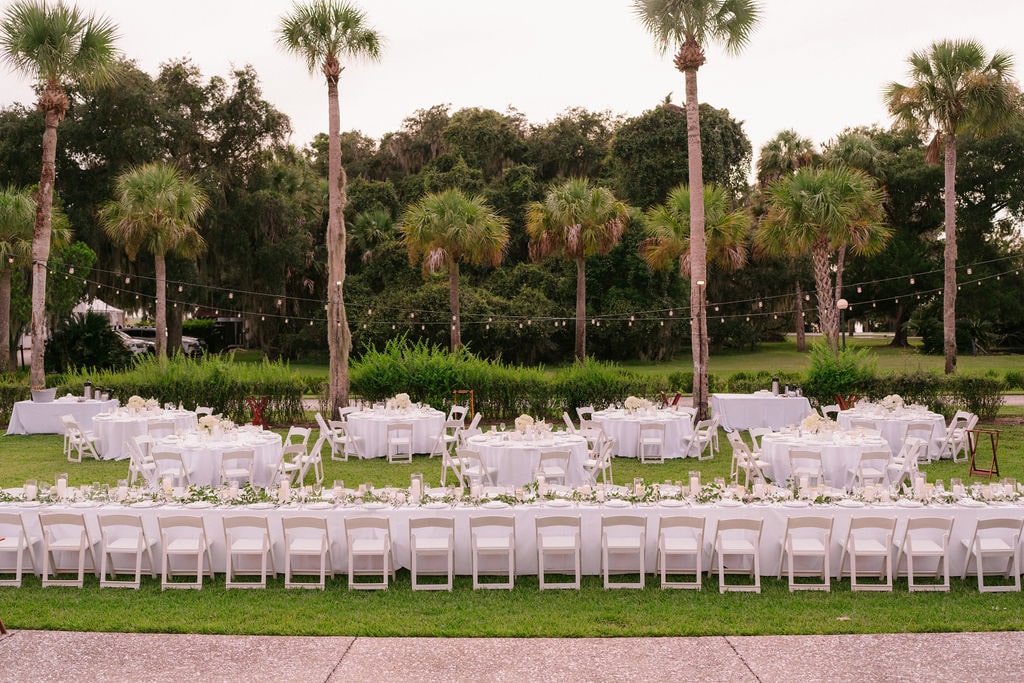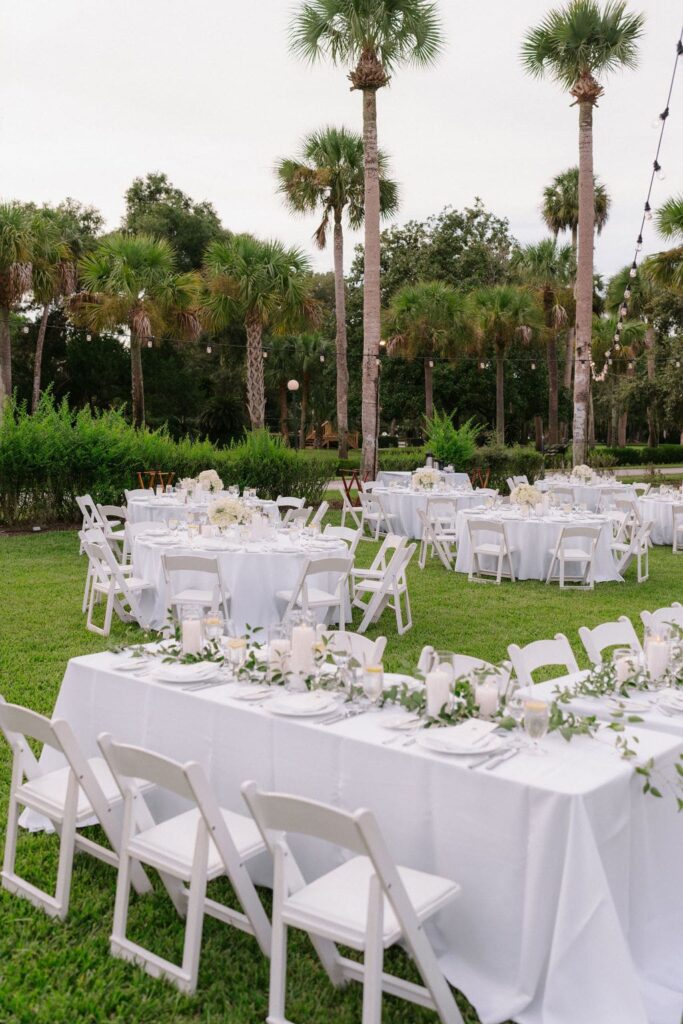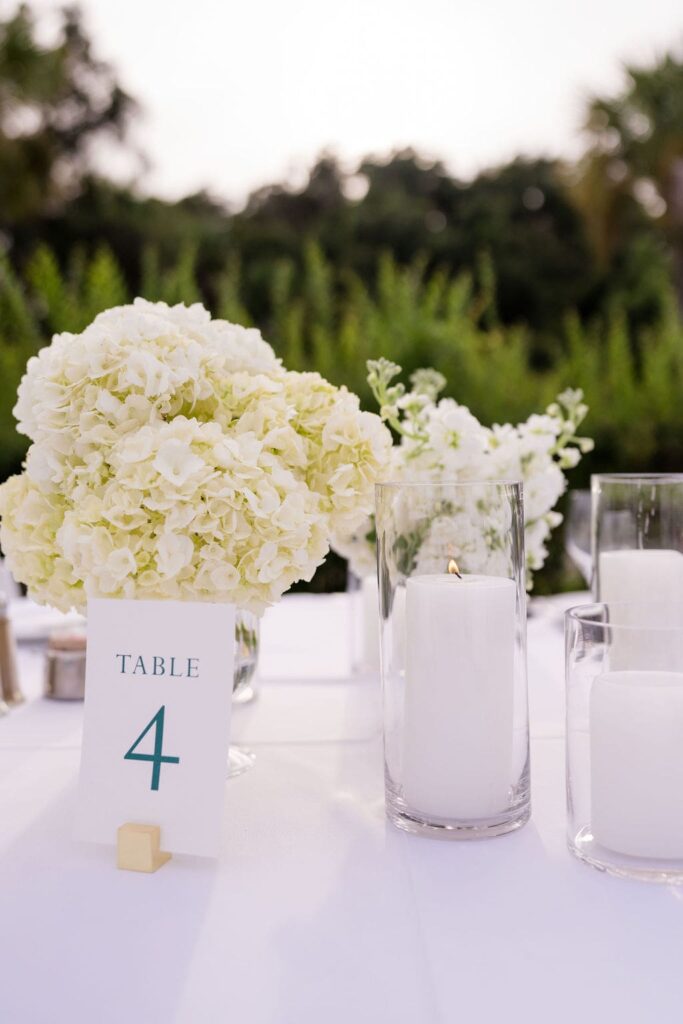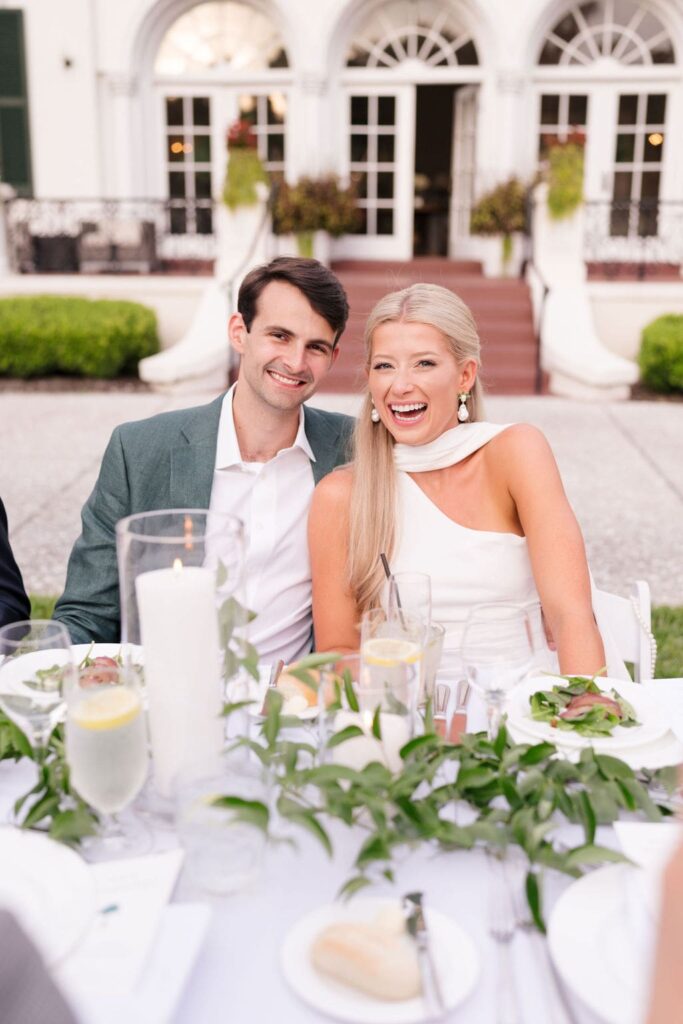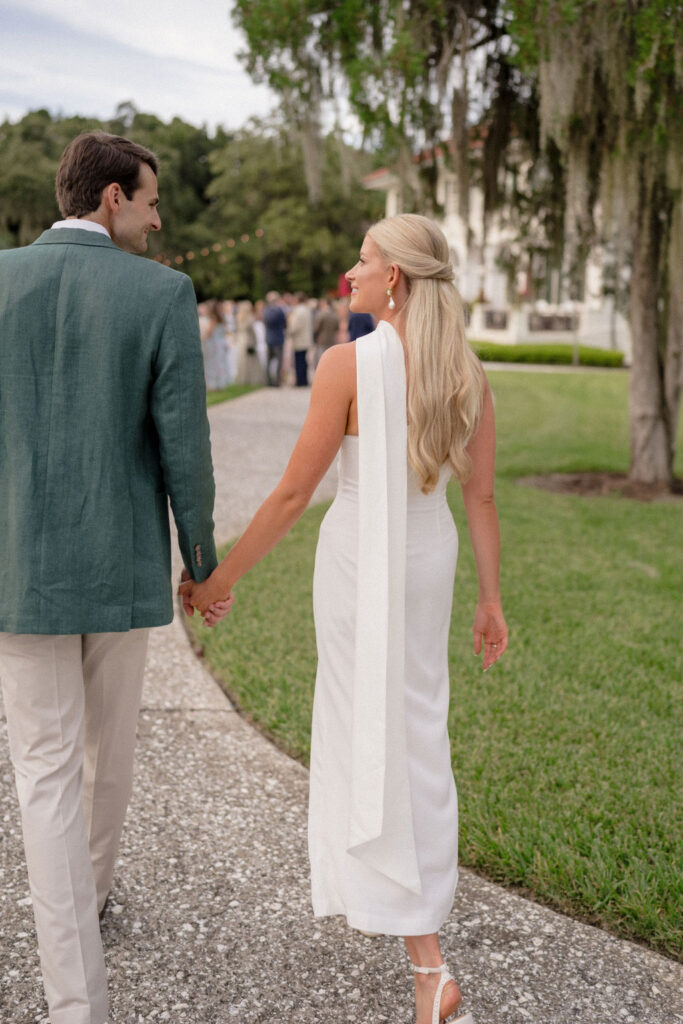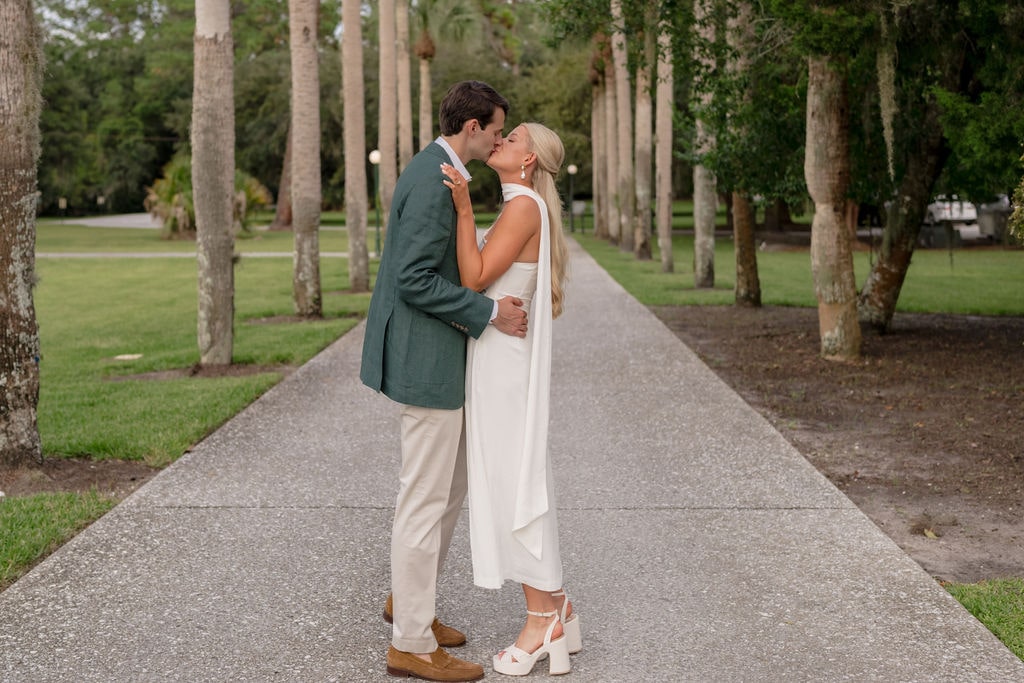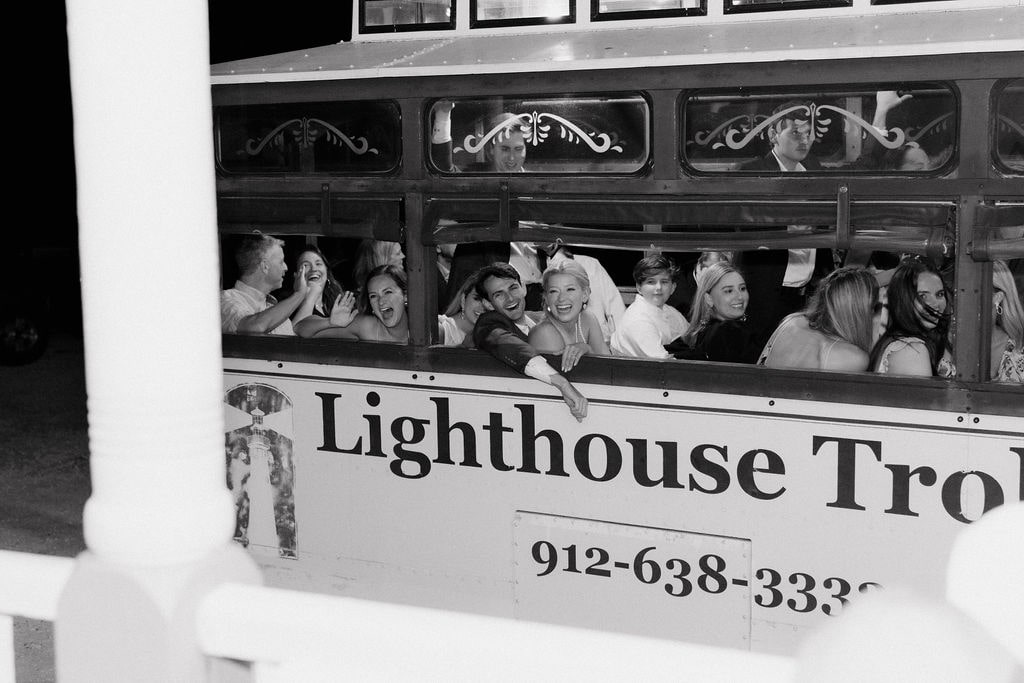 VENDORS
Photography: Melissa Toms Photography
Planning + Design: Sarah Lillie Designs
Florals: Gray Harper
Printed Materials: Tiny Shindigs
Venue: Jekyll Island Club
Transportation: Light House Trolley Tours
Earlier this year, we hosted a baby shower at the Gray Harper studio with a feminine floral and pink design for my second baby, baby Beatrice. After spending years having to draw my attention away from the color pink (as my first born was a boy), I wanted to celebrate our baby girl with everything pink!
Upon arrival, we welcomed our guests with a fabulous pink balloon installation by Pop Squad Balloons. We completed the balloon installation with sprigs of pink baby's breath, making it the perfect baby shower backdrop.
Danielle from Design Studio South and I designed an intimate table setting for baby Beatrice's baby shower inside the studio. The base of the design was inspired by a soft pink and modern look. We set the table with soft pink velvet linens and bold printed pink floral napkins from Nuage Designs. Each place setting was brought to life with my grandmother's china, rented flatware, and of course, pink candles and flowers. One of my favorite features was the pink floral installation that I made to hang above the table. Leading up to Beatrice's baby shower, we hand-painted each baby's breath in two shades of pink. This pink baby's breath played a key role in the baby shower design and was incorporated throughout the space. Thanks to Vanilla and The Bean my baby shower cake dreams came true with this stunning pink baby shower cake!
Given the crazy times we were in at the beginning of the year, it was so wonderful to be able to celebrate baby Beatrice with eight lovely ladies for an in-person baby shower. Being pregnant at the time of covid-19 was a surreal experience, but my heart has been so full of all the love that our little girl has received.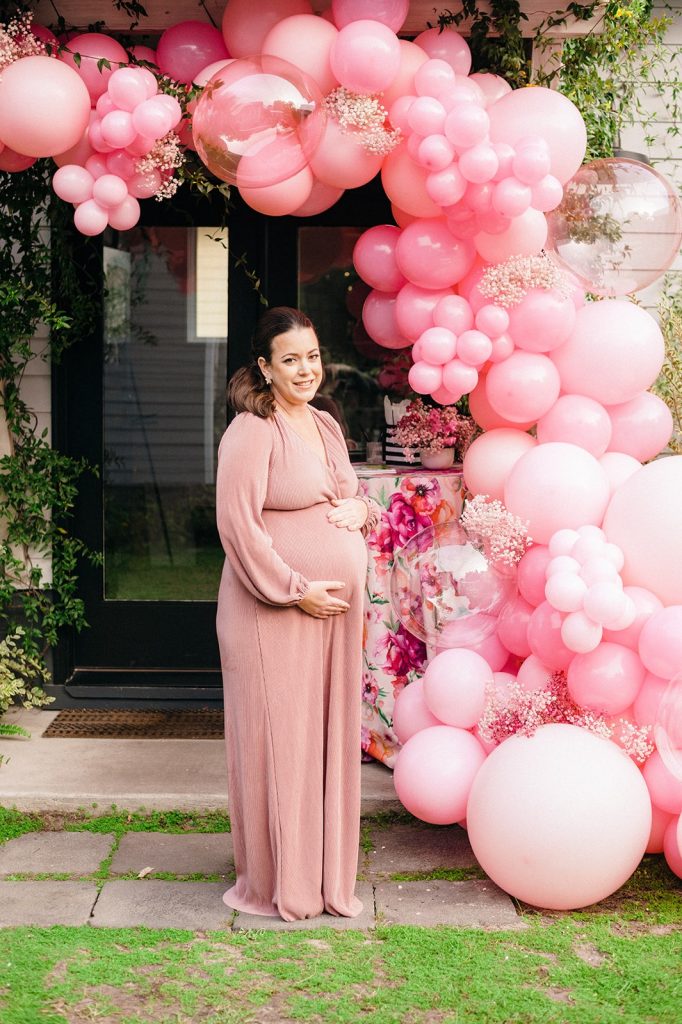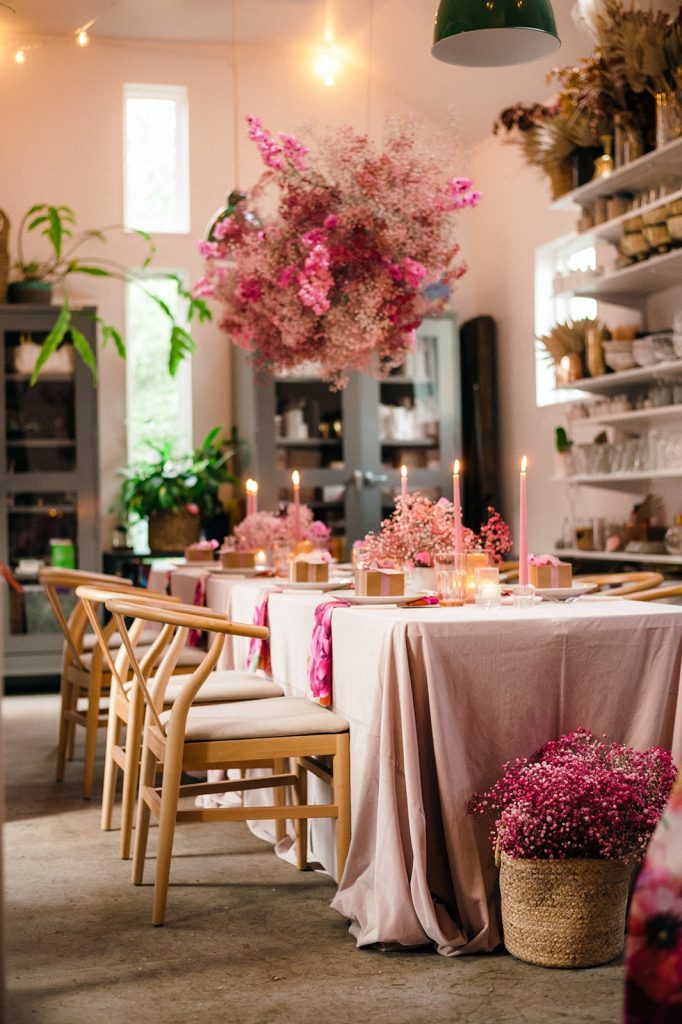 Vendors
Photography: Josh Morehouse
Design: Design Studio South
Catering: Current Catering
Rentals: Eventworks
Cake: Vanilla and the Bean
Linens: Nuage Designs Inc.
Calligraphy: Lowcountry Paper Co
Balloons: Pop Squad Balloons